The beautiful setting of Carshalton Village has been graced with a quality greengrocer, bringing a fantastic selection of fresh, local produce back to the heart of the community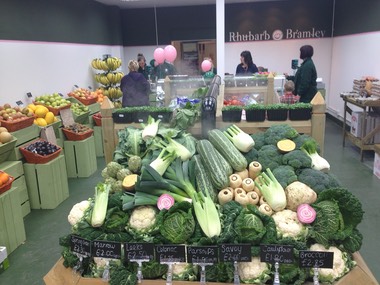 When Carshalton's long-standing greengrocer Country Harvest closed due to rent increases it left a huge hole in the High Street. Without a supply of fresh, local produce in our community there was definitely something vital missing.
"Carshalton is such a stunning place with a real villagey feel, it was so sad to see a greengrocer close in the heart of the High Street," said Carshalton Mum Renee Davis. "People in Carshalton understand the importance of fresh, local food and this was somewhere local where families could buy it."
Many local residents were also discovering the joys of shopping locally and supporting our community. Carshalton High Street was beginning to flourish with the opening of popular independent shops like Calladoodles, Jude and the hugely successful new tea room Dotty's Teahouse. 

A jewel in Carshalton's crown
Fortunately, the gap in the market didn't last long as Carshalton Dad-of-three and seasoned food expert Ricky Scott spotted an ideal location for his high-end greengrocers, Rhubarb and Bramley.
With an impressive family background spanning 50 years in wholesale fruit and vegetables, serving top restaurants in Soho and Selfridges Food Hall amongst others, Ricky is perfectly placed to serve the local foodie community. 
"My personal experience has been in fresh produce and I have covered all aspects from growing, catering, wholesale to retail," explains Ricky. "So with the knowledge I have accumulated over the past 10 years I am now looking to build a brand that is working with growers on producing the best products at value for money for its consumers."
Fresh produce at competitive prices and FREE delivery
Ricky and his family-run team at Rhubarb and Bramley are committed to serving the local community with fresh produce all year round, specialising in UK products when in season. With his outstanding industry experience it is clear that Ricky is both passionate about local produce and knowledgeable about the local area.
"You can rest assured you are getting the highest quality produce at competitive prices," says Ricky. "Rhubarb and Bramley isn't just about selling to the public, we want to educate the community and promote seasonality and healthy eating."
Rhubarb and Bramley also offer an excellent in-house florist service with over 15 years experience (free deliveries of over £25). All of their produce can be delivered and Rhubarb and Bramley offer FREE delivery on all orders over £25!
Local Mums members receive a 5% discount in store and online using the discount CARMUM at checkout.
Read Local Mums' reviews of Rhubarb and Bramley
Contact:
Ashleigh Kimpton
Rhubarb and Bramley
31-33 High Street 
Carshalton, 
SM5 3AX 
Tel: 020 8669 5854
Email: info@rhubarbandbramley.co.uk
www.rhubarbandbramley.co.uk
Rhubarb and Bramley on Facebook
Twitter: @RhubarbBramley