Local Mums recommend the best wellbeing retreats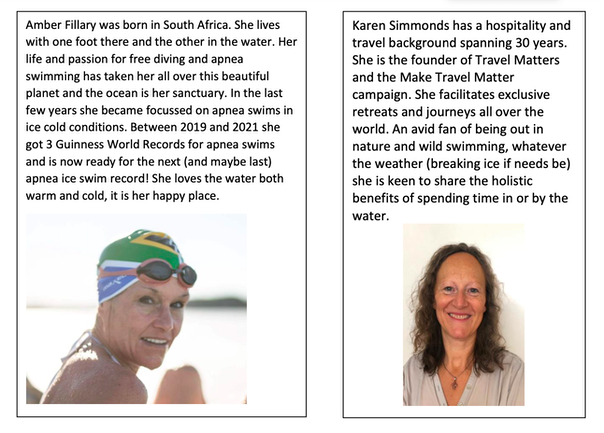 "I highly recommend Travel Matters' retreat in Scotland to Local Mums. I had a great time. The activities, the group, the accommodation were all fantastic. I thoroughly enjoyed myself while learning how to swim safely in cold water in the most beautiful surroundings. The retreat was a great success!" 
Virginie, Local Mum
"I recommend Travel Matters' retreat in Scotland to Local Mums. It was a truly fabulous few days, a mixture of relaxing, inspiring and a huge amount of fun. The setting is exquisite and the views are beyond incredible. Swimming in Loch Tay with a backdrop of a mountain with a rainbow - it really doesn't get any better! This place brings happiness to the soul and a realisation that anything is possible. It was the perfect trip and Karen and Doon are welcoming, thoughtful, funny and full of energy." 
Pip, Local Mum
"I highly recommend Travel Matters' retreat in Scotland to Local Mums. Travel Matters curated a very well planned and superbly delivered wild swimming and creative break away. Information was sent plenty of time in advance, the accommodation was to a very high standard, and the whole weekend a very restful and restorative experience." 
Eve, Local Mum
"I recommend Travel Matters' retreat in Scotland to  Local Mums. What more can I say - a highlight of my year, the photographs and images are inspiring. Stucktaymore is not only in a beautiful part of the world but its design allows total immersion without even having to step out the door! It all looked so effortless but I can imagine a huge amount of effort was needed to make it all happen. Loved the last evening entertainment, a perfect ending to a remarkable retreat."
Jane, Local Mum
"I highly recommend Travel Matters' retreat in Scotland to Local Mums. I loved the retreat. I really did. I feel completely refreshed and 'full." 
Clare, Local Mum
"I recommend Travel Matters' retreat in Scotland to Local Mums. I really enjoyed the trip and loved the blend of writing and swimming. It was well structured and thoughtfully prepared. It was an idyllic setting which I have bottled in my memory bank forever." 
Caroline, Local Mum
"I highly ecommend Travel Matters' retreat in Scotland to Local Mums. I had such a special and wonderful time" 
Sarah, Local Mum
"I recommend Travel Matters' retreat in Scotland to Local Mums. I had the most magical three days in Bonny Scotland! Such a joy to meet new people and hang out with old favourites... The swimming, walks, rainbows, fireside chats... just what the body and soul needed. The first of many no doubt!"
Diane, Local Mum
"I highly recommend Travel Matters' retreat in Scotland to Local Mums. The organisers did a truly fabulous job. The food was delicious, my bed was super comfortable and my room was cosy. Swimming in the loch was heavenly and really brought the group together. I am hugely grateful to Karen for working so hard to create something so special. Happy memories."
Lucy, Local Mum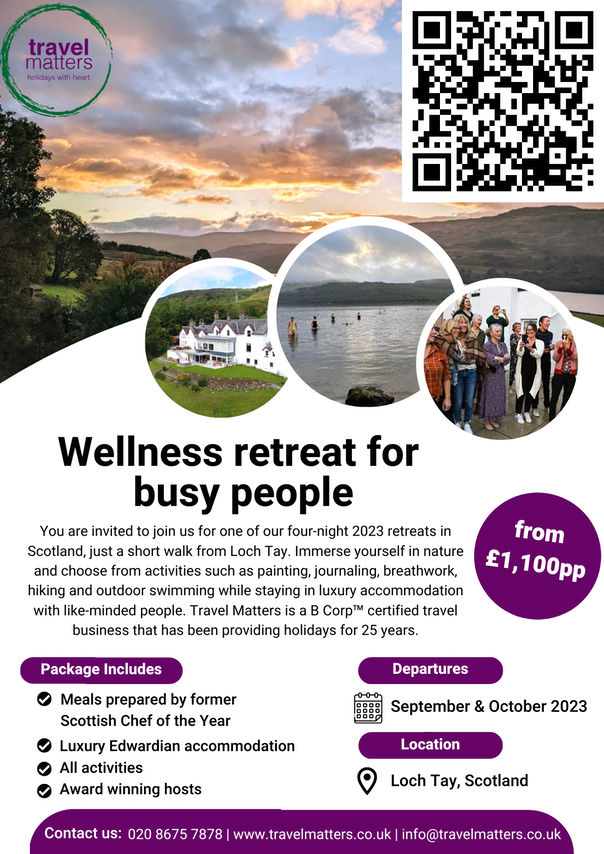 Wellbeing retreats in Scotland with Travel Matters
A Travel Matters wellbeing retreat aims to help guests improve their mental and physical health through cold water immersion and other activities such as creative writing, hiking and painting, all whilst taking place in a remote & beautiful natural setting, surrounded by other like-minded and supportive people. These experiences are hosted by the likes of qualified open water swimmers, published writers, actors, artists and other professionals.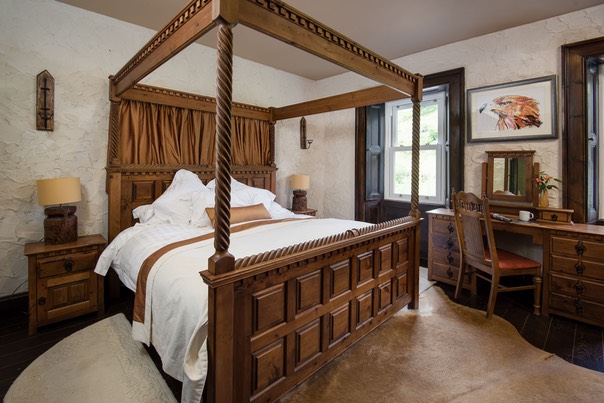 Our two retreats in Scotland take place in September & October 2023 at the stunning location of Loch Tay. With luxury accommodation, fine dining and an exquisite location this is a unique opportunity for anyone wanting to invest in some "Me Time"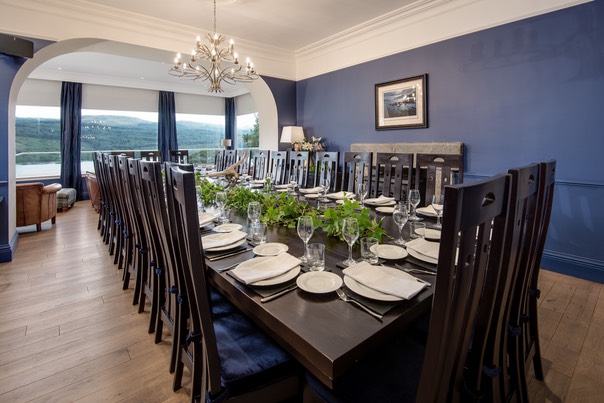 We base ourselves in our favourite Edwardian Lodge on the banks of Loch Tay. The retreat is four nights and five days. The September retreat is co-lead by Guinness World Record holder for Apnea and Free Diver, Amber Fillary. We will swim & immerse ourselves in Loch Tay. There is invaluable information on safely swimming in cold water and the health benefits therein, followed by breakfast, mindfulness experiences and physical well-being exercises. After lunch, the afternoons are free time. Previous guests have explored the immediate picturesque countryside surrounding the lodge, ancient woodlands, cascading burns and the nearby mythical Waterfalls of Archan, all of which is over-looked by the brooding Ben Lawers mountain range. You are cordially invited to take a step into the great unknown and emerge rejuvenated, creative and powerful!
See the website link here: https://www.travelmatters.co.uk/immersive-cold-water-retreat-in-loch-tay
The second retreat is with our "Plein Air" artist Susanna MacInnes. She will explore different aspects of outdoor painting from the practicalities of painting outside, choosing a composition, capturing light, water and reflections and working in oils. 
Where does the cold water fit into all of this? Well, the invigorating exercise of cold water immersion will assist with the flow of creativity and painting. The water unblocks our lack of creativity and just being outside can break that chain of uninventiveness. This in turn unlocks us, and helps us make sense of the world.
See the website link here: https://www.travelmatters.co.uk/loch-tay-wild-swimming-painting
Cost is from £1100 based on three people sharing which includes all meals, unlimited soft drinks, accommodation and all supervised activities. 
Local Mums Discount
Local Mums receive 5% discount on all retreats with Travel Matters

Travel Matters B Corp Statement

For more details contact:
Karen Simmonds
Travel Matters
Tel 0208 675 7878
Email info@travelmatters.co.uk
Instagram @travelmattersuk
Facebook https://www.facebook.com/TravelMatters/