Local Mums recommend the best soccer schools in our area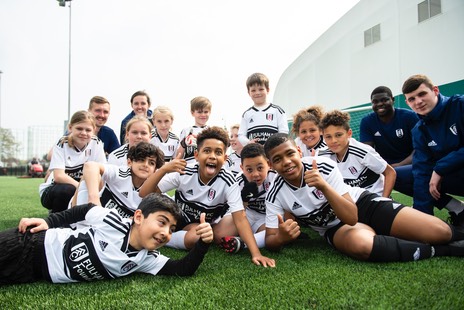 "I highly recommend to Fulham FC Soccer School to Local Mums. My son Jack had a fantastic week at Summer Camp at Motspur Park. He absolutely loved it. Every day he came out happy and excited about what he had learned and it has boosted his confidence significantly. He spoke very highly of all the coaches that he worked with but most specifically of Connor who made sure every day at pick up time he shook Jack's hand as he left and said something positive of his efforts of that day. As a Fulham FC family it was exciting enough for Jack to be able to attend this camp at the official training ground so when he was given the opportunity to be a ball boy at the season opener we were thrilled and this truly was the icing on the cake for Jack. He's really looking forward to attending again in the summer."
Donna Barnard, Local Mum
"I recommend to Fulham FC Soccer School. Coach Courtney and the team did a great job with their holiday camp at Hurlingham Park. This was the first camp we have attended (we come to Skills on Saturday) and it was absolutely brilliant! Not even the weather on Monday and Tuesday dampened their enthusiasm and the children absolutely loved it. It is hands down one of the best courses - the coaches, the organisation, the skills the children learn, the safeguarding - all of it. They do amazing things for grass roots sport and football."
Kyra, Local Mum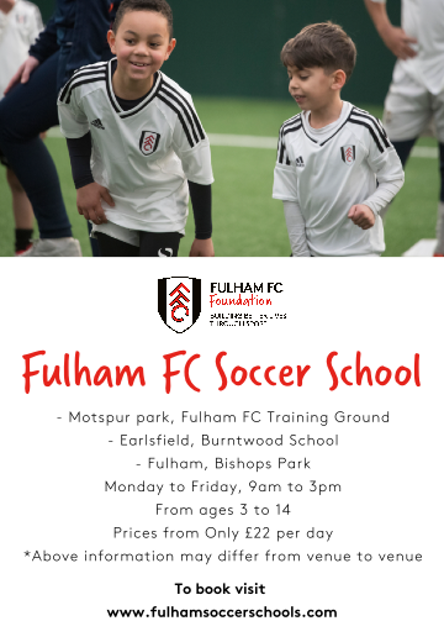 Learn to play the Fulham way!
Our soccer schools cater for boys and girls of all abilities aged 3 to 14. Your child will play tons of football, learn new skills and make lots of new friends. 
Children are grouped based on their age and ability, so you can be sure they'll have a great time with their friends.
Book now at www.fulhamsoccerschools.com  
Contact:
www.fulhamsoccerschools.com 
Fulham FC Soccer School
Tel: 0208 336 7547
Email: soccerschools@fulhamfc.com