It was her daughter's eczema that led local mum Louise to discover a high-quality Swiss skincare range called Arbonne. The discovery has changed her life - in more ways than one.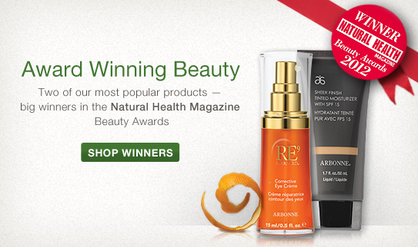 Local mum Louise Pieri was desperate to find a cure for her baby's Atopic Eczema. From six weeks old, baby Isla was in and out of hospital and Louise was traumatised by seeing her daughter in pain. After trying various creams, Louise had resigned herself to constant applications of hydrocortisone. 
"I was really upset that the only thing that worked was steroid creams," explains Louise. "I didn't like putting such a strong medication on Isla's delicate skin; I was really worried about the long term side effects."

Natural solution
Louise's business partner suggested she tried products made by a Swiss company called Arbonne and Louise hasn't looked back. "Since I discovered these amazing products, I don't use anything else," says Louise. "Isla's eczema has gone and I use all their products myself as they are so good!"

The high quality Swiss-made products use only natural ingredients. But Arbonne products don't carry the Swiss-made price tag as their products are sold through word of mouth only (they don't spend money on advertising). 

Carcinogenic
After researching more about skincare Louise found out that most creams for adults and children on the market contain harmful ingredients. "I discovered that 'mineral oil' is not the nice mineral stone that I thought it was, but the oil skimmed off the top of petrol." 
Louise also found out that the make up we use is full of animal fats ("we are basically putting pig fat on our lips!"). More seriously, Louise learned that the parabens frequently listed in the ingredients on bottles of shampoo and other products are now proven to be linked to cancer; they have also been found in breast cancer tumours.  

"I want to be alive longer for my children," says Louise. " I also want to put safe, non-harmful things on their skin."

Louise's discovery that many of her favourite products contained parabens was enough to make her move her monthly spend to Arbonne instead of buying products from a department store or the supermarket as usual.

Secret club
"Arbonne relies on word of mouth and they don't advertise so it's a little bit like a secret club," explains Louise. "This means the products are amazing but you can get them at a much cheaper rate as the company has no advertising costs to cover." 

"My business partner told me I could buy the products directly from the website using her ID or become a preferred client and get them at a 20% discount," explains Louise. "I thought this was great! She also said I could become a consultant and get commission on everything I sell and commission on the people that I recommend too."

"It was only a £54 set up fee to become a consultant," says Louise. "Then I bought products that I could give to people to try so I could spread the word of how amazing they were."
Good income
Louise now works as a consultant for Arbonne and is able to generate a good income for herself as an extra while running a Performing Arts college in Guilford and Theatrekidz after-school club for schools in Epsom. 
"Since I had my beautiful daughter Isla I have returned to work three days a week," explains Louise. "But the childcare fees were just crippling. As a consultant for Arbonne I can earn money in my spare time doing something I really love: just meeting people for coffee or emailing them to do the same."
Time to enjoy 
"By the end of the year I should be able to earn over £1000 per month," Louise says. "I have consultants in my team doing the same as me and they are now earning too!" 

Louise also likes the fact that being a consultant doesn't take up much of her time. "I do it for an hour or so in the evening when Isla is in bed." 
Louise enjoys the social aspect of the job too. "The nature of the business is all about networking with friends and acquaintances, which is lovely" she says. "It is a great way for mums that don't want to go back to work but want to earn money in a non-stressful environment. Mums have the added bonus of bringing amazing, natural products into their household to use."
Louise is holding a launch for Arbonne at Croydon Park Hotel in Croydon on Monday 25th June, at 8.15pm. "I would love it if anyone is interested in the products or the business to come along, have a glass of wine and hear all about it," says Louise. "There will be products that you can take away and try."
"Alternatively please email or call me and I can meet you for a coffee," adds Louise. "I can fill you in on how lovely the business is to do and how amazing and natural the products are."

Read local mums' reviews of Arbonne

For more information, contact Louise Pieri on 
Tel: 07931 902296
Email: louisepieri.arbonne@gmail.com 
Or visit www.arbonneinternational.co.uk for more details.