Local Mums Online nutrition editor Angelika shares her healthy pancake recipe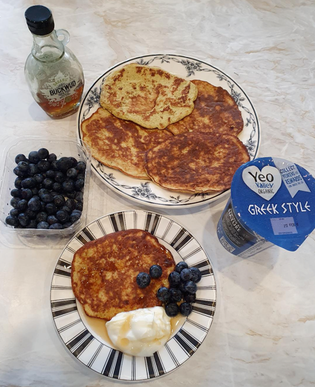 This breakfast has >20g of proteins per serving which is amazing! Proteins make you feel fuller for longer (+ reduce cravings) and the added benefit is they prevent saggy bottoms and chicken wings... 

Prep and cooking: 15min.
Ingredients for one person / 1-2 pancakes depending on the size.  Increase ingredients ( I normally increase it by 4) depending on how many people you're making it for.
1 ripe banana ( or more you making bigger batch), roughly chopped

1 scoop (~25g) vanilla whey protein powder or 25 g of almond flour

Whey protein substitutes: pea, hemp, soy or other vegetable protein powders

1 egg

15 g rolled oats

1 teaspoon of ground flaxseed

Pinch of salt

Dash of vanilla paste or vanilla essence for flavour (optional)
Fry in coconut oil ( 1 minute on each side)  

Serving suggestion: Greek yoghurt (or other lactose-free alternatives), organic graded maple syrup or local honey where possible, blueberries or other berries
Method
Mash up the banana (ripe ones better) with a fork or electric mixer, add protein (or other powders), egg, flaxseed, oats, salt and vanilla in a bowl and mix well to make your batter. Heat up coconut oil (half a teaspoon)in a non-stick frying pan over medium heat. Pour little puddles of batter into the pan. I usually make 2-3 small pancakes (depend on the size), from batter for one. Cook for about 1 minute on each side. Remove and repeat the process with the rest of the batter.  Perfect weekend breakfast or brunch. Enjoy x
Read Angelika's Nutrition Mum blog here
If you have any questions, please contact Angelika:
Angelika Cutuk-Short
Nutrition Coach
mobile: 07899948682
email: nutrition_in_mind@yahoo.co.uk
www.nutrition-in-mind.co.uk