Protein-rich breakfast, lunch and dinner recipes from our Local Mums Nutrition Edtior Angelika 

This is genuine food that will nourish your body, prevent cravings for that in-between snack feeling and keep you fuller for longer as it is packed full of all-important PROTEINS.

All recipes serve one person only – just increase the quantity of ingredients for more people…
Proteins: 21g, Calories: 380
Cooking and prep: 3.5 minutes
Rise and shine porridge with fruits and seeds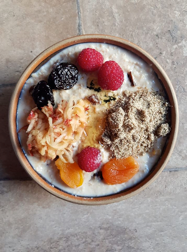 Ingredients:
☞         porridge (40g) with 300 ml semi-skimmed milk 15g protein. I alter between almond & semi-skimmed… you can use whatever you prefer OR use yoghurt instead
☞       grated apple 0.5g protein (I love it - optional)
☞         2 prunes 1.5g protein - fab for keeping regular lots of fibre
☞         2 apricots 1.5g protein - rich in vitamin A for eyes and skin, few good old raisins...extra fibre
☞         3-4 raspberries or blueberries full of antioxidants  0.5g protein
☞         1 tablespoon of milled flaxseed 2g protein, a great source of Omega 3. You can also add tbsp of chia, sunflower and pumpkin seeds instead... whatever rocks your boat
☞         1 teaspoon of honey - optional
Cook porridge and milk (plus I add dried fruits here) per instructions. I do it in a microwave you don't have to J. Add everything else on the top. Have a great day x
Chicken, mayonnaise and avocado sandwich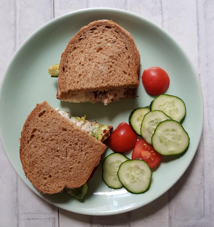 Proteins: 37 g, Calories: 540
Cooking and prep: 15 minutes or 5 min if chicken is already done
☞       100g Cooked (small) chicken breast 30 grams of protein (freshly cooked or from the night before, or shop-bought cooked chicken breast is fine)
☞       1/2 avocado 1 g protein - healthy fats for your brain and heart
☞       1 tablespoon mayo 0.2 g protein (optional)
☞        2 slice of ray sourdough bread 5g protein…good bakery bread better for you
☞       tomato medium 0.5 g protein - optional
☞       2-inch sliced cucumber 0.5 - optional
Mix all the ingredienst together in a sandwich, add salt and pepper to taste. I normally slice 1 tomato and 2 inches of cucumber and make a quick salad (olive oil+vinegar) to get my 5-A-DAY.
Enjoy x
Steak, mushroom and greens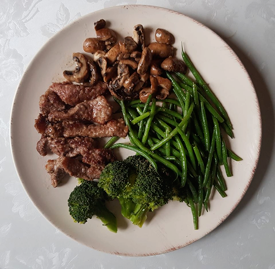 Proteins: 37 g, Calories: 590
Cooking and prep: 10-15 minutes (depending on how fast you areJ)
Note: For vegetarian/vegans: fofu, soy meat or halloumi cheese can be used instead of meat 
Ingredients: 
☞        80-100g of sirloin steak (cut into tin prices) 31g protein
☞       ½ pack of shiitake mushrooms 2g protein
☞      80g broccoli 2g protein
☞        80g green beans 2g protein
☞       season with salt, paper and garlic powder (my fav) or fresh garlic
Cut the steak into small pieces (see picture), season with salt and pepper and sprinkle with a tablespoon of flour to combine all ingredients. Fry in a tablespoon of hot oil for two minutes on each side. In separate pan fry shitake mushrooms in a tablespoon of oil. 
TOP TIP: if mushrooms get too dry add a splash of water. 
While the meat is cooking steam (my preferred choice as it keeps the vitamins in) or boil vegetables. If boiling veg, carefully add veggies to the boiling water and cook 3-4 min.
Enjoy!
 Angelika, your Local Mums Nutrition Editor x
Read Angelika's Nutrition Mum blog here
If you have any questions, please contact Angelika:
Angelika Cutuk-Short
Nutrition Coach
mobile: 07899948682
email: nutrition_in_mind@yahoo.co.uk
www.nutrition-in-mind.co.uk