Local Mums recommend the best karate classes in our area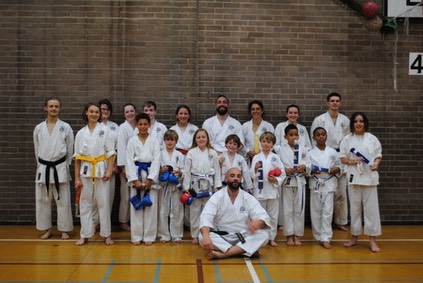 "I highly recommend Kyo Rei Shukokai Karate - London Karate Ltd to all Local Mums. I attended a seminar last year and the organisation was excellent from start to finish. I also had the opportunity to witness the children's class at this club and once again was thoroughly impressed by the organisation and the level of engagement of all the children, inspiring me with ideas to take back to my own school. Simply fantastic, well done." Rob Lewis

Kyo Rei Shukokai Karate - London Karate Ltd
Shukokai "the way for all" was founded by Soke Chojiro Tani (1921-1998).
It is a dynamic form of Okinawan karate, renowned for its speed and power, it blends traditional styles of karate with modern techniques. 
Shukokai is a direct descendant from its parent style, Shito Ryu which was founded by Soke Kenwa Mabuni (1880-1952).
Kyo Rei Shukokai Karate was founded in 1993 by Robin Horsfall 6th Dan, and is currently run by his son Alex Horsfall 5th Dan who is the Chief Instructor.
Our style of karate "Shukokai do" means "way for all". Shukokai is a traditional Okinowan karate style with the emphasis on self discipline, good manners and respect for others.
We welcome new students from 4 years old upwards and have many clubs around West London, South West London and North West London to choose from including Putney, Richmond, Chiswick, Twickenham, East Acton, Northwood, Woking, Weybridge, Teddington, Roehampton, Hammersmith, Kingston and Brighton.
Karate is a fantastic way to increase fitness levels, whilst improving flexibility and stamina. It can also reduce stress levels and help with goal focusing.  
Thousands of children have trained through our organization over the years. While some have gone on to compete successfully at a National and international level, everyone has taken out something even more important: self-esteem and good attitude.
For more information and to book classes, please contact:
London Karate Ltd
Tel: 07538497798
Email: contact@londonkarate.co.uk 
www.londonkarate.co.uk