Local Mums recommend the best mobile nail care professionals in our area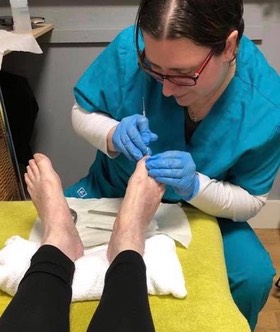 "I highly recommend Nail Brush Ups to Local Mums. Excellent toenail treatment this time; I'm looking forward to having Fit Feet Treat next time. Jamie is a really lovely young lady, so gentle that I hardly knew she was cutting my toenails. I'm looking forward to her next visit."
Joan, Local Mum
"I recommend Nail Brush Ups to Local Mums. I was SO pleased with my new toes courtesy of Jamie's expert touch! I had left my feet for so long, I just didn't want to let anyone see them. Looking forward to Jamie coming again in six weeks."
Dee, Local Mum
"I recommend Nail Brush Ups to Local Mums. I had my pedicure done by Jamie before I went on holiday. I always have french manicure and loved it. I had my treatment done over a month ago and the varnish is still great."
Kym Elizabeth, Local Mum
"I highly recommend Nail Brush Ups to Local Mums.  Excellent and friendly service wouldn't go anywhere else." 
Tracey Bunting, Local Mum 
"I recommend Nail Brush Ups to Local Mums. Jamie was hepful and friendly. I've felt ashamed of my feet, after my appointment with Jamie I feel they are starting to look like feet again."
John L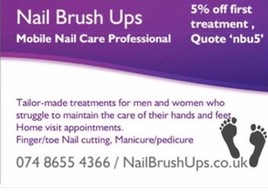 Nail Brush Ups 
I am a mobile nail care professional offering tailor-made treatments to men and women who struggle to care for their hands and feet.
I work with men and women struggling with maintaining the care of their hands and feet which is leaving them in discomfort and pain. I offer tailor-made treatments in the home to help them feel comfortable so that they can get on with their life.
I love helping people relax. I wanted to offer something the high street nail salons do not: home surroundings and comfort combined with a pampering manicure or pedicure.
I didn't want to become another dust filled salon worker but instead offer a service to those that can no longer reach their feet or have a steady hand to paint their nails; a treatment that will leave them feeling pampered and get their nails looking pretty.
Contact:
Jamie Cunningham 
Nail Brush Ups 
Tel: 074 8655 4366
Email:
Nail Brush Ups on Facebook
www.nailbrushups.co.uk