Local mums paint their bumps to help save famous South London hospital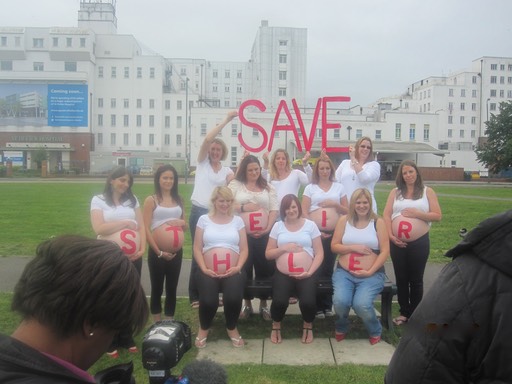 September 1, 2012
A group of pregnant mums from Local Mums Online posed for television cameras and photographers today to help save St Helier Hospital in South London.
In a graphic display of their passion to stop the much-loved local hospital from losing it's maternity and children's units, a group of pregnant Carshalton Mums painted their bumps to draw attention to the forthcoming cuts.
Talks to secure the downgrading of the iconic South London hospital moved a step closer to completion this week. St Helier Hospital currently looks set to lose it's maternity, children's and A and E services unless steps can be halted by the public consultation in October.

Kathy McGuinness from Local Mums Online said: "Sutton Council asked us to help support their campaign to save St Helier by inviting 12 pregnant mums for a photoshoot. I put a call out on our Carshalton Mums Twitter and Facebook groups and 12 Carshalton Mums immediately came forward!"
"We are more than happy to do everything we can to save St. Helier," said Carshalton Mum Kate Edwards, who's three year old son was born at St Helier. "This is our local hospital and it means so much to us."
"I was born in this hospital," added Carshalton Mum-to-be Marie Rooks, who is expecting her first baby in November. "My family have strong links to this hospital, my sister's children were born here and my mum works here. I would be devastated to see it close."
"What defines us as Local Mums is that we have all been through the local maternity services," said Local Mums Online founder Kathy McGuinness. "We are very attached to this hospital and will do everything we can to keep it."
"It is vital that women receive good local care at a time when they are at their most vulnerable and not have to struggle across London for their ante-natal appointments, some of them with toddlers in tow," added Kathy, who is also a breastfeeding counsellor for Sutton and Merton NHS.
Carshalton Mum and make up artist for Channel Four, Suzy Doyle, was the official make up artist for the photoshoot. "I am delighted to donate my services to such an important cause," said Suzy, who started at 7.30am to give each mum a fun, professional makeover. 

"We've had great fun," added Carshalton Mum Rebecca Osbourne. "I was a bit nervous about showing my belly off, but we really enjoyed ourselves with Suzy and relaxed - and it's all for a fantastic cause!"
Read Local Mums Online in The Press:

ITV News