How about a healthy alternative to chocolate these Easter holidays? The kids will still love these tasty treats. Our Holistic Health Editor Evi Achillea has some great easy Eater recipes to try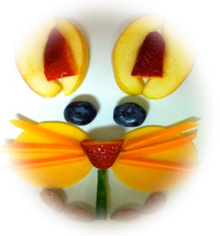 Making Easter fun for kids by whipping up cool and festive snacks is a great way to brighten up the holiday during lockdown but parents need to make sure that the treats are healthy. Too many sugar-filled snacks will inevitably take a toll on your child's health. Luckily, there are countless ways to make Easter food fun for kids without putting their health at risk.
It is now known, not to say acceptable nowadays, that there is a strong phenomenon of childhood obesity. This results in increased rates of overweight children with high levels of fats and blood sugars such as triglycerides and glucose. As has been said on several occasions by doctors and dieticians overweight or even obese children are more likely to become overweight/obese adults so they are at greater risk for cardiovascular disease, diabetes Type 2 and metabolic syndrome. 
So what exactly is it about this downhill of the level of health to our children? 
The answer to this question is not simple and cannot be answered in a single word. 
ϖ Certainly the right and healthy diet is a key factor in avoiding obesity. But we adults and more specifically parents should not forget that children act like mirrors. What does that mean? That children behave like adults who are close to them. They tend to like what their parents like, and not like what their parents don't like. This is also the case with the feeding of young children. It is very important that parents realise that their behaviour around the issue of health is an example to be emulated for their children. Let us not wait or much less require children to eat healthily and not be overweight when the environment around them does not follow a healthy lifestyle. 

- A child has a 50% chance of becoming obese if one of the two parents is obese while these chances increase when both parents are obese. 

- Obesity is due, as we said at the beginning and in family/environmental factors. If a child is staying in an environment that is not offered for outdoor play it is natural to find some forms of entertainment that however promote physical inertia such as TV, computers, computer games etc.
- The accumulation of excess weight in children may still be due to the replacement of some feelings with food. Many parents are accustomed to reward their children with food, either by giving them sweets for a job that they have finished successfully, or by taking them to eat in fast (fast food) MGA subconsciously the food is equated with a positive feeling about it and several children after as adults develop emotional overeating i.e. they eat something that causes them positive emotions to cope with another negative emotion.
                        
The 7 + 1 must in children's nutrition:
The common denominator in happiness, success, growth and proper nutrition is balance. When, in fact, they are our children, the expert's opinion is necessary. 
What are the key points that we need to focus on? 
The child's diet must be characterized by variety, measure and balance in order to be able to meet its needs in nutrients necessary for the uptake of the required energy, for the development of its organism and for the protection.
- Breakfast

Very important is the consumption of the morning meal. Many studies show that students who eat breakfast perform better in lessons than those who do not consume. 
- Many and often meals equally important is the existence of many and frequent meal. Intermediate meals offer the body continuous energy and help to maintain glucose at constant levels. 
- Fruits and vegetables
 Children should consume at least 5 servings of fruit and vegetables daily (1 portion of fruit corresponds to 1 medium fruit and 1 serving of vegetables corresponds to 1 flames. Raw or ½ flames. Boiled vegetables). 
- Wholegrain Products 
The whole grains and their products should be the basis of the daily diet of the child. 
- Protein in the daily diet should include foods rich in protein e.g. fish, lean red meat, poultry, eggs, legumes.
- Fish and omega-3 fats 

Omega-3 fatty acids are essential for the body, as they cannot synthesize them on their own and must receive them from food. These fats are essential for the development of the nervous system as well as for their anti-inflammatory effects. Foods rich in omega-3 fatty acids are oily fish, seafood, walnuts, linseed. Twice a week the family must consume fish, one of which is greasy. 
- Olive oil 

As the main source of fat of the diet choose the extra virgin olive oil. 
ϖ Water, very precious; do not underestimate water. 

Adequate water intake plays an important role in the physical, neurological and emotional condition of the child. When children are hydrated they have more energy and are more concentrated. Even a mild dehydration can slow down brain functions.

If you're looking for ways to keep your little bunnies bright-eyed and bushy-tailed this holiday season, consider whipping up one of these healthy snacks: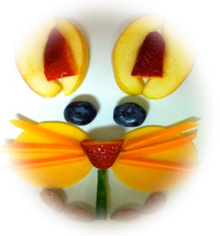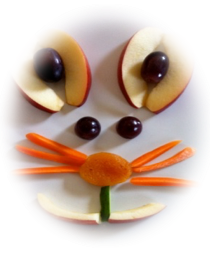 1. Healthy Fruit and Vegetable Bunny Snack

Great for outdoors post egg hunt snack! You can use apples, strawberries, blueberries, cheese cut in circles, carrots, cucumber, and mini almonds but feel free to get creative with what you have on hand! You can even pre-cut everything and have your kids put together their own bunny!



2. Bunny Easter Lunch
This Easter, make with your kids  this fun and festive bunny rabbit sandwich lunch. It doesn't get any cuter than this when it comes to a cool Easter lunch!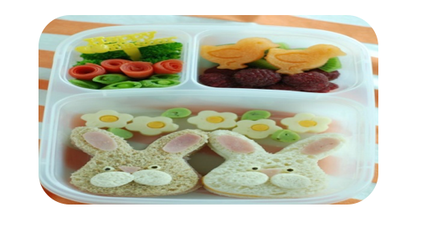 3. Cute Devilled Egg Chicks 



Trade the plain deviled eggs for these adorable hatching chicks, sure to be the hit of your Easter brunch. 
These particular guys use pimento-stuffed olive slices for the eyes and little pieces of carrot for the feet and beaks. Everyone will love these healthy and fun snacks this Easter weekend!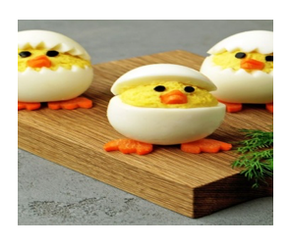 4.  Easter Eggs 
(D.Ella's Recipe - Notification: Not suitable for people suffering with nuts allergies)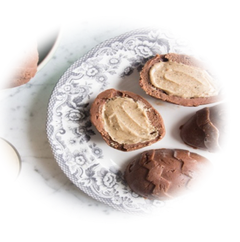 Ingredients:
1/2 a cup of cacao butter
2 tablespoons of raw cacao powder
3 tablespoons of date syrup
2 tablespoons of almond butter
1 cup of dates
3 tablespoons of boiling water
250g of cashew nuts
1 teaspoon of vanilla powder
Method:
For the cashew butter:
Pre-heat the oven the 180C, then once the oven is hot place the tray of cashews in to bake for about ten minutes – until they start to go golden brown but aren't burnt Take the cashews out the oven and let them cool. Once cool place them in a food processor with the vanilla powder and blend for about ten minutes, until the mix is totally smooth and creamy. It's so tempting to stop blending once it gets sticky but let it keep going until it's runny, trust me – it's so worth the extra few minutes! You do need a really strong processor, like a Magimix to do this sadly, a weak one won't make it totally smooth.
For the chocolate:
Place the cacao butter in a saucepan and melt on a low heat with the almond butter. Once they've melted pour the liquid into the food processor with the remaining ingredients and then blend until smooth. Place the chocolate mixture into the silicone easter egg moulds. Mould the chocolate using the back of a tablespoon so that all the sides are covered and there is a shallow space left for the cashew butter.
Place the moulds in the freezer for 30 minutes. Take the Easter eggs out of the freezer and pop them out of the moulds.
Add a heaped teaspoon of cashew butter into half of the chocolate moulds. Place the cashew butter in the centre of the halved egg, enough so that they completely fill the hollow space.
Place the remaining chocolate moulds on top of the cashew butter filled moulds. Smooth round the edges of the eggs so that each half sticks well together.
Place the whole eggs back into the moulds and then freeze for at least an hour. Then take them out the freezer and let them sit for 10-15 minutes before eating!
HAPPY EASTER LOCAL MUMS
'...Happiness lies first of all in health, It's easier to build strong children than to repair broken men...'


For more information or advice, please contact:
Evi Achillea 
Owner 
Handy Therapies 
Tel: 07528337068
Email: evi73@hotmail.co.uk
www.handytherapies.co.uk