Local Mum Micala Sansom from the Aston Clinic explains how she manages to turn the January blues into a positive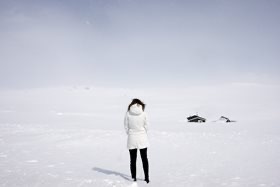 Oh, how I used to hate January, the first day back at work after the Christmas and New Year festivities would fill me with dread!
The long dark nights and bleak weather just made me want to continue the party season all the way through the end of January, that's why I never used to do 'dry January' as I found it too depressing.
However, something changed after I became a mum, I decided that January can be a really productive month and we can use it as a month to slow down and get that much needed rest after all the revelry and jollity of December.
So now my January is very different, and I find it's one of my most productive months. Instead of feeling gloomy about the month ahead and heading straight for a glass of wine, to numb and cheer my spirits I have found that January is a great month to:
Rest and read
As a parent one thing I don't have a lot of time for is to read, as the evenings can be very busy too. In January I clear my calendar and only try to do things that are planned like birthdays or anniversaries. I try to use the dark evening to catch up on a book that I haven't read and wanted to read and catch up on much needed sleep that I will have missed during December. It's an opportunity to do the things you don't normally get to do, play more board games or chat with your family instead of a sitting lobotomized in front of the television every evening.
Time to think and plan
This is a month I can also start to reflect about what I want to do for the rest of the year and plan, sounds easy but this takes a lot of thinking. One concern or fear I always have is, I don't want to finish the year the same as I have started. If you are in that job that's not fulfilling or would really like to start some form or study, then now is the time to think about it. I haven't always found goal setting easy, but I am lucky enough to meet some talented people within my work and Loanne T Hor (www.innersuccessfirst.com), NLP specialist helped me get more focused and realising what I want to be and do.
Health and exercise
Having a keen interest in nutrition I try and eat healthily in January, this doesn't mean for me drastic changes where I cut out everything, but I find the easier to cut out a few things. This month its NO to alcohol until the 27th January, yes, I am bending the rules a bit as its my friends 40th Birthday and I cannot sit without a drink, but until then I am alcohol free!  I'm also cutting down on caffeine and sugar. I won't be cutting out sugar completely, but I will need to throw out the left-over tin of quality streets and any leftover Christmas treats when my willpower waivers. I find the best approach to exercise for me, is not joining a gym as I normally pay a monthly membership and probably only use it twice a month, if I am lucky. Through experience in the past, I find if I book and pay for specific classes upfront I tend to do them without fail. This year I have planned to do Pilates and Barretone which is a quite an intense form of toning using ballet stances. I started this class last year and I am really surprised at the results! My plan is to also go for a brisk walk in the morning on the days I'm not working to get some much needed fresh air and daylight.
I hope you get chance this month to have time to reflect on last year and think about your future and I hope by the end of 2018 you feel fulfilled and happy with what you have achieved.
Happy New Year from the Aston clinic!
Contact:
Micala Sansom
Aston Clinic
Tel: 020 8942 3148
Email: hello@astonclinic.co.uk
Aston Clinic on Facebook
New Malden clinic
Monday to Thursday 8am - 8pm
Friday 8am - 5pm
Saturday 9am - 1pm
Emergencies/Sundays: 07504 060 908
26 Kingston Road, 
New Malden,
Surrey, 
KT3 3LS

Harley Street clinic
Friday Afternoon (by appointment only)
Contact Aston Clinic to book appointments for Harley Street:
Tel: 020 8942 3148
12 Harley Street,
London, 
W1G 9PG