If you fancy a Christmas tree with a twist this year, why not try timbatree? Made by a local master carpenter, these stunning trees are practical and great for the environment.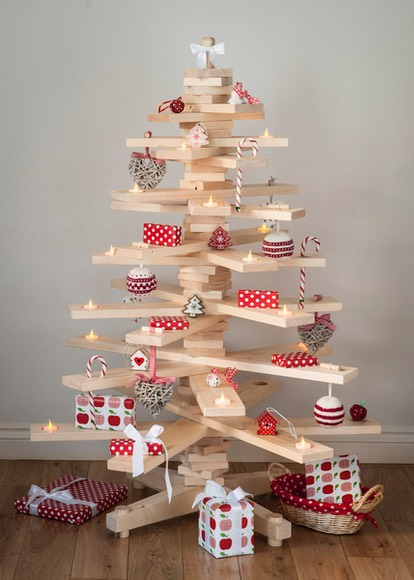 When it comes to Christmas trees we are generally faced with two options. Expensive real ones that last a few weeks, shed needles and make us feel guilty about cutting down forests, or fake plastic ones that have very little in common with a real tree.
Now a third option is available - timbatree! These Christmas trees are great for the environment, look stunning, can be packed away and reused easily and best of all, they're made from beautiful real wood. Not a gaudy plastic twig in sight! 
Passion for wood
timbatree is the inspiration of Joost, an ambitious carpenter with a passion for wood. Put him in a forest and he's a very happy man."I was brought up in a family of carpenters and decorators," explains Joost who has Dutch roots. "So I was always encouraged to be creative." 
Cutting, sanding and shaping from the age of 14, it's no surprise Joost is aiming high, breathing new life into our somewhat old-fashioned Christmas traditions. Joost now runs an international carpentry business and spends lots of time time inspiring the next generation of master carpenters.
All year round
"It's not all about me though," explains Joost, whose tree workshop is based at Priory Farm near Reigate. "There's a whole team behind each tree. Everyone is committed to the environment. We ensure each supplier is FSC accredited, source locally where possible and take real interest in the communities that supply our timber."
At timbatree HQ you won't be surprised to know there's a timbatree tree up all year round. Sometimes it holds postcards or little ornaments from vintage shops. It's also been known to play host to chocolate eggs - but not for long!
If the team achieve one thing, it's sharing their passion for the environment and love for wood with you. "It's fun, playful, simple and beautiful," says Joost. And it doesn't cost the Earth.
So if you're thinking of buying a new tree this year, why not give these beautiful trees from timbatree a try?
Read Local Mums reviews of timbatree
Contact:
Joost Taylor
timbatree
Tel: 01737 336255
Email: joost@timbatree.co.uk 
www.timbatree.co.uk