We all know the benefits of buying meat locally from a butcher, but how do you keep it within a tight budget? Our Food Editor Tracy Carroll has some tips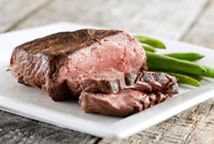 Winter Sundays are just perfect for drawing the curtains, lighting a few candles and serving up a steaming roast dinner with a pile of crunchy roast potatoes. Bliss!
It's all too easy to fall into the habit of serving familiar cuts of meat, such as leg of lamb, loin of pork and rib of beef, which can be quite pricey. However, it's worth discovering the lesser-known joints, often with surprisingly tasty – and affordable - results. So go along and see your local butcher who will be able to tell you the best buys of the moment.
Here are some ideas:
Leg of mutton cut (beef)
This well-flavoured meat comes from the forequarter, and is usually trimmed, chopped and sold as braising steak. However, for a roast, ask your butcher to roll it for you. Cook it long and slow in a pot with plenty of liquid – try combining beef stock with a generous quantity of red wine, a handful of fresh thyme and some chopped root vegetables.
Mutton 
The meat of a mature sheep, mutton has a rich flavour so a little goes a long way – and by adding barley and vegetables to a casserole you can get away with a smaller quantity of meat. Try this recipe for Unhurried Mutton One Pot, which would be great for a Burns Night supper.
Shabden Park Farm at Chipstead, Surrey, specialises in mutton – theirs is finished on a forage based diet and matured for at least two weeks post slaughter, so the meat develops a rich flavour.
Hand and spring (pork)
Taken from below the pig's shoulder, this cut includes the large knuckle bone.  You can roast it with the bone in, but if you want it to look more attractive and be easier to carve, ask for it boned and rolled. Ensure the fat is scored and then rub salt into it to give you great crackling. This sweet, tasty meat comes from an active part of the pig, so allow plenty of cooking time to ensure it's tender, finishing with half an hour or so on a high heat to crisp up the crackling.
Breast of lamb
This is a tasty cut with crispy skin. It's difficult to carve with the bone in, so if you want to be more sophisticated than just tearing the meat off, ask your butcher to bone, stuff and roll it. Then you can roast it in the oven – once again, the mantra is "long and slow", so allow around three hours. Start it hot to crisp up the skin, then after half an hour turn the heat to medium. Baste regularly and, when it's ready, skim the fat from the juices, add some stock, wine or cider and simmer to reduce and thicken. A breast is quite small – one will provide around three portions.
Butterfly breast of turkey
For when you can face turkey again, a great value choice is a butterfly breast. Ask your butcher for a boneless, stuffed breast of turkey and you'll have a delicious roast with no waste, perfect for serving up with the last of the Christmas cranberry sauce. Don't forget the Brussels sprouts!
Looking for a butcher in Surrey? Find one near you at www.LocalFoodSurrey.com