Local Mums recommend the best Christmas shows in our area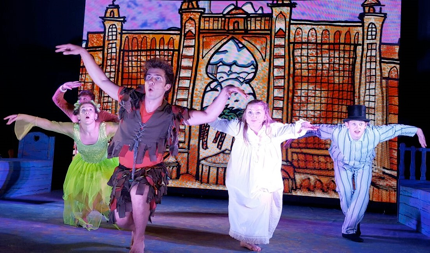 "This is a wonderful production of the classic Peter Pan story with brilliant acting, singing and sets. I took my hubby and three children (below) and we all loved it. To get everyone in the mood for Christmas, you can't beat the charming Peter Pan story and this lovely production full of family fun and funny jokes in a superb intimate venue with a bar is just perfect! The show is ideal for little children too."
Kathy McGuinness, Local Mum
Peter Pan
Following the success of last year's musical comedy The Snow Queen, Under The Bridge will once again transform into the ultimate Christmas destination offering a weekend of family-friendly festive spirit away from the bustling crowds of the west end.
Taken from J.M. Moore's children's classic, Peter Pan follows the story of a boy who could fly as he embarks on adventures packed full with mermaids, pirates, fairies, crocodiles and everything in between. Under the Bridge's adaptation is a poignant, funny and original 60-minute production where every child can be involved in the magic; a perfect way to get the family geared up for the festive season.
Peter Pan will run three times a day from 11am on 7th, 8th,13th and 15th December. Tickets start at £15 and are available from www.underthebridge.co.uk.
Under The Bridge is uniquely stylish West London music venue, with full wheelchair access and parking on-site.