Local Mums recommend the best first aid courses in our area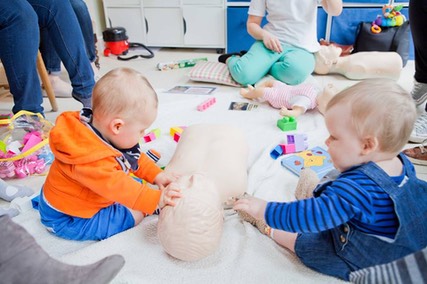 "I highly recommend Mini First Aid to all Local Mums. I attended a Mini First Aid course with my friends from NCT. If was a great course and very worthwhile doing. I feel much more informed about what to do should an emergency arise. Well delivered, at a good pace that I could follow and we were also given the opportunity to practise some of the steps - e.g CPR."
Kay, Local Mum
"I recommend Mini First Aid to Local Mums. We did a private class tonight (ten adults plus the babies). It was great! Very laid back about the babies fussing, needing feeding etc. The class covered all serious first aid cases you might come across with a little one and I feel much better knowing that I might cope a little more confidently if, God forbid, anything should happen." 
Clair, Local Mum
"I highly recommend Mini First Aid to Local Mums. I attended the course a couple of weeks ago, and since then have convinced my husband and Mother-in-law to attend! I think that as a parent, or someone who looks after children on a regular basis this course is an absolute must. It made me realise how woefully under prepared I was to deal with a First Aid issue, and that there is no excuse for not knowing this potentially life-saving information. I felt comfortable and at ease with the delivery style, which combined with the opportunity to ask questions and get hands on really helped the information to sink in."
Charlotte, Local Mum
Mini First Aid
Baby and Child First Aid Classes for parents, grandparents and carers. Learn to save a life for £25. The best £25 you ever spend!
Mini First Aid offers first aid classses to parents, grandparents and carers of babies and young children. The classes are delivered in a relaxed and comfortable style.
Mini First Aid was born in 2014. Mum and freelance trainer Kate wanted to provide a class for parents and carers that covered the basics of life saving first aid, which was memorable and gave parents, grandparents and carers the confidence to know what actions they needed to take if faced with a medical emergency. 
Venues, dates and prices:

Mini First Aid classes

2 hour Baby and Child First aid class:
Friday 20th October 7:30pm Monkey Puzzle Nursery Weybridge
Bookings via Helen@minifirstaid.co.uk Or www.minifirstaid.co.uk, special offer price of 20% discount making it £20 per person, please mention Local Mums Online.
Private classes at people's homes are min of 6 max 12 @ £25 per person. 
Mini First Aid Kids - 1 hour Emergency First Aid class for children aged 9+. 
Mini First Aid Kids is a 1-hour fun and interactive class covering essential first aid techniques for children. The class includes responding to an emergency, CPR, dealing with choking and a practical approach to treating Injuries.
Weekends and evening times available, also classes for dads and grandads. If you have a pre-crawling baby, you are more than welcome to bring them with you to the 2 hour classes.
Contact:
Helen Stafford
Mini First Aid Surrey and West Sussex
Tel:  07941 285324
Email: helen@minifirstaid.co.uk
Mini First Aid Surrey and West Sussex on Facebook
www.minifirstaid.co.uk