"An oasis of South East Asian charm in Southside Shopping Centre"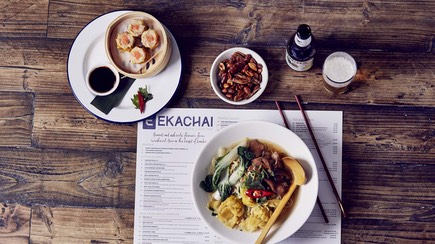 "I highly recommend Ekachai to all Local Mums. Ekachai is an oasis of South East Asian charm in the hustle and bustle of the Wandsworth southside shopping centre. There is a fantastic choice of dishes with high quality, fresh ingredients. The service is great and very friendly, with a perfect blend of open-kitchen and relaxed, authentic Asian interior.  It's delightful to be lost in the aromatic smells, delicious fresh flavours and friendly atmosphere of Ekachai."
Kathy McGuinness, Local Mum of four



Ekachai
"Ekachai" (a common Thai name) was established in 1999 by two Hong Kong born restauranteurs with the concept  of creating a menu combining their favourite childhood dishes. Our menus are South East Asian, specialising in the many overlapping street style dishes of Thailand, Malaysia and Hong Kong.
Our first site was in London's Liverpool Street and we have now independently grown to four outlets across London and Birmingham. We strive to be honest, authentic and affordable – our simple aim is to provide the real taste of Asia in a relaxed and casual environment. 
Contact:
Ekachai
Unit 205,
Upper Concourse,
Southside shopping centre,
London
SW18 4TE
Tel: 020 8871 3888
Email: info@ekachai.co.uk