Local Mum and counsellor Sarah discusses the benefits of counselling to help with depression and anxiety at this time of year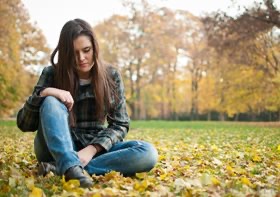 It's that of year again when buds beginning to blossom and the promise of sunshine, warmth and longer days is in the air. This can be in sharp contrast to the way you may be feeling inside.
Perhaps you think you should feel good when nature is springing into life but you just don't.
Instead you carry a sense of greyness, dissatisfaction and stagnation and despite your best efforts to find it increasingly difficult to see any way to make changes that could help you feel better.
Depression and feeling low can creep up on you for many reasons and be almost unnoticed until you realise that you are not appreciating and enjoying life in the way you have done in the past. This can be bewildering and you keep trying to pull yourself back to together' which may have worked before but not this time.
Well-meaning friends and family may realise that you don't seem to be your usual self and try to cheer you up but this doesn't help either leaving you feeling even worse about yourself.
Talking these feeling through with a Professional Counsellor can help you to a deeper understanding of why you are feeling this way. Without being judged and in confidence your values will be respected and you will be listened to. It takes a lot of courage to talk about feeling low and seek help and the Counsellors at the Aston Clinic understand that.
Whether you are facing a major life change or have a general feeling that life could be more fulfilling, Counselling can be very effective in helping you find your own solutions. Sometimes very small changes that you choose to make can feel like a 'Spring Clean' and will encourage you to see possibilities in situations that previously seemed difficult or even overwhelming.
If you are affected by any of the above or other emotional problems and wonder if Counselling is appropriate for you, please contact the Aston Clinic on 0208 9423148 and one of the Counsellors, will return your call in confidence to arrange an initial session where you can explore your needs and the suitability of counselling for you.
Real life story
Anxiety and depression​
"I was unimaginably fortunate to have met Sarah in 2010 after I had lost my mother to cancer. I was in excruciating emotional pain. Swaying daily between anxiety, depression guilt, deep despair and insomnia. I really couldn't see the light at the end of the tunnel, my world as I had known it had collapsed. On reflection, I remember that I had almost crawled into Sarah's room seeking some relief from my pain.
I continued seeing Sarah for a year, at that point in my life her consultation room was the only place I felt safe, understood and nurtured. She was exceptionally supportive and compassionate, it was so clear to me that her approach to work was far beyond that of working with the mind and body, Sarah is a truly gifted healer working from her heart, I always walked away from our sessions feeling she gave me her all, so much more then I had thought possible from another human-being in a professional capacity.
Over the years, in our sessions there were many tears, laughter and so many aha moments, where I had gradually began to see the light again, my wounded heart could open a little more and my mind could turn that corner, to see things a little differently,   
Sarah helped me to be ok with my struggles, my wounds and the grieving process I was going through. Thanks to Sarah's help I'm in a stronger place today, I am no longer paralysed with anxiety and depression, I am now able to make plans for the future and look forward to creating a life that makes me fulfilled and happy, 3 years ago it was a very different story. I still miss my beautiful mother, she was my world and that doesn't change today, what has changed today is that I realise life has its ups and downs, and loss is a part of life but we can heal, learn and grow stronger. Sarah helped me to make that transition in my life. I am forever grateful to her and her ability to heal others is profound."
Susan, Local Mum, New Malden
Sarah is available at the Aston Clinic every Saturday.
To find out more contact 0208 9423148 or email hello@astonclinic.co.uk