Here's our pick of the best activities on offer in and around Epsom this month.


Skip to our list of Daily Activities for Babies and Toddlers
Skip to Epsom Playgroups
Skip to our pick of Local Days Out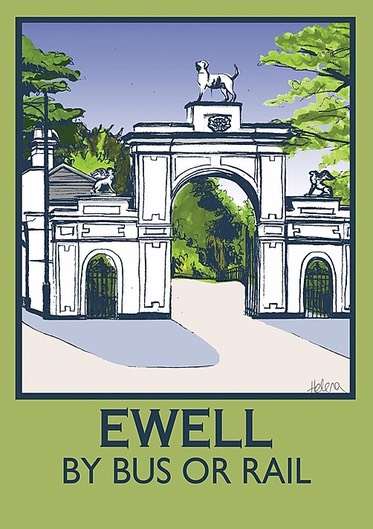 (Artwork by Local Mum and Artist Helena Vaughan)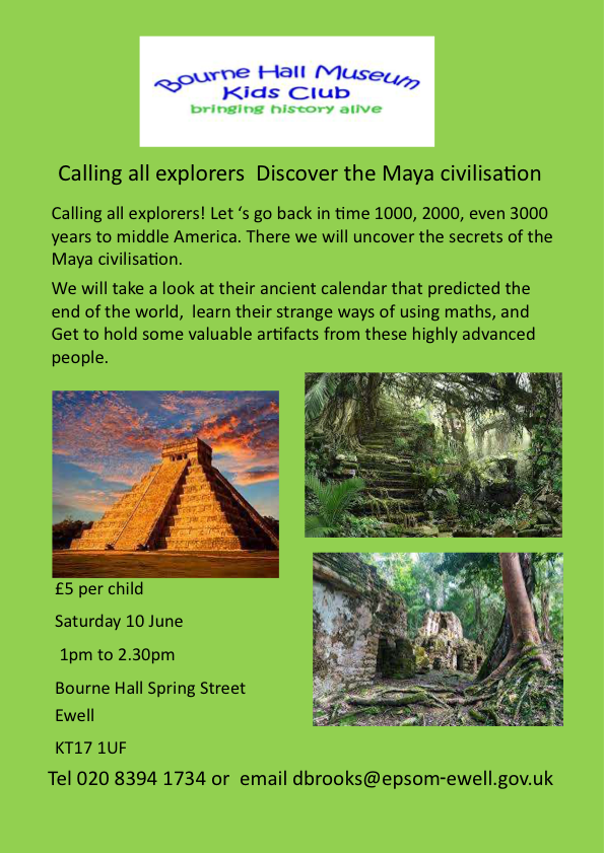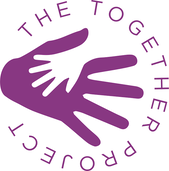 Join us for our NEW Songs & Smiles in Banstead Manor Care Home
Songs & Smiles is an intergenerational music group for 0-4 year olds, their grown-ups and older people, held in care homes and assisted living schemes.
We sing, move, play, make friends and have lots of fun!
Join us on THURSDAYS at 11.00AM at Banstead Manor Care Home, 8 Brighton Road, Banstead, SM7 1BS starting on 20th April.
The sessions are FREE/donate-what-you-can, they make people dance with joy, cry with laughter and create long lasting friendships so everyone has something special to look forward to. They are relaxed and informal and we even provide refreshments at the end! 

We'd love to see you there. Book your space here now: https://thetogetherproject.org.uk/songs-and-smiles
Contact:
Jenny Reed
Content and Communications Manager
Tel: 07747 004491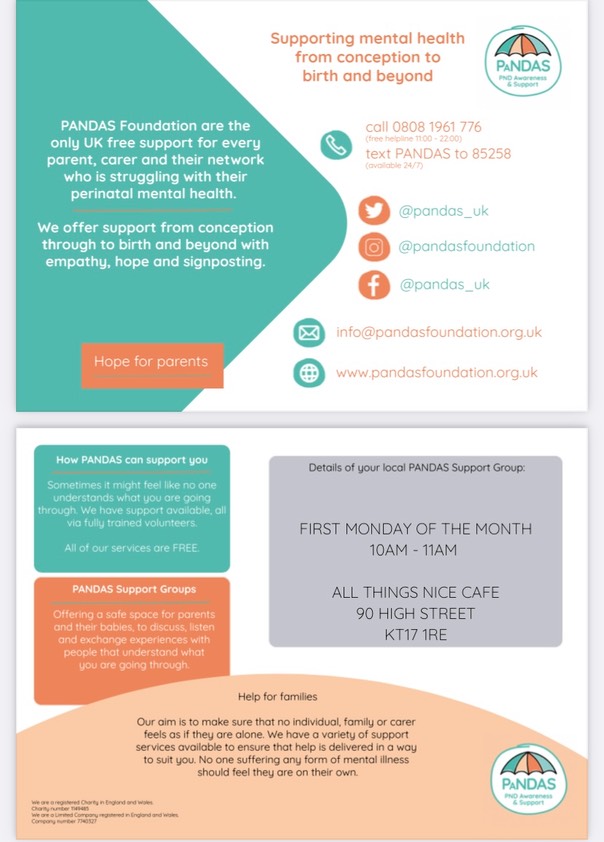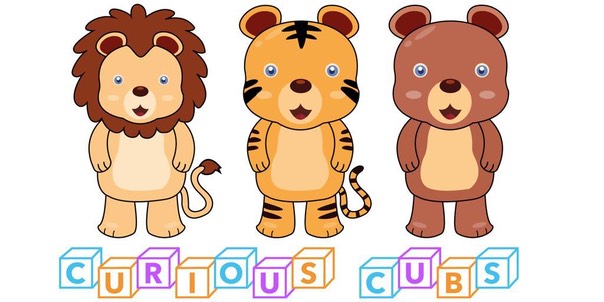 Curious Cubs
The Studio, Stoneleigh
Curious Cubs baby classes in Stoneleigh, Ewell and Epsom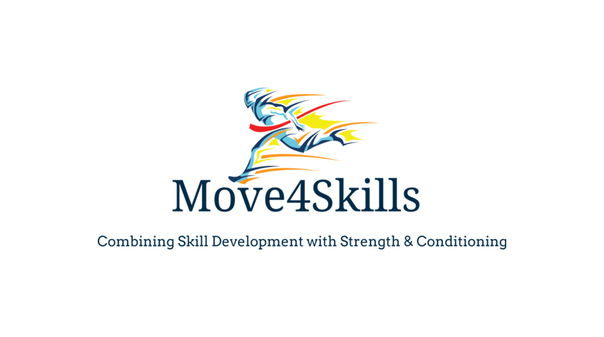 Move4Skills is giving Local Mums 10% discount with their skills development and strength and conditioning sessions. 
Be part of a unique coaching experience where we develop the 'whole' player by combining skill development with a strength and conditioning program for their chosen sport. Book here with the discount code M4S10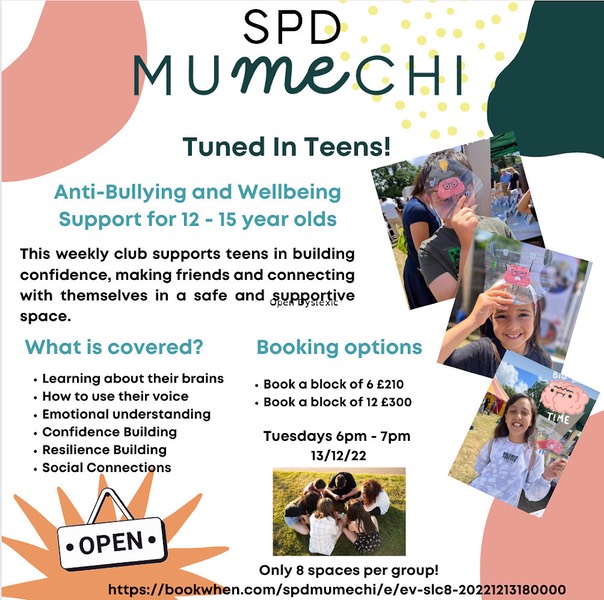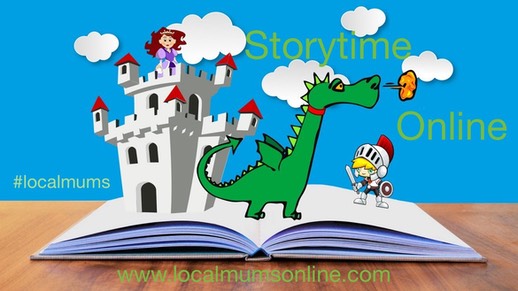 Storytime Online
While Libraries were closed, Local Mums Online ran Storytimes Online every Wednesday. We have a catalogue of Storytimes available for children to watch anytime here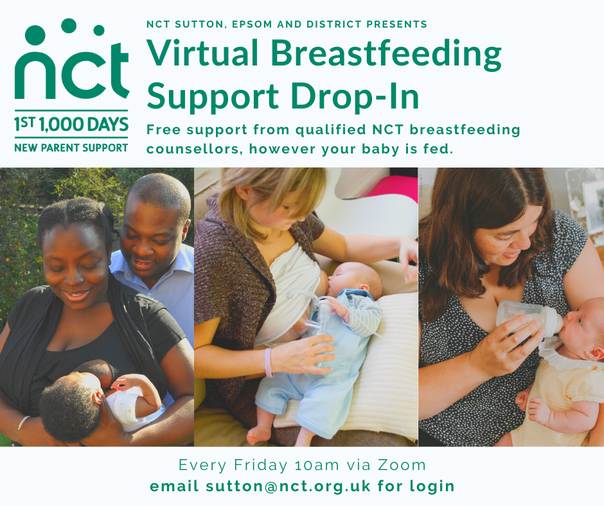 Storytime
Tuesdays
Library storytimes are aimed at two to five year olds and provide a fun and enjoyable introduction to books and libraries for young children.
2pm-2.45pm.
Epsom Library, 7 The Derby Square, Epsom KT19 8AG
Check with Library for any time changes:
0300 200 1001
www.surreycc.gov.uk
Rhymetime
Thursdays
Library rhymetime is aimed at babies and toddlers, aged 0-18 months, along with their parents and carers (although older toddlers are also welcome). Based entirely on sharing nursery rhymes, action songs and percussion music. It's fun, interactive and noisy!
10.30am-11am.
Epsom Library, Epsom Library, 7 The Derby Square, Epsom KT19 8AG
Check with Library for any time changes:
0300 200 1001
www.surreycc.gov.uk
Epsom Farmers Market
Epsom Market Place
Epsom, 
KT19 8EH
1st Sunday of each Month
This ever-popular market has around 40 stall holders bringing you the freshest produce and more.
The market - which has been running for over 10 years, opens between 9:30am and 1:30pm - but the word has it that locals get there early to get their favourites before they sell out.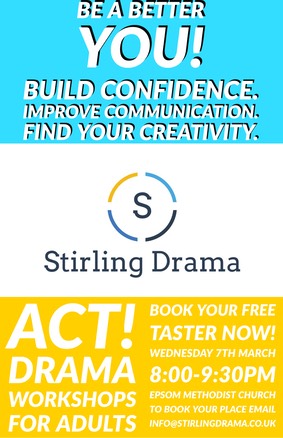 Stirling Drama
Stirling Drama offers fun drama workshops for adults. The workshops offer fun drama games and activities to help build confidence and improve communication skills. 
Drama is an amazing tool that helps to build these skills we all use in our everyday lives and make us happier as ourselves and in our own skin. Drama enables us to learn to trust ourselves, our bodies, our minds and other people. 
Whether you are new to acting and drama or a professional actor you will benefit from these workshops and all are welcome. 
There are lots and lots of drama schools available to children but not for adults and so I want to change that and offer something for adults. Who said it should be children having all the fun?
Stirling drama offers workshops on a Wednesday evening from 8:00-9:30pm at Epsom Methodist church and are currently offering a free taster session on Wednesday March 7th.
To book email info@stirlingdrama.co.uk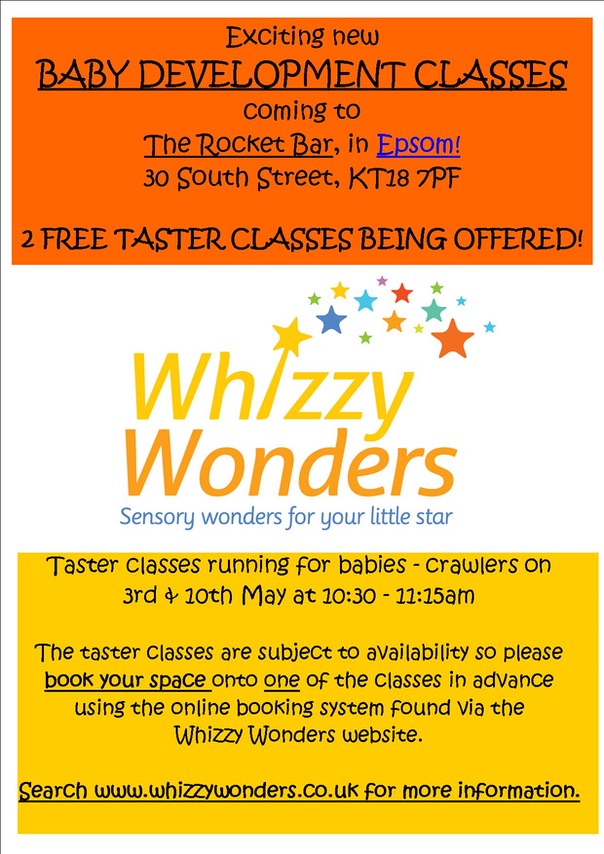 Whizzy Wonders
*FREE BABY DEVELOPMENT TASTER CLASSES IN EPSOM - SENSORY WONDERS FOR YOUR LITTLE STAR!*
Whizzy Wonders pay-as-you-go baby development classes are coming to Epsom! 
We are so excited and are offering families the chance to book onto one of the two FREE TASTER CLASSES that are running on 3rd & 10th May at 10:30 - 11:15am. 
Each week our classes are ran by qualified teachers where there is lots of variety, fun and developmental information and you will also go home with lots of new ideas to do with your little one. 
Classes are best suited for babies from 12 weeks - crawlers. 
Book a space now via our booking system at www.whizzywonders.co.uk
We can't wait to meet you and your little star…and please do spread the word :)
Contact:
Email: mrswhizzy@whizzywonders.co.uk
www.whizzywonders.co.uk
Booking system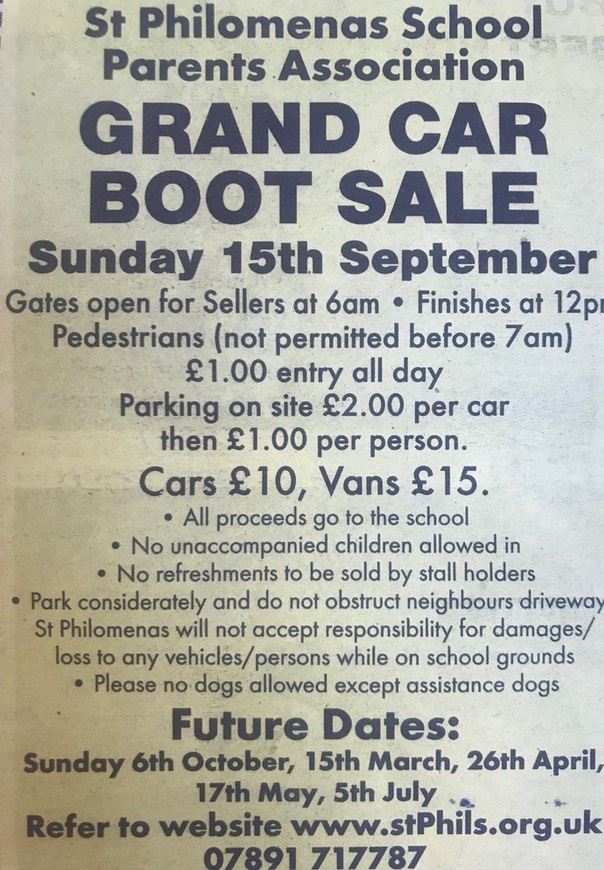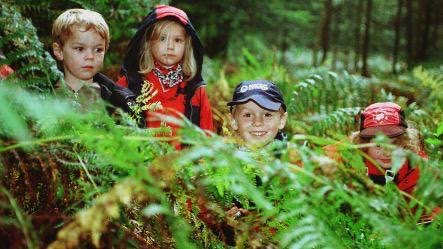 Down in the Woods
Half term sessions
Come and Join us over the Half Term Break. 
We are Running a mixed age group session for the day on Wednesday the 26th.
The session is a drop off session in the middle of half term.
I can safely say you will collect your children dirty and tired but with a smile on their face. 
The cost of the session costs £35 and we will be doing things like Cooking, Craft Work, Hanging around in trees, playing games and generally having lots of fun.
A Long Day in the Woods
A day in the woods for the Tweenies 12+.
This day will include Team Cooking sessions where Lunch and dinner will be prepared and cooked as a group. We will look at Tracking Trailing and sign, tracking down someone lost in the woods and communicating with walkie talkies.
An introduction to Spoon carving and making tools to make life in the woods easier. We will end the day with Hot chocolate and Smoors. 
Expect you children to be asleep with 10 min of collection. 
Bookings can be made via our Facebook page
Read Local Mums' reviews of Down in the Woods
Contact:
Chris Pryke,
Down in the woods
Tel: 07813 772664
Email: info@downinthewoodsltd.co.uk
www.downinthewoodsltd.co.uk
Down in the Woods on Facebook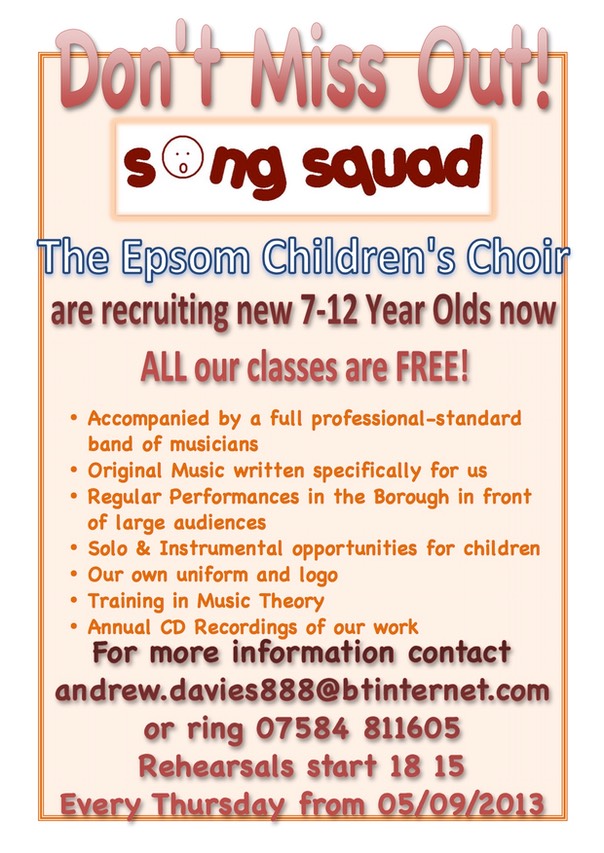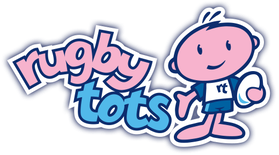 Rugbytots
Rugbytots is a fun and dynamic pre-school play programme designed to build confidence and enhance core skills for 2 - 7 year old boys and girls. We look forward to meeting you and giving you a fun and friendly introduction to rugby in a positive and encouraging environment. Let's make it more fun!
Make your child's development more fun!
Our fun, structured play sessions take children on a journey of sporting imagination with engaging and energetic coaches supporting them every step of the way whilst teaching how to catch, pass, kick, run with the ball and play as part of a team. 
Our motto
Our motto is simple; "make it more fun". We do this by delivering our specifically designed programme for each age group with energy, enthusiasm and excitement. This creates an atmosphere in the class that is totally unique and engaging for parents and children alike. 
What to expect
"Be prepared to run across the jungle, wade through the quick sand or sprint through Rugbytots Valley avoiding all the smoking boulders. Get ready to protect your egg, launch a missile or attack the pirates and seize the ship, all this of course, whilst trying to avoid the evil side lines!"
Find your nearest Rugbytots class here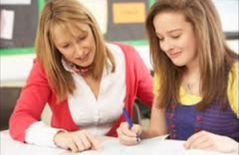 Spanish tuition
Fully qualified teacher of Spanish offers private tuition for all levels up to GCSE or A levels. Students who are falling behind and struggling to catch up with their class will be given support to progress beyond their predicted grades. I have experience with all range of students from the majority of our local primary and secondary school.
I have a very patient attitude. I believe everything can be explained in the simplest possible way and teaching is not only through being interactive and engaging with the students but also keeping them keen and captivated to learn. 
For more details please contact:
Luisa 
Spanish tutor
Epsom area
Enhanced DBS checked- native speaker
Tel:  0753 912 4254
Nomads Korfball Club 
(Korfball is a team sport for boys and girls)
Sutton & Cheam (outdoors, May-July), Epsom & Ewell (indoors, Sept-April) 
School Years 3-8 (three separate age groups)
Weekly training (Mondays), monthly matches (Sundays)
No term fees – pay as you play - £4 a session
First month's training FREE!!!
Email info@nomadskorf.com
Website www.nomadskorf.com [facebook page 'nomadskorf' currently more up-to-date than soon to be revamped website]  
Honeywood Museum 
Wed - Fri: 11am - 5pm Sat, Sun and Bank Hol Mon: 10am - 5pm Honeywood Walk Carshalton
After extensive refurbishment from Heritage Lottery funding, this stunning house reopens with lots of great activities for children and fascinating local history exhibits.
Read Carshalton Mums' news story.
Activities at Honeywood House Museum
Honeywood Walk, Carshalton, SM5 3NX
Opening Hours
Wednesday-Friday: 11am - 5pm.
Saturday, Sunday and Bank Holiday Monday: 10am-5pm Admission is Free
For enquiries and bookings please call 020 8770 4297 www.sutton.gov.uk/honeywood www.friendsofhoneywoodmuseum.co.uk
Email: honeywoodmuseum@sutton.gov.uk
Honeywood Tea Rooms
Opening Hours: as museum (last orders 4.30pm)
Ecology Centre Activites for children
Sutton Ecology Centre,
Festival Walk,
Carshalton,
Surrey SM5 3NY
(unless otherwise stated)
www.sutton.gov.uk/biodiversity 
For bookings phone 020 8770 5822 or
email biodiversity@sutton.gov.uk
Some ctivities require advance booking: call 020 8770 5822 or email 
Family Activities At Morden Hall Park
Morden Hall Park, Morden Hall Road, Morden London SM4 5JD
The park has a network of footpaths, including many with wide smooth surfaces suitable for pushchairs and wheelchairs. Design your own circular walk taking in the river, the water mills, the rose garden, the meadows or the wetlands.
Deen City Farm
Ongoing
Check out Deen City Farm for goats, sheep, cows, pigs, alpacas, geese, ducks, chickens, rabbits, horses, guinea pigs and ferrets. Deen City Farm also do horseriding lessons – check their website for more details.
Tue-Sun, closed Mon (except Bank Holiday); 10am-4.30pm; free, donations welcome.
Deen City Farm, 39 Windsor Ave, Merton Abbey SW19 2RR
Tel: 020 8543 5300
www.deencityfarm.co.uk
Bourne Hall
Tel:     0208 394 1734
www.epsom-ewell.gov.uk
Email:  dbrooks@epsom-ewell.gov.uk
It's time to get gardening!
EcoLocal have a wide range of new courses available to teach you new skills including easy ways to grow and use herbs, gain knowledge about keeping bees and hens or learn foraging and preserving skills.
There is a course for you!
Book early and receive 10% discount.*

Pilates classes with Park View Pilates,
Surrey and South West London's premier Pilates company.
Mixed ability Pilates at St Mark's Church Hall, Great Tattenhams, Epsom Downs, KT18 5RD
Mondays - 8.30pm - mixed ability Pilates (from 25th Feb)
Thursdays - 10am - mixed ability Pilates (from 28th Feb)
Mixed ability Pilates at Nork Community Centre, Nork Way, Banstead, SM7 1JB.
Wednesdays at 1.30pm (from 27th Feb)
£7.50 per class, payable in advance by term, or £9.50 on the door. If there is space, people can join after a term has begun, paying for the remaining weeks in the term at the £7.50 per class rate. Pre-booking is essential. We have other Pilates classes running nearby, and are looking to add pre and post natal classes at our Sutton studio. Please visit our website for more details - www.ParkViewPilates.co.uk or call Lorraine on 020 8274 1572.
Farnham Museum Club:
t: 01252 715094
e: museum@farnhammaltings.com
Or find us online:
www.farnhammaltings.com/museum
Twitter: @Museum_Farnham
For over 30 years the Museum of Farnham has run Museum Club, which gives local children the chance to make new friends, be creative and learn about history, archaeology, art and Farnham.
Museum Club runs for 10 months from September to June, with no activities during the school Summer holidays.
Our sessions vary, with activities taking place both at the Museum of Farnham and off-site at other local attractions including Farnham Castle, Wrecclesham Pottery and Farnham Park.
Cost: £10 per month.
If you would like to register your interest please contact Liz May, Curator, on 01252 715094.
Do you have any other listings for What's On in Epsom? Would you like to write a review of somewhere you have been? Email us at info@localmumsonline.com