Our Nutrition Editor Local Mum Angelika shares her super easy recipe for Halloumi and beans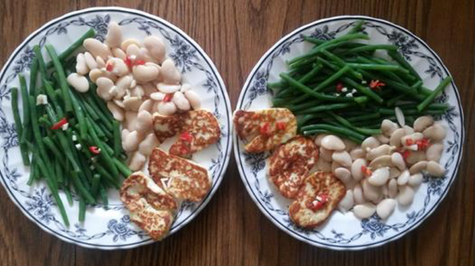 Preparation and cooking time: 15-20 min

Serves: 1 (Double ingredients if cooking for two)
Calories: 500 per person
Total coast: £3.00 per person
Ingredients for one person (double or triple if needed) - ignore calories if you wish:
☞   halloumi cheese
☞  trimmed green beans
☞  1/2 x butter beans can
☞  2 teaspoon (ts) olive oil
☞   1 tablespoon (tbs) balsamic vinegar or lemon juice
☞  1x fresh chilly (optional)
☞  2x cloves of garlic
☞  small bunch of parsley chopped (optional)
☞  salt and pepper to season – or any other seasoning is fine (cumin, turmeric, etc.)
Method:
Steam the green beans (my preferred choice of cooking vegetables as most of the vitamins and minerals will be preserved), otherwise boil in water. Add a teaspoon of olive oil in the pan and cook halloumi (or grill or bake in the oven with no added oil), two minutes on both sides. Drain and wash butter beans and warm them up in a microwave for one minute.
Sauce: Finely chopped the garlic, add fresh chilly, 1 tbs of olive oil and balsamic vinegar or lemon juice. Salt and pepper to taste. Arrange cooked ingredients on the plate and pour over the sauce. Enjoy!
TOP TIP: This is a super-easy recipe to make and one of my absolute favourites! This recipe has lot of proteins per serving - 27g (halloumi 12g, 1⁄2 butter bean can 10g, green beans 5g). Proteins make you feel fuller for longer and really help to build your muscles.

Remember, we need 1g of protein per kg of body weight over the age of 40.