Cut out the middlemen and get the most delicious, healthy olive oil straight from the growers in the South of Spain, where 60% of the world's olive oil comes from.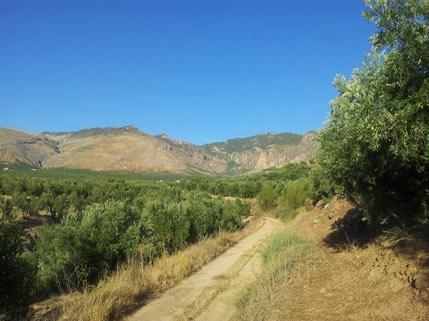 Javier Asensio, who comes from Jaen, the home of olive oil in Spain, couldn't believe the price and poor quality of the olive oil on sale in supermarkets in this country.
"Olive oil is so expensive here and the quality is nothing like the delicious olive oil we produce in Southern Spain," says Javier, who came to work in the UK as an engineer for a solar energy company in Horsham in Surrey.
"Often when supermarkets say olive oil is 'Extra Virgin' it is nothing of the sort," explains Javier. "They also buy the olive oil in bulk and destroy local farmers by paying them a pittance."
Straight from Spain
Javier decided to set up a web portal Fincalink (finca means 'farm' in Spanish) to allow Spanish growers to sell their exceptional quality olive oil directly to consumers, cutting out supermarkets and the middlemen.
His company was born in the heart of one of the major producing zones of olive oil in the world, Jaen in Southern Spain. "In our land, we are known for our love for the product from which our families have lived for generations," says Javier. 
"I will probably never get the money back that I have put in," adds Javier. "But as the son of a farmer from the south of Spain I want to see olive growers getting a fair deal." 

Health benefits, taste benefits
It is a well-known fact that real, fresh olive oils have plenty of natural antioxidants and anti-inflammatory properties. However it is a little-known fact that Spain produces up to 60% of the olive oil in the world. 
"We want to help make Spanish olive oil appreciated by international consumers by offering them the best and freshest olive oil," explains Javier. "We feel it is our duty to spread the word about its healthy properties and the joy of tasting real, fresh olive oil."
"The taste of fresh, single estate olive oil is a real eye-opener for those who have never experienced it," adds Javier. "But once you have sampled it, there's no going back!"
Fair deal
Quality and freshness are neither free nor achieved in a hurry however.  "We want to give the producers the best possible price that rewards their efforts and the recognition they deserve," says Javier.
So if you want to benefit from the amazing taste and health properties of delicious, fresh olive oil, safe in the knowledge that you are supporting local farmers and growers, why not cut out the middleman and buy straight from them? 
You can do this at www.fincalink.com and get their delicious, healthy olive oil dleivered straight to your door!
Javier is also offering Local Mums a 10% discount. Just add the voucher code LMO at the voucher field when checking out online. (The offer is valid once per customer until end of April, 2013). It's the perfect chance to sample this delicious fresh product for yourself!
Read Local Mums' reviews of Fincalink
For more information or to place an order contact: 
Javier Asensio
Fincalink
Tel: 01403 230192 
Mob: +44 75 34 92 66 92
Email: info@fincalink.com
www.fincalink.com