Primo Music is a music class for 0 - 8 year olds. Here, Local Mums explain just what it is that makes the classes stand out from the crowd. By Charlotte Rumsey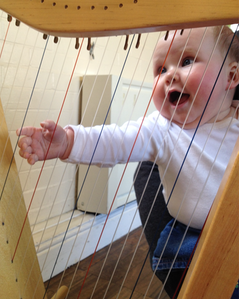 Most parents will have come across the extensive list of benefits that an early musical education can have on a child's development. From playing music to your baby in the womb to encouraging your teenager to take up an instrument at school, parenting experts wax lyrical on the ability of music to develop a child's intelligence, emotional understanding and confidence.
As such, music groups for pre-school children are in no short supply, but, as Local Mum Saragh attests, there are few that offer the right level of gentle stimulation and musical teaching that make the sessions run by Primo Music unique.
Beneficial to development
"Primo Music is a lovely, friendly and informal music class and my daughter and I always love going," says Saragh. "I feel lucky that I've found this class as it's refreshingly different from the more commercial music classes out there which can be over-stimulating for children." 
"Charlotte is a brilliant musician and doesn't rely on pre-recorded backing music," explains Saragh. "If you are a bit fed up of singing the same nursery rhymes over and over with your child, this class is fantastic as Charlotte teaches the children lots of unusual but simple and fun songs with loads of enthusiasm. She focuses on rhythm and encourages the children to clap, tap their knees, stamp/tip toe around the room and really participate."
"Charlotte uses loads of props," adds Saragh. "Puppets, teddies, stars, froggy in a blue stretchy pond, indian scarves, a see saw, claves, gets the children singing in 'rounds' and even doing solos if they wish... The children are mesmerised by Charlotte and love the unusual world musical instruments that she brings in. Charlotte really gets to know the children and makes your child feel special which is great for building confidence! The mums at the classes are friendly and Charlotte creates a relaxed environment with no pressure for your child to join in if they're not ready."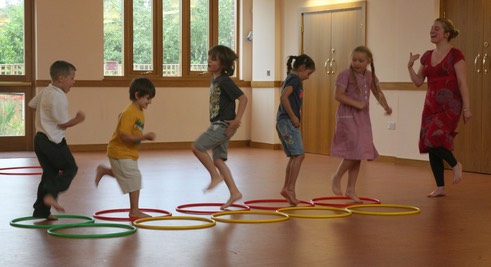 Providing foundations
Founded seven years ago by professional musician Charlotte Gibbs MMus BA Hons ATCL, Primo Music runs classes for children from birth to eight years, based on Kodály methods of teaching that help to provide young children with the foundations of a musical education. The classes incorporate singing, movement and instruments - notably a harp, an Indonesian slentho and saron, and Finnish kantele - to introduce children to musical concepts such as pitch, rhythm and harmony.
"I spend lots of my time explaining to parents that babies are born musical," explains Charlotte. "When our little girl was a baby, she instinctively sang in tune and made her sounds to a regular beat. She started before she was one month old! I think we recognised her musicality because we're trained in that way; otherwise it could be easy to overlook. If we support this musicianship at a young age, it's amazing what young children can achieve."
Striking a balance
The classes strike a balance between providing an exciting learning environment for children and a structured, relaxing activity for the parent - a void left by many of the more commercial music groups on offer and perhaps the reason for Primo Music's popularity amongst local parents. 
"I wanted something structured, but still fun and interactive", says Heather. "We had tried a few other classes around, none of which clicked. But after the first Primo Music, I knew it was the one for us. Charlotte's enthusiasm is absolutely contagious and we both have a great time, plus I learn loads of new songs to sing with Elisabeth at home!"
Local Gran Doreen explains that these "weekly classes are fun, lively and action-packed with some routine activities but always something new and surprising! The well-planned sessions are always filled with lots of songs, engaging puppets and toys being pulled out of bags or boxes and being shared amongst the children, which are used to introduce musical concepts (loud/soft, high/low, rhythm language and solfa). Involving them all in accompanying actions and a physically-active circle time means the children are fully engaged, completely absorbed and consequently totally uninhibited about being asked to respond by singing. A great way to introduce children, both lively and more introvert, at an early age to the love of music, rhythm and singing."
Read more Local Mums' reviews of Primo Music

To register for a trial classes or for more information,
Contact:
Charlotte Gibbs
Primo Music
Tel: 07815 073606
Email: primomusicuk@gmail.com 
www.primomusic.org.uk