The Aston Clinic has launched a local clinic to support new mums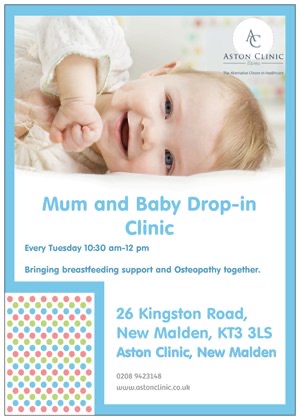 The clinic will take place every Tuesday from 10:30-12pm at the Aston clinic.
Have you just started breastfeeding?
Wanting advice on how your baby can latch on more effectively?
Perhaps you need guidance on how you can produce more milk, or you are at the stage that you would like advice on how to wean your baby off breastfeeding?
Moreover, you may like some support and guidance on how to relieve symptoms of colic, or you are worried your baby may have tongue tie?
The clinic is also there to support mums too, perhaps you had a difficult birth and you are having trouble with your pelvic floor, back pain, tiredness and the many changes that happen to your body after birth?
The baby clinic has been set up to support you and your baby, it's a safe haven to receive support and guidance from local Lactation consultant Anna Page and Cranial osteopath, Anne Mamok, who has thirty years of experience working with mums and babies. It's also an opportunity for you to meet other mums at the same stage as you.
Talk to one of our specialists for just £10 inluding tea, coffee and biscuits. 
Support from:
Breastfeeding Lactation consultants (IBCLC) 
Cranial Osteopath - Anne Mamok
Anne graduated from the British School of Osteopathy in 1984 and went on to run her own clinic, The Tideswell Clinic, in Putney, until 2009, when she joined the Aston Clinic.

Guest visits from Acupuncturist and Massage therapist 
The clinic takes place at:
Aston clinic, 26 Kingston road, New Malden, KT3 3LS (FREE parking) 
Contact the Aston Clinic for more details.
To find out more contact 0208 9423148 or email hello@astonclinic.co.uk