Playtime Pre-school is opening in our area with an emphasis on happy staff and children, where learning through play is at the centre of every child's day.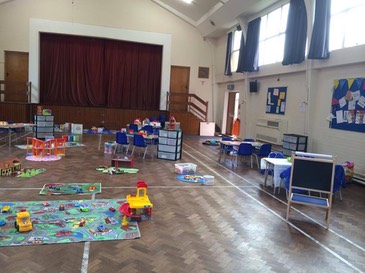 Playtime Pre-School 
Playtime Pre-School is opeining in Wallington in May, 2014, offering quality care for up to 25 children aged 2-5 years with a focus on play and knowledgeable, motivated staff. 
Owner Mandy Lupton is a firm believer in children learning through play. "I also believe that positive relationships are one of the key foundations when providing childcare," says Mandy who has experience in the childcare sector within day nurseries, nannying and raising her own child.

High quality childcare
After working for big chain nurseries Mandy became aware of the lack of security for children and their families through lack of staff motivation and therefore high staff turnovers. "I was determined to establish a setting ensuring high quality childcare through knowledgeable and motivated staff," explains Mandy.
The setting for Playtime is a large church hall within a minute's walk from Wallington High Street and train station. The children will benefit from an enclosed outdoor area which they have direct free-flow access to and fresh fruit and vegetables are provided each day. There is at least one trip out each month based on the children's interests. 
Regular feedback
Playtime will be following the Early Years Foundation Stage and parents will be kept up-to-date with their child's progress through regular feedback with their child's key worker. "Parents will be fully updated each week with their child's progress as we operate an online learning diary," adds Mandy. "This means that when staff upload observations onto the online system parents can view them that very same day from their iPad, laptop, tablet or phone."
For more information and to read Local Mums' reviews of Playtime Pre-School
Contact:
Mandy Lupton
Playtime Pre-School 
Tel: 02037316368 
Email: mandy@playtimepreschool.org
Playtime Pre-School on Facebook
Wallington Methodist Church Hall
9 Beddington Gardens
Wallington
Surrey
SM6 0HU
www.playtimepreschool.org