New local theatre school Love Theatre Arts gives children the chance to learn all about acting, singing and dancing while having lots of fun.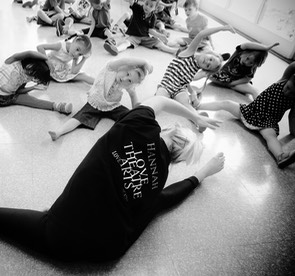 Love Theatre Arts is a brand new musical theatre Saturday school in Cheam which aims to keep children 'fit, focused and fuelled to learn.' "We are a company that looks to enhance children's imagination, increase their confidence and give them an insight into a genre of study they perhaps may not have attempted before," says Principal Nick Parker-Tutt, who has 10 years experience teaching children at Stage Coach and The Chickenshed Theatre in London.
Nick and his business partner Hannah Lewis aim to achieve this while children have lots of fun learning through singing, dancing and acting - and all at an affordable price. "For us, theatre arts is a subject which every child must experience," says co-principal Hannah, who began dancing at the young age of eight at Laine Theatre Arts in Epsom. "Love Theatre Arts is a place where we help children practice co-ordination, pronunciation, expression, speech, dialogue and many more key skills which we all endeavour to use in everyday life."
Saturday school
Love Theatre Arts offers a well-structured Saturday school which engages children of ages four to seven years in the world of theatre. "We concentrate on the three main disciplines of musical theatre -  singing, dancing and acting," says Nick who has a BA (hons) in Theatre Arts from Middlesex University and a first class diploma in Musical Theatre at Performance Preparation Academy (PPA). "We hope that children may want to continue to become stars after studying with us. Our aim is to open children's eyes to various opportunities they may wish to follow in the future."
"The training our teachers offer is nothing short of what they have been taught themselves," explains Nick. "All of our teachers have been trained to an extremely high standard and have lots of experience teaching children musical theatre; they have all also worked in the industry."
"We are located in the wonderful grounds of Cheam High School," says Hannah, who has a Professional Diploma in Dance from the Urdang academy, one of the top performing arts colleges in the country. "We are based in the large dance studios which offer a fantastic space to be able to move and dance; this also allows us a great space to put on small-scale productions and showcases." 
Lots of fun
"It is our policy at Love Theatre Arts for children to have lots and lots fun," says Nick, who, like Hannah, is also a qualified Zumba instructor. "We want children and parents to be proud of what they have achieved in our classes. At the end of every term we showcase all of the children's work in a small-scale production for parents to see their children's progress."
Nick has performed on some of the big stages like Her Majesty's, The Palladium, Sadlers Wells and most recently The National Theatre. During the summer of 2012 Nick achieved a place on the Tangled Feet Participation Programme, a sought-after position which many people auditioned for. The programme taught inspiring performers the trade of physical theatre and they were rewarded with performing with Tangled Feet at the National Theatre.
"I cannot wait to teach the children of Love Theatre Arts and be a part of a project that trains children to be the stars of the future," says Nick. "I have had the opportunity to teach many children in the past with various abilities and I have learned that each child is an individual, each child needs a different approach to teaching to get the best out of themselves. It is my job to do that."
"I love teaching," adds Hannah who will be the Head of Faculty and main teacher at  Love Theatre Arts. "It is so rewarding when you see an improvement in a child's ability whether it's their confidence, pronunciation, diction etc. All of this gives me great satisfaction in my job as a teacher."
If you would like your child to learn about theatre arts while having fun at a great local school, why not give Nick or Hannah at Love Theatre Arts a call and find out more?
Find out more and read Local Mums reviews of Love Theatre Arts

Contact:
Nick Parker-Tutt or Hannah Lewis
Principals
Tel: 07816 507 032
Email: info@lovetheatrearts.com
Love Theatre Arts on Facebook
Love Theatre on Twitter