Local Mum Evi Achillea shares her recipe for tradtional Greek apple cake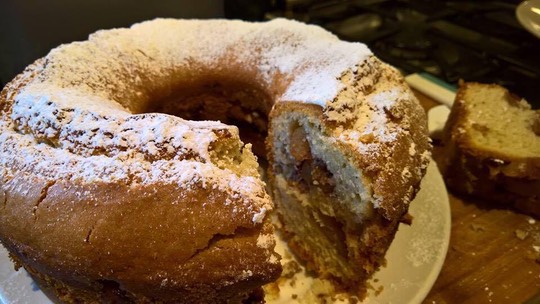 Milopita, Traditional Greek Apple Cake, translates literally as apple pie. It's a very moist and flavourful cake, perfect with a cup of Greek coffee or tea. Some like to use yoghurt or orange juice in the cake, but I leave the choice to you! 
Ingredients
For the cake:
200ml vegetable oil
400g caster sugar ( xylitol or cane for healthy option, normally I use cane)
200ml milk or yoghurt or orange juice
4 eggs
2 tbsp. Metaxa or any brandy
450g self-rising flour
1 tsp. baking powder
A pinch of salt
1 tsp vanilla extract
1 26cm Bundt or kugel- opt cake tin, or any spring-form tin, greased and floured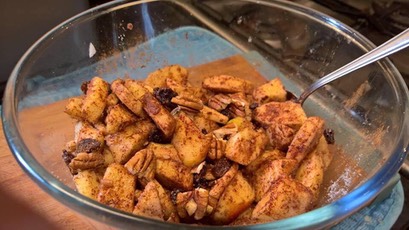 For the filling:
5 medium eating apples, Gala or Granny Smith
75g raisins(optional )
100g walnuts, chopped
1 ½ tsp mixed spice
For topping:
Icing sugar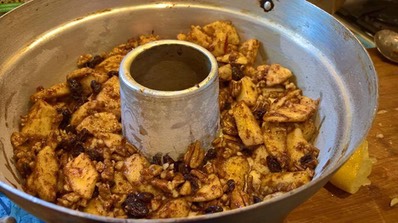 Method

Preheat the oven to 180c/ 350f gas4.
Peel and cored apples, cut each one in half and slice or chopped them thinly. Place them in a large bowl adding lemon juice, mixed spice, sugar, walnuts and raisins.
In another large mixing bowl add the oil, sugar, brandy, vanilla and milk, and whisk using a hand hold-electric whisk, whisk for few minutes, adding the eggs one at a time, then the flour, baking flour and salt.
Keep 1/3 of the apple mixture for the top of the cake.
Pour 1/3 of the cake batter into the prepared cake tin and spoon ½ the apple filling on top, pour with another 1/3 of the cake batter and the remaining apples, finishing with the rest of the cake batter.
Scatter the reserved apples on top, sprinkled with a little sugar, bang the cake tin gently to distribute the batter mixture and fill any gabs and smooth the top.
Bake in the centre of the preheated oven for 50 minutes or until a fine skewer inserted in the centre comes clean.
Remove from the oven and allow to cool for 10 minutes before taking out of the tin, transferring it in a serving dish, dust with icing sugar, or without for a more healthy option.