Local Mum and local food editor Tracy Carroll blogs for us about all things local - to do with food!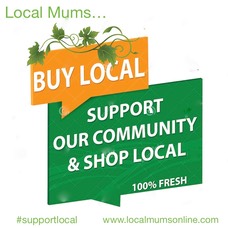 Why Buy Local Food?
It might be easier to get in the car, wander around a supermarket (even a Coronavirus supermarket) but here are ten reasons why shopping for, and eating, food on your doorstep (though not literally of course!) can make a world of difference, especially at the moment...
1. Buy local food, buy fresher food
Cut out the middleman, the bundles of processing and the food miles – and local food tends to be fresher. Reigate farmer Caroline Davies, who hand makes ice-cream at her St Joan's Farm Dairy, in Leigh,  uses only milk and cream produced on the farm and pronounces it's 'From Cow to Freezer in Under 1 Hour'! "We could easily buy it in, but instead we milk in the morning and turn it into ice-cream by the afternoon," says Caroline. "Not many ice-cream producers can say that and we feel it makes for a much better product."
Ruth Lambert, who runs The Larder Farm Shop at The Medicine Garden in Cobham, agrees. "We buy in stock in smaller quantities so it's often fresher. The guy who supplies our chickens, for example, only keeps 50 so we have 10 to sell at Christmas. People say it reminds them of what things used to taste like. It's a lot less 'fiddled about' with."
2. Eat the view
While we might have got used to strawberries and asparagus all-year-round, getting back in touch with English food seasons can not only save food miles but money too; out of season fruit and veg is always more expensive. "Shopping for food in season gives you a better idea of your own regional identity," says Ruth at The Larder. "You can look around you and literally 'eat the view'!"
3. Support your local economy
It's said that for every £10 spent in an independent shop, £25 is generated for the local economy, so it pays to buy closer to home. Independent shops tend to invest more in their communities and are more likely to give to local charities and schools. "Shop and eat local produce and support local people," says Caroline, from St Joan's. "Don't support the large multinational companies that pay large bonus to their MDs!"
4. Local is greener
With green beans flown in from Kenya and apples from New Zealand, it's no wonder the multinationals can clock up a few air miles. According to the National Farmers' Retail & Markets Association (Farma), choosing to buy locally produced foods from a farm shop or farmers' market, for example, can help reduce the amount of carbon dioxide emissions associated with distribution by up to 99.8 per cent! Buy direct from the farm and you'll probably buy less unnecessary paper, cardboard and plastic wrapping too.
5. Say no to the clone!
None of us want to live in identikit cities, but multinationals and chains can strip away the unique character of the high street. Joanna Rowlands, who runs Two Many Cooks catering company in Brockham, Surrey, recently set up a café and shop in South Street, Dorking, which sells local, hand-ground coffee and bread from Chalk Hills Bakery among its many locally-sourced products. "Our high street will die out if little individual shops and businesses like ours disappear," she says. "Every city centre would look the same."
6. Enjoy more choice
Smaller shops which sell a wide range of products encourage competition and diversity and, according to the National Farmers' Retail & Markets Association (Farma), local producers selling direct at farmers' markets, through farm shops and pick-your-own, like to offer something different. So whether it's squirrel meat (really!), cheese such as Norbury Blue from a Surrey farm, rare-breed pork or freshly-dug potatoes huddled in local soil – local shops are much more likely to stock those unusual local delicacies.
7. Benefit from truly personal service
Local businesses are almost always passionate about what they do, are a font of knowledge about the products they sell and have staff who give one-to-one personal service (and remember to ask about that dinner party you were stressing about). "We really care about what our customers want," says Joanna at Two Many Cooks, Brockham, who runs a catering business and also a coffee Shop in South Street, Dorking. "Only last week, we dropped some food around to a customer's house and although it was no big deal, people really appreciate those extra touches."
8. Great value
A marketplace bulging with small businesses tends to create more innovation and low prices over the long-term. Independent research conducted by Deliciously Yorkshire, the regional food group for Yorkshire and Humber, found that vegetables such as baking potatoes and tomatoes cost about a third less, and leeks were on average 14 per cent less expensive at farm shops compared with supermarkets. Plus, if you add in travel to out of town shops and parking costs, or delivery fees, the cost can be much higher.
9. Meet the producers
"We know where everything comes from and have photos of the producers who created the food on the wall!" says Ruth at The Larder, a lovely farm shop at The Medicine Garden in Cobham. "What's more, local suppliers are often happy to come in and do tastings so people can often get a real flavour of what's on offer, and try before they buy." This is the best way to discover new foods and flavours, as you can be sure the person offering the tasting will be able to tell you not only where the product comes from and how it was made, but how best to use it. It's win-win, the local way.
10. Feel part of your community
It's much easier to play a part in local if, find out about Surrey's events, festivals and news and make friends with people in your neighbourhood, if you shop in your own town or village. James Slayford, owner of The Running Horses, Mickleham, a 16th century coaching inn on Old London Road, agrees, and says if everyone ate and shopped remotely the sense of community would be lost. "When people stop going to their local pubs and shops they lose a little of their identity. Local inns are now few and far between and villages can disappear once these community hubs disappear."
• Learn about the benefits of buying local and what Surrey's local food scene has to offer with Local FoodSurrey.
To keep costs down, keep an eye on our Local Mums Discount page. We will be adding lots of local delivery services in the coming weeks. #localmumsdiscounts
Don't be lily livered about your local butcher's shop
Spring is here and so is the barbecue season. Many of us will be heading off to buy sausages, burgers and steaks to char-grill to perfection. When it comes to really good quality, traceable produce, a good butchers shop is a terrific find. 
It may surprise you that many mums feel reluctant to venture through the butcher's door. Perhaps you march in and confidently place your order? Or are you more lily-livered? Those who are give a variety of reasons, including concern about price, uncertainty of what to ask for and even a touch of nervousness when it comes to dealing with the butchers themselves. Will they be holding scary looking knifes and demanding to know what you want?  All these concerns are understandable, and surprisingly common, so I spoke to one of our members at LocalFoodsurrey,com, William Walton of Outwood Butchers, to compile our five tips to getting the most from your butcher.
1 Don't be afraid to tell him roughly what you want to spend and how many people you are feeding. A good butcher will be able to guide you on how to get the best from budget cuts and may even have a few recipes up his sleeve. He will also sell cuts that you'll never find in the supermarket. These "forgotten cuts" can be brilliant buys, especially with your butcher to tell you what to do with them – some, like William, keep recipe books in their shop so you can mull over the options together. This is great if you don't know scrag from sirloin.
2 Get out of your rut! Ask: "What's local and good today?"  Be prepared to try something different from the norm – and support local farmers in the process.
3 Check how much a piece of meat will cost before the butcher prepares it. If it's more than you want to spend, don't be afraid to tell him so he can cut it smaller or offer an alternative. He won't mind – after all, he wants you to be happy and return.
4 If your joint has a bone, ask for it to be chined. This means loosening the meat from the bone and it will make the joint much easier to carve. Oh, and you need a good, sharp knife too. No point in buying a great piece of meat just to make a mess of carving it – but at least it will still taste good.
5 And finally – introduce yourself. If you're a little unsure, say so. As William points out: "We don't mind spending time with our customers and are more than happy to help them with their choices."
Organic v non-organic: not always a straight choice
My daughter is now 13.  When she was a baby I started buying mainly organic food.  After all, we all want to give our children the best we can manage and, to me, organic meant I was assured of fruit that hadn't been sprayed with a cocktail of chemicals; meat from animals that hadn't been routinely given steroids; eggs from hens that had not led a miserable life in appalling conditions, suffering broken bones and hock burn.

When my daughter was six, I started writing a food column for a newspaper. This involved seeking out local food and drink producers and interviewing them.  What I discovered made me gradually more open to buying non-organic food.  This is because I found that many producers – particularly small, family-owned businesses –  create fabulous food using methods that are "almost organic".  
It's important to mention that organic food and drink is produced to strict standards, often laid down by The Soil Association.  So food is either organic, or it's not.  You won't, of course, find a label that states the food is "almost organic".
However, there are so many hard-working people who stick to natural methods of food production and, in truth, the results are often better than organic. 
Take the chicken farmer whose birds roam freely around the farmyard and fields, pecking, foraging and roosting – just how they should.  They build muscle, not fat, and are allowed to mature naturally. Food miles are zero – the hens are slaughtered and prepared right there on the farm and sold from the gate.  Some are supplied to local butchers. This is very good food, but it is not organic food.
The story of the chickens is just one example. Over the six years I wrote for the paper, I spoke to so many producers who proudly told me that they adhere to natural, traditional methods. They do it because they know it produces the best results, and because they care.
So why, you ask, aren't they going the extra mile and applying for organic certification?  The answer is often that many small producers simply can't afford the time or money required to go through the certification process, plus ongoing paperwork and inspections. And why should they? They are happily producing a superior product and have a good customer base who appreciate it. 
So, I have relaxed my organic rules. As we say at Local Food Surrey, it's all about traceability. Organic food is often far superior to non-organic, it's true. However, traditionally-prepared food can tick boxes that organic can't always manage – low food miles being one of them. Being able to meet the producer is another.
I have noticed a bit of a backlash against organic of late; some people have turned against it and become almost aggressive when the "o" word is mentioned. This is a shame. If in doubt, I still opt for organic – particularly if I need to shop at a supermarket because I am distrustful of many of the products on offer and there is no point in trying to engage the assistant in a conversation about provenance (I have actually tried this, particularly with supermarket butchers and fishmongers, but it was pretty unsatisfactory).  But equally, I will happily opt for non-organic if I am satisfied that I am making an informed choice. This is why I prefer to shop at my local butcher, grocer and farm shop.
Let's face it, carefully produced food – whether organic or not – can cost more. However, the mantra is quality over quantity. Buy better, eat less, appreciate it more – and fill up plates and stomachs with low-cost, nutritionally-rich foods such as pulses, home-grown vegetables and wholewheat bread.  Use every last scrap of that local food and make sure your family values it as much as you do. It will taste all the sweeter!


Why "free range" is better than "free meat"
The best things in life are free, or so the saying goes. Well, that might be true of some things, but when I go shopping for chicken, I'm not looking for a bargain. 
'Buy one get one free' and half price offers on packs of chicken leave me feeling uncomfortable. The meat will almost certainly be from unhappy hens, denied the chance to express natural behaviour such as roaming, scratching, dust-bathing and foraging. 
Indeed, methods designed to bring intensively-reared broilers to slaughter weight quickly and cheaply can lead to deformities, as skeletal and organ growth struggles to keep up with rapid weight gain. The birds lack exercise and the final product may not be as "low fat" as many people suppose.  
However, the resulting low prices allow retailers to shift birds in vast quantities, creating a seemingly insatiable market for more low-cost poultry. Chicken was such a treat back in 1950 that most people in Britain ate less than a kilo a year. Now, we eat more than two kilos per month.
The term "free range" is intended to reassure consumers that chickens have enjoyed a more natural life. By law, they must have daytime access to the outdoors for at least half their life, with a set amount of space per bird. However, in truth, many "free range" chickens never go outside; they are timid creatures and need encouragement to venture into unknown territory. These chickens are usually slaughtered at around 56 days old, which is an improvement on the typical 37 days for an intensely reared bird.
Organic
And in response to the organic question I say this: as a general rule of thumb, you have more assurances with an organically-reared chicken. The standards are stricter. These slow-growing chickens (which grow at around half the rate of intensively-reared ones, usually being killed at about 12 to 14 weeks) are given continuous access to an outdoor range during the day, sheds where they are housed at night and opportunities for natural behaviour. They are fed a strictly organic diet.
However, as with all meat purchases, the best advice I can offeris to buy from someone who can tell you about provenance. Where it has come from, at what age the animal was slaughtered, what kind of life it had. Don't assume that a chicken without an "organic" label is inferior to one sporting a "free-range" one. It's not as simple as that and I will explore this topic in a future article.
Good investment
A slow-grown chicken will set you back around a tenner. Ask for the giblets as these are great for boiling up into a stock and you'll have the best gravy ever!  
A good chicken will provide you with flavoursome meat, minimal fat and what is often described as "an old-fashioned taste."  Buy some sausagemeat stuffing (or, even better, make your own – it's very easy and you can use up stale bread that may otherwise have ended up in the bin).
You will have plenty of meat for Sunday lunch, plus some left over for sandwiches. And, whatever you do, don't throw away the carcass until you have made some lovely stock with it. It takes no time at all to pop the bones in a pan, throw in a few peppercorns, a couple of bay leaves, half an onion and a carrot (or whatever you have to hand that will help add subtle flavour – a bendy stick of celery, a few stalks of parsley, a wedge of lemon) then cover with water and bring to a simmer. 
Skim off any surface scum, cover loosely with a lid and simmer for at least an hour. Pour into a container through a sieve to remove the vegetables etc and there you have it – a natural stock that has cost you pennies. Use it now in soups, stews and sauces or freeze until you need it.
The best things in life might not be free, but they can indeed give us very good value for money! For me, the reassurance that the main attraction on the dining table has enjoyed a good life doubles its worth.  Because the only place I'm happy for chickens to go "cheap" is on the farm.


Cooking local with kids
Cooking with kids is always an experience: mostly messy, sometimes stressful, often fun. But what do children get out of it? A whole lot more when you add local food to the mix.
Many children between the ages of six and eight cannot identify the origins of the everyday foods they eat, according to a survey I came across recently. Fewer than one in four of the 1,000 children questioned knew that beef burgers came from cows, while some said eggs came from sheep and apparently others thought cheese was from butterflies.  
The statistics are shocking, but the good news is that we mums canensure our children are well informed about what's on their plates. With all the delicious local food on offer to enablechildren eat healthily while learning the stories from field to fork, help is home-grown. Here are my tips for making a trip to your local shops an exciting and educational experience.
1. A day out
A visit to your farm shop, high street butcher or artisan bakery has all the ingredients of a tasty adventure – with a serious message.  The colours and aromas of fresh produce are bound to make youngsters' imaginations soar, and talking to friendly farmers and shop ownersabout the story behind their products can inspire kidswhile encouraging them to try different foods. Some business owners may even agree to a little peep "behind the scenes", especially if you call ahead and arrange to visit at a quiet time. After all, if they're passionate about what they do, they'll appreciate your interest. It's worth asking!
2. Field to fork
Thanks to the brilliant pick-your-own opportunities that Surrey has to offer, children can choose and gather ingredients for themselves and learn how food is grown,while playing an active role in the preparation processand getting enthusiastic about cooking. Starting out with fruit on the tree and ending up with pudding on the plate,shop locally and you're connecting kids with the journey their food takes. All it takes is a basket and a good dollopof enthusiasm.
3. Peace of mind
Buying locally means knowing where food has come from; this is never more important than when we'recooking for our children. Next time you're in your local butcher or fishmonger, get chatting to the person behind the counter. Ask the butcher about the pigs the baconcomes from, what the best buy is at the moment and seek out cooking tips; ask the greengrocer what's fresh and local. Now go compare: try asking the same at the supermarket.
Choosing local food allows us to bring the freshest, best quality ingredients into our kitchens, and being able to talk to the growers and producers who are so knowledgeable about the food they sell brings us that much-needed peace of mind.
Happy cooking!
Learn more about the benefits of buying local and what Surrey's local food scene has to offer with Local FoodSurrey.
*Survey carried out by Cornish Mutual, February 2010
Cut the cost of your Sunday roast
When the great turkey fest is behind us for another year, there follows the challenge of feeding the family without breaking the bank. Winter Sundays are just perfect for drawing the curtains, lighting a few candles and serving up a steaming roast dinner with a pile of crunchy roast potatoes. Bliss!
It's all too easy to fall into the habit of serving familiar cuts of meat, such as leg of lamb, loin of pork and rib of beef, which can be quite pricey. However, it's worth discovering the lesser-known joints, often with surprisingly tasty – and affordable - results. So go along and see your local butcher who will be able to tell you the best buys of the moment.
Here are some ideas:
Leg of mutton cut (beef)
This well-flavoured meat comes from the forequarter, and is usually trimmed, chopped and sold as braising steak. However, for a roast, ask your butcher to roll it for you. Cook it long and slow in a pot with plenty of liquid – try combining beef stock with a generous quantity of red wine, a handful of fresh thyme and some chopped root vegetables.
Mutton 
The meat of a mature sheep, mutton has a rich flavour so a little goes a long way – and by adding barley and vegetables to a casserole you can get away with a smaller quantity of meat. Try this recipe for Unhurried Mutton One Pot, which would be great for a Burns Night supper.
Shabden Park Farm at Chipstead, Surrey, specialises in mutton – theirs is finished on a forage based diet and matured for at least two weeks post slaughter, so the meat develops a rich flavour.
Hand and spring (pork)
Taken from below the pig's shoulder, this cut includes the large knuckle bone.  You can roast it with the bone in, but if you want it to look more attractive and be easier to carve, ask for it boned and rolled. Ensure the fat is scored and then rub salt into it to give you great crackling. This sweet, tasty meat comes from an active part of the pig, so allow plenty of cooking time to ensure it's tender, finishing with half an hour or so on a high heat to crisp up the crackling.
Breast of lamb
This is a tasty cut with crispy skin. It's difficult to carve with the bone in, so if you want to be more sophisticated than just tearing the meat off, ask your butcher to bone, stuff and roll it. Then you can roast it in the oven – once again, the mantra is "long and slow", so allow around three hours. Start it hot to crisp up the skin, then after half an hour turn the heat to medium. Baste regularly and, when it's ready, skim the fat from the juices, add some stock, wine or cider and simmer to reduce and thicken. A breast is quite small – one will provide around three portions.
Butterfly breast of turkey
For when you can face turkey again, a great value choice is a butterfly breast. Ask your butcher for a boneless, stuffed breast of turkey and you'll have a delicious roast with no waste, perfect for serving up with the last of the Christmas cranberry sauce. Don't forget the Brussels sprouts!
Looking for a butcher in Surrey? Find one near you at Local Food Britian
I'm dreaming of a local Christmas
Big name shops may invest heavily in mass-produced festive cheer but it's the high street that puts the real sparkle into Christmas shopping.
Supermarkets do their best to convince us that festive magic begins when we step through their doors.  From the moment we are greeted by Wham lamenting the events of "Last Christmas" (29 years on, I think we all know what happened to poor George's heart "the very next day"), they want us to feel all warm and fuzzy as we glide along; our trolleys twinkling under the fluorescents, faces lit with excitement at special offers on peanuts and Quality Street. 
Supermarkets have their place, but we must never forget they are driven by profit, pure and simple. And it's the supplier who pays the price of cheap food, while communities lose the independent shops that breathe real life into our towns.
So, in this season of goodwill, let's take a genuine warm and fuzzy route – the one that leads to our local high street. After all, Christmas is a key time for traders and we can all help sprinkle some fairy dust by putting business their way. If we want towns and villages to sparkle with interesting, independent shops and eateries, we need to stay switched on to supporting them.  
It's easy to be tempted by the one-stop-shop appeal of supermarkets, especially when we're mad busy getting ready for the festivities. Yet Christmas is a magical time to pull on coats and scarves and head to town with the family. There's nothing like the spectacle of twinkling lights, jolly window displays and waving Santas to get us in the seasonal mood. 
No matter how hard they try, the multiples simply can't compete with quirky local shops that ooze individuality. 
Shopping locally for Christmas food can be tremendously rewarding.  Take turkeys.  Check out butchers and you'll soon find turkeys that have been reared locally, the traditional way. It's important these birds are allowed to grow slowly and reach full maturity, that they are given chance to display natural behaviour and lead contented lives. It's better for the turkeys - and stress-free birds produce better meat. Opt for a smaller, truly free-range bird rather than a giant that has been cheaply and quickly produced. After all, there's always too much turkey on Christmas Day. A 10lb bird will feed 20 people, bearing in mind that children often opt for a couple of thin slices, granny eats like a mouse and there will be mountains of roast potatoes, chipolatas, stuffing, vegetables and ... well, I doubt anyone will go hungry.
Talking of trimmings, when it comes to selecting sprouts, parsnips, sweet chestnuts and King Edwards, there's nowhere like a proper greengrocers. I have been saddened over the years to see so many closing down, as consumers deserted them for supermarket-supplied, air-freighted exotics that gleam seductively through wasteful polythene wrappers. Lately, however, I have noticed some terrific new grocery stores laying down their roots in the high street – let's help them flourish by marching in with our shopping bags and stocking up on winter produce grown in frosty British earth. Most fruit and veg shops will happily take orders now and have our Christmas supplies ready for us – and you'll often find they go beyond greengrocery to offer carefully-sourced extras such as condiments, artisan pies, puddings and patés. You'll discover items you won't find in the supermarkets, as many suppliers simply refuse to work with them, staying loyal to the independent sector.
Let's face it, it's not always realistic for busy mums to shun supermarkets altogether. They have their place. But who wants Christmas to be played out to the tune of laser scanners and advertising jingles? Another New Year punctuated by reports of record profits by the grinning multiples while more local shopkeepers reluctantly – and permanently - pull down their shutters?  
The truth is this - it feels good to buy local food and know we're supporting our communities. So, magic wands at the ready ladies; together, we can help local traders have a Christmas that really puts the icing on the cake. Tad-ah!
• Learn more about the benefits of buying local and what Surrey's local food scene has to offer with Local Food Surrey.
Tracy Carroll, Local Food Editor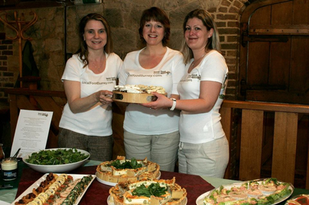 Tracy Carroll (centre) is a Reigate Mum of one teenage daughter and runs Local Food Surrey, a website all about enabling people to find great food and drink in Surrey. Tracy blogs for us about fantastic local food finds in our area.
To keep costs down, keep an eye on our Local Mums Discount page. We will be adding lots of local delivery services in the coming weeks. #localmumsdiscounts