Here's our pick of the best activities on offer in and around Dorking this month.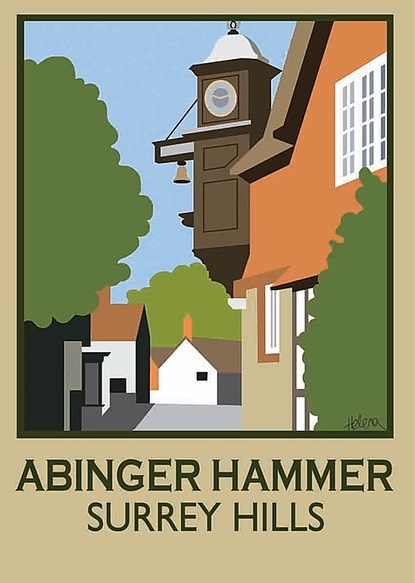 (Artwork by Local Mum and Artist Helena Vaughan)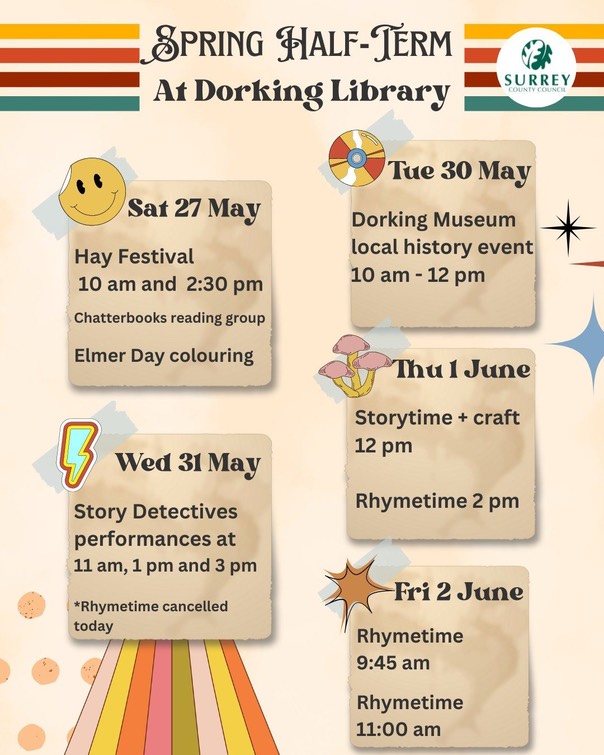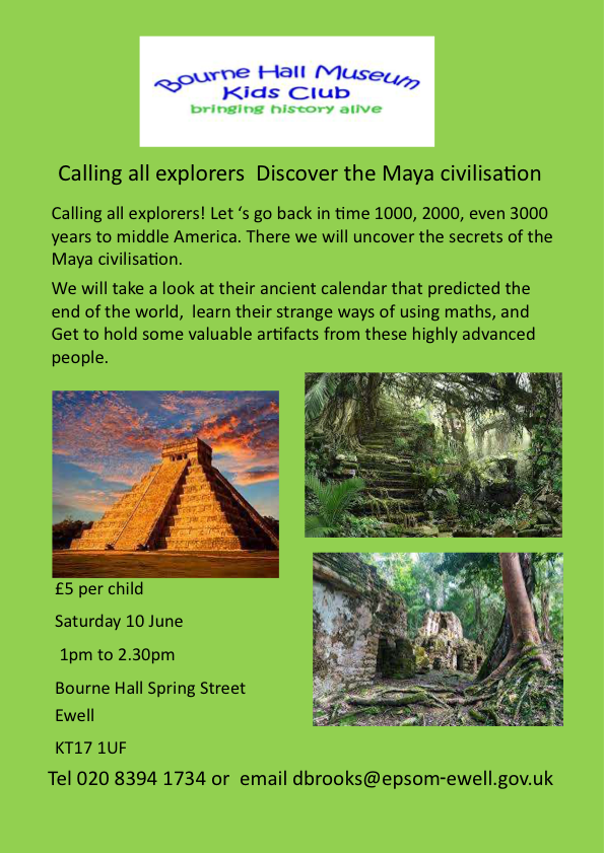 For the first time ever Pub in the Park is coming to our local area! 
Sign up to their newsletter to access their ticket presale and for music line-up announcements.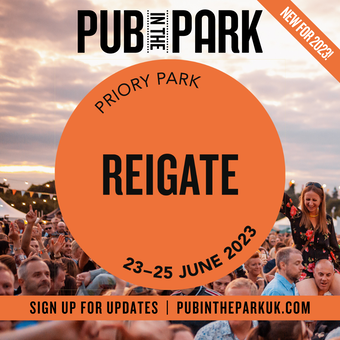 The UK's biggest touring food and music festival curated by Michelin-starred chef, Tom Kerridge is coming to Priory Park for an epic festival weekend on 23 – 25 June!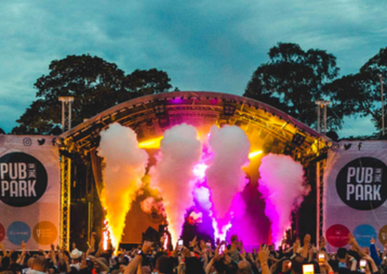 Enjoy delicious Michelin-Starred food, watch demos from world-class chefs, visit award-winning restaurants and dance the night away to a top line up of iconic music. 
Sign up to their newsletter to access their ticket presale & for music line-up announcements. Sign up here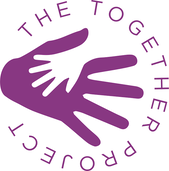 Join us for our NEW Songs & Smiles in Banstead Manor Care Home
Songs & Smiles is an intergenerational music group for 0-4 year olds, their grown-ups and older people, held in care homes and assisted living schemes.
We sing, move, play, make friends and have lots of fun!
Join us on THURSDAYS at 11.00AM at Banstead Manor Care Home, 8 Brighton Road, Banstead, SM7 1BS starting on 20th April.
The sessions are FREE/donate-what-you-can, they make people dance with joy, cry with laughter and create long lasting friendships so everyone has something special to look forward to. They are relaxed and informal and we even provide refreshments at the end! 

We'd love to see you there. Book your space here now: https://thetogetherproject.org.uk/songs-and-smiles
Contact:
Jenny Reed
Content and Communications Manager
Tel: 07747 004491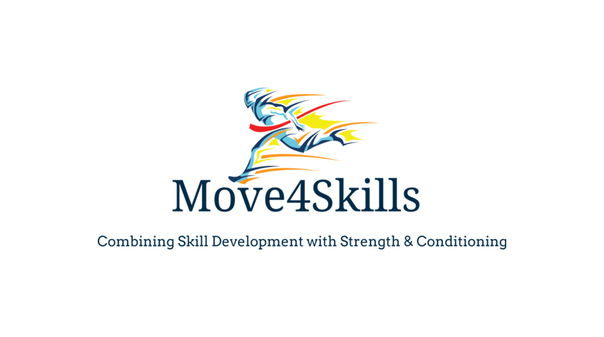 Move4Skills is giving Local Mums 10% discount with their skills development and strength and conditioning sessions. 
Be part of a unique coaching experience where we develop the 'whole' player by combining skill development with a strength and conditioning program for their chosen sport. Book here with the discount code M4S10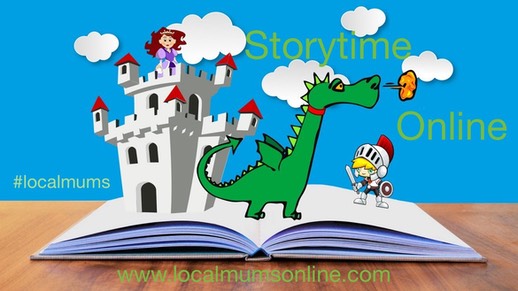 Storytime Online
While Libraries were closed, Local Mums Online ran Storytimes Online every Wednesday. We have a catalogue of Storytimes available for children to watch anytime here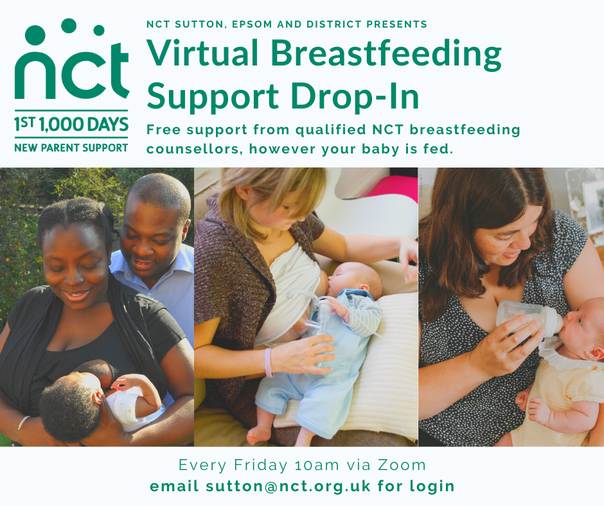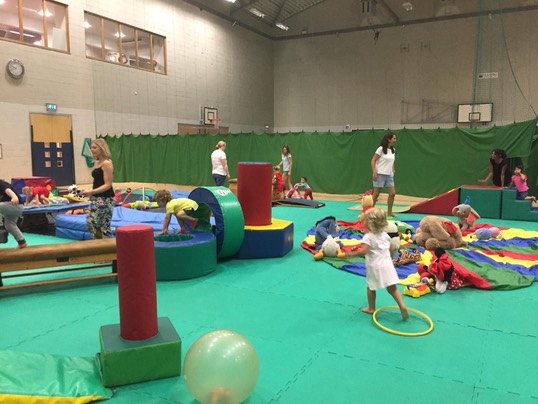 ABC Gymnastics 
Pre-school gym classes
Fridays 11.15, 12.45 and 1.30
Dorking Leisure Centre
New pre-school gym classes starting at ABC Gymnastics club at Dorking Leisure Centre for ages 3-4 yrs.
Learn all the skills of gymnastics in a fun way.
Booking is essential.
Please contact us for more information on ABC Gymnastics Facebook Page.
Contact:
Christine Sears
ABC Gymnastics Club
Tel: 01293 421591
Email: sirjohnsears@blueyonder.co.uk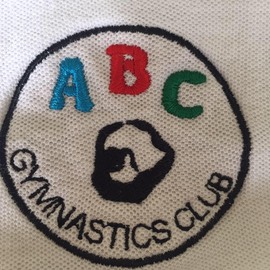 Introduction to Mindfulness
Every Tuesday, 
10-11.30am,
Brockham Recreation Pavillion
As a busy mum and teacher, I have found Mindfulness to be invaluable over the last ten years to help me deal with the challenges of work and parenting, and also to remind me to appreciate the ordinary and special moments too. My children are now teenagers and my Mindfulness practice helps more than ever! I am a qualified Mindfulness teacher and run Mindful Surrey, leading a variety of courses for adults and children. Class size is limited to 12 but there are still some spaces available on the next Introduction course. Do visit www.mindfulsurrey.co.uk to find out more and see what past participants have got from the course. Please get in touch if you would like further information or to sign up. 
Best wishes, Catherine.  
Contact:
Catherine Nasskau
Mindful Surrey
Tel: 07366 333 273
Email: info@mindfulsurrey.co.uk
www.mindfulsurrey.co.uk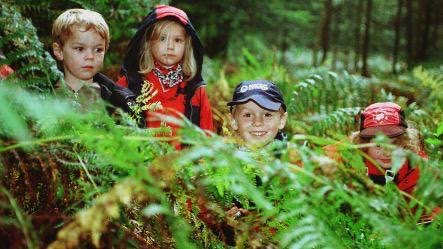 Down in the Woods
Half term sessions
Come and Join us over the holidays. We are running a mixed age group session for the day.
The session is a drop off session. I can safely say you will collect your children dirty and tired but with a smile on their face.
The cost of the session costs £35 and we will be doing things like Cooking, Craft Work, Hanging around in trees, playing games and generally having lots of fun.
A Long Day in the Woods
A day in the woods for the Tweenies 12+.
This day will include Team Cooking sessions where Lunch and dinner will be prepared and cooked as a group. We will look at Tracking Trailing and sign, tracking down someone lost in the woods and communicating with walkie talkies.
An introduction to Spoon carving and making tools to make life in the woods easier. We will end the day with Hot chocolate and Smoors. 
Expect you children to be asleep with 10 min of collection. 
Bookings can be made via our Facebook page
Read Local Mums' reviews of Down in the Woods
Contact:
Chris Pryke,
Down in the woods
Tel: 07813 772664
Email: info@downinthewoodsltd.co.uk
www.downinthewoodsltd.co.uk
Down in the Woods on Facebook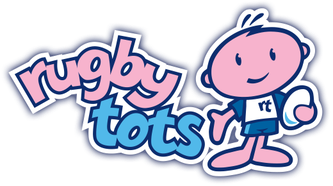 Rugbytots
Rugbytots is a fun and dynamic pre-school play programme designed to build confidence and enhance core skills for 2 - 7 year old boys and girls. We look forward to meeting you and giving you a fun and friendly introduction to rugby in a positive and encouraging environment. Let's make it more fun!
Make your child's development more fun!
Our fun, structured play sessions take children on a journey of sporting imagination with engaging and energetic coaches supporting them every step of the way whilst teaching how to catch, pass, kick, run with the ball and play as part of a team. 
Our motto
Our motto is simple; "make it more fun". We do this by delivering our specifically designed programme for each age group with energy, enthusiasm and excitement. This creates an atmosphere in the class that is totally unique and engaging for parents and children alike. 
What to expect
"Be prepared to run across the jungle, wade through the quick sand or sprint through Rugbytots Valley avoiding all the smoking boulders. Get ready to protect your egg, launch a missile or attack the pirates and seize the ship, all this of course, whilst trying to avoid the evil side lines!"
Find your nearest Rugbytots class here

Lazy Daisy Birthing
Dorking Christian Centre  
Tuesdays 7.30-9pm 
Church St  
Dorking RH4 1DW
The 6-week course combines movement, breathing techniques, relaxation and antenatal education to help Mums-to-be enjoy every moment of their pregnancy and birth. The weekly classes suit all birth plans, budgets and fitness levels and are a great way to meet other mums in the local area.
Contact anna-coates@lazydaisybirthing.co.uk or call 07875 087929 to book your place. 
Kickfit / Fitness / Self Defence Women's Only class
Dorking Christian Centre
Thursdays 10-11am. 
First lesson is completely FREE to see if you enjoy it! The classes are perfect for weight loss, toning, self defense, self confidence, and keeping or getting fit the fun way! All levels are welcome as we tailor to the people in the class. For more information visit www.gbacademies.co.uk or call 07584 473784 
Birth and Beyond Fitness
Buggy Fitness:
Meadowbank, Dorking
10am Mondays and 10.30am Fridays.
Buggy fitness in Reigate Castle grounds on Tuesdays at 10.15am
The Fit Mummy Club in Reigate Castle grounds on Mondays at 7.45pm and Reigate Hill on Saturdays at 9am.
Foo Foo Fun Club: pelvic floor and abdominal strengthening on Tuesday evenings in Reigate.
Contact Pip Skinner
www.pipskinner.co.ukMob: 07780 600005
pip.skinner@hotmail.co.uk
Bocketts Farm
Ongoing
Visit the Big Animal Barn, which is Bocketts Farm's new building, home to an array of animals including cows, sheep, alpacas, pigs and greedy goats! There's also the chance to have a go at feeding the animals as well.
Daily; 10am-5.30pm; £9.20, children £7.60-£9.20, under 2s free.
Bocketts Farm, Young Street,Fetcham, Leatherhead KT22 9BS
01372 363764
www.bockettsfarm.co.uk

Animal Handling Sessions
Daily
Regular handling sessions at Bocketts Farm where you can stroke small animals and learn about them from the friendly staff.
11.15am, 12.15pm, 2.15pm, 3.15pm, 4.15pm; check website for admission prices.
Bocketts Farm Park, Young Street, Fetchem, Leatherhead KT22 9BS
01372 363764
www.bockettsfarm.co.uk
Farnham Museum Club:
t: 01252 715094
e: museum@farnhammaltings.com
Or find us online:
www.farnhammaltings.com/museum
Twitter: @Museum_Farnham
For over 30 years the Museum of Farnham has run Museum Club, which gives local children the chance to make new friends, be creative and learn about history, archaeology, art and Farnham.
Museum Club runs for 10 months from September to June, with no activities during the school Summer holidays.
Our sessions vary, with activities taking place both at the Museum of Farnham and off-site at other local attractions including Farnham Castle, Wrecclesham Pottery and Farnham Park.
Cost: £10 per month.
If you would like to register your interest please contact Liz May, Curator, on 01252 715094.


Do you have any other listings for What's On in Dorking? Would you like to write a review of somewhere you have been? Email us at info@localmumsonline.com