Twinkling lights around the ponds and a beautiful Christmas Fair attracted huge crowds to Carshalton Ponds for the Frost Fair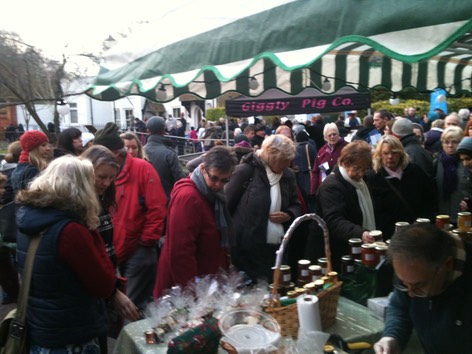 Carshalton welcomed its first Frost Fair this weekend amid unprecedented crowds of shoppers.  Friends of Honeywood Museum and local charity EcoLocal who organised the event and were delighted with the incredible turnout. 
"We have never been so busy or seen so many people in Carshalton," said Clare Callanan owner of local craft and gift shop Calladoodles.

In the beautiful setting next to Carshalton Ponds the Frost Fair ran from 2-6pm and offered local people a traditional winter event with activities for all of the family.  Outside Honeywood Museum and in the nearby Memorial Gardens stalls from the Wallington Farmers Market offered a varied range of tasty treats and a variety of craft stalls sold wonderful gift ideas.  As it got darker, the area was lit with twinkling fairy lights and people shopped with the smell of roasting chestnuts in the air.  There were also choirs, live music and entertainment of various types with a seasonal feel. 
Inside Honeywood Museum, children's activities included a puppet show and a Santa's Grotto in the magic of the newly refurbished 'childhood room' surrounded by toys from a bygone era.  The Honeywood Café served mulled wine, mince pies and food and drink for a well earned rest.  The Friends of the Ecology Centre also ran their Christmas Fair alongside the Frost Fair, providing more activities for families, offering the chance to create festive edible tree-decorations for wildlife as well as enjoying their Winter Wonderland Trail.
"Local mums loved the event," added Kathy McGuinness, founder of Carshalton Mums and Local Mums Online. "Everyone hopes it will be back next year with much more space for all the people who would like to attend."
Heather from EcoLocal said, "The Frost Fair was a huge success with an amazing turnout. We are now looking at ways of making it even bigger next year."
"We felt that we could use our experience of running the Carshalton Environmental Fair and local Farmer's and Craft markets to make an event that people will really enjoy.  Carshalton has so many beautiful settings and the chance to do something in December, working with the Friends of Honeywood Museum and involving lots of local people seemed like a really good idea."
The Frost Fair will be back on Saturday, December 6th 2014.
If you are interested in finding out more, please contact Heather on 020 8770 6611 or email heather@ecolocal.org.uk.  www.ecolocal.org.uk