Not too scary to make and perfect for kids' Halloween parties, Local Mum and chef Laura Scott tells us how to whip up these fun meringue treats.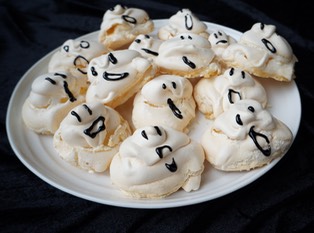 This is a fun and not too scary way to bring some halloween baking into your life over the half term holiday.
Everyone loves meringues so why not add a twist and turn these litle bite sized meringues into ghosts. You can make them along with your children and they are simple yet effective!
Ghost meringues
Ingredients
Makes lots of little ghosts
4 egg whites
225g caster sugar
Black icing pen or tube
Method
Pre-heat the oven to 120 degrees.
Put your egg whites into the bowl of a food mixer with a whisk attachment (or whisk them using an electric hand whisk) until the meringue begins to turn white and stiff.
Add in the sugar, a tablespoon at a time until you have used it all up.
Place blobs of meringue onto a baking tray lined with baking parchment. I placed a  spoonful then added a further small spoon to create a head for the ghost.
Bake in the oven for 1 hour then leave the meringues to cool in the oven completely.
Once cool, pipe on your ghost eyes and mouth to make them as scary as you dare!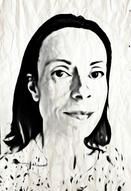 Laura Scott (above) is a Local Mum and trained chef who lived and worked in London up until she got married, had 3 children close together and moved out to Surrey. After a career break, Laura started her writing her food blog and is now working as a cookery tutor throughout Surrey (www.howtocookgoodfood.co.uk).

In her spare time, Laura attends to her newly appointed allotment with the aim of growing and producing seasonal fruit and vegetables.  This is the inspiration for her blog as well as a means of educating her children as to where food comes from and how it should taste.
Laura has also joined the Children's Food Campaign which is working towards improving both the food and the teaching of cookery in schools. She has also recently completed a course in healthy eating and nutrition as well as an RHS certificate in horticulture.  The two courses combine the two big passions in Laura's life, cooking and gardening.
Her inspiration comes from the use of good quality ingredients, seasonal when possible and the combination of flavours that work harmoniously together enabling their natural flavour to shine through.
Laura is a cookery tutor at Learn to cook good food is running pop-up children's bake clubs throughout the summer. A two hour workshop will cost £20. Your children will learn lots of baking skills and will go home with their goodies as well as recipe cards to make their creations again at home.
If you would like to attend one of her pop up bake clubs or host a lesson at home for a child's party, or even if you would like to learn to cook yourself along with a group of friends, then give Laura a call to discuss your theme!
The Summer Pop-up bake clubs are suitable for children 7+ who would love to learn how to bake and decorate cookies, cake pops,cupcakes,chocolate themed treats and much more!
Email :- learntocook.info@gmail.com
Tel :- 07960 265825
Website :- www.learntocookgoodfood.com