These simple cakes are perfect for making with kids, for cake sales, Easter or just a fun way to spend a Sunday afternoon. By Local Mum and chef Laura Scott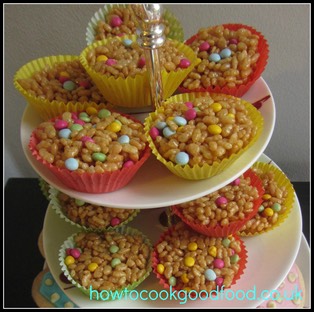 These little cakes are simple and fun to make with the children. They are called Rainbow cakes because of the multi coloured mini smarties I have added to the mixture. To make them even more colourful you could sprinkle them with sugar strands or 100s & 1000s. Another idea for you would be to swap the smarties for  tiny mini eggs which would be perfect for Easter!
I will be making some of these little cakes on my pop up bake course on Friday April12th for children 8+. If you would like to book your child onto the course feel free to email me! laura.cooksetc@gmail.com
Ingredients :- makes lots of cakes
-100g margarine
-100g caramel type chocolate (I use Mars bars or Rolos)
-100  mini marshmallows
-200 rice crispies
-mini smarties(available from the baking section of your supermarket)
-mini sprinkles to decorate(optional)


Method:-
In a saucepan melt the margarine, chocolate(chopped if from a large bar) and marshmallows over a gentle heat. 
Keep stirring the mixture well until it all comes together in a smooth looking paste.
Measure the rice crispies into a large bowl then pour over the melted chocolate mixture and stir it very well.
Add in your mini smarties then place the mixture into fairy cake cases which have been placed into a fairy cake tin.
Add the mixture to each case then press it down with the back of a spoon. Top with extra sprinkles if you like.
Leave the mixture to set in the fridge for at least a couple of hours.
If you have any leftover mixture you could also line a  lined brownie tin and set it in this. After it has set you can then cut it into little squares and keep it in a plastic container.


Laura is running a Pop Up Bake Club which will feature recipes like this one. Details in our What's On in Epsom section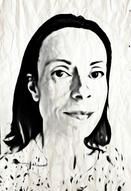 Laura Scott (above) is a Local Mum and trained chef who lived and worked in London up until she got married, had 3 children close together and moved out to Surrey. After a career break, Laura started her writing her food blog and is now working as a cookery tutor throughout Surrey (www.howtocookgoodfood.co.uk).
In her spare time, Laura attends to her newly appointed allotment with the aim of growing and producing seasonal fruit and vegetables.  This is the inspiration for her blog as well as a means of educating her children as to where food comes from and how it should taste.
Laura has also joined the Children's Food Campaign which is working towards improving both the food and the teaching of cookery in schools. She has also recently completed a course in healthy eating and nutrition as well as an RHS certificate in horticulture.  The two courses combine the two big passions in Laura's life, cooking and gardening.
Her inspiration comes from the use of good quality ingredients, seasonal when possible and the combination of flavours that work harmoniously together enabling their natural flavour to shine through.