Indulge and delight in a pop-up evening of the Bard's best fare. Taste of Shakespeare is serving up theatre with a Shakespearean foodie fantasy in an amazing venue steeped in history.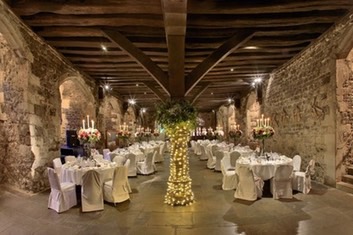 Taste of Shakespeare
We've devised an indulgent seven-course menu based on seven tasty Shakespeare plays. Watch our amazing cast of RSC veterans bring your meal to life as you join Titus' banquet table and enjoy freshly bubbled witches' gruel. The evening is all-inclusive and tickets cover the show, food, wine, and access to the medieval crypt. Space is limited as this is an intimate performance with only front row seats- so book now! June 21, 22, 28, 29 ONLY
Food and Wine
Bleeding Heart Yard has created a stunning, indulgent seven-course meal, devised by Executive Head Chef Julian Marshall, and accompanied by wine from their award-winning wine list. Luxe charcoal macaroons will be provided by On Cafe. You can also enjoy aromatic herbs from the miniature Shakespeare garden on your table! From Midsummer starters, to Henry (after) VIIIs, our cast takes you through a taste of everything Shakespeare has to offer.
Cast and Creatives
Director Jane Moriarty (The RSC, The National, Shakespeare's Globe) leads our amazing cast of all-Royal Shakespeare Company veterans through 7 Shakespeare plays. Don't worry, you don't have to sit through them all- just the tasty bits! Emma Manton stars as Katherine of Aragon to Ross Waiton's Henry VIII. Ross also takes on Titus Andronicus, whose banquet you will join! Gabrielle Brooks plays the starving Kate to Chris Nayak's taunting Petruchio. The cast will also serve up scenes from Midsummer Night's Dream, Macbeth, Richard III, and The Winter's Tale.
Historic Crypt
The oldest Catholic Church in England, St. Etheldreda's has been at the heart of Holborn since 1250. It's one of only two Edwardian buildings left in London, and has played host to many royals through the centuries. Shakespeare himself mentions it in Richard II and Richard III! Henry VIII also dined here with Katherine of Aragon in 1531- effectively announcing their separation by dining in separate chambers. Katherine dined in the very room you'll be dining in! Watch the drama unfold with Shakespeare's version of history in the very place it happened. The Crypt has also been named one of the UK's most unique wedding venues; take advantage of this opportunity to dine here without tying the knot!
Tickets
Standard- entry to The Crypt, coat check, front row seats, 7 course meal, and glass of wine
Bedazzled- standard ticket + extra glass of wine + folio with: the history of The Crypt, explanations of the scenes, recipes, a reading list, and facts about food in Shakespeare alongside our menu and cast bios
Multitudinous- book a whole table for 6 and get free extra wine, free dainties, and free folios! 6 standard tickets + extra bottle of wine + 6 programmes + dainties
Add a Champagne Swagger ticket to your order for an extra bottle of bubbles with your strawberries and cream.
Buy tickets
June 21, 22, 28, 29

Discount for Local Mums 
Please use the code SHAKES20 to get a 20% Local Mums Discount
Contact:
Madeleine Kasson
Taste of Shakespeare
Taste of Shakespeare on Facebook
buytickets.at/tasteofshakespeare