Local Mums recommend the best expedition and adventure organisers in our area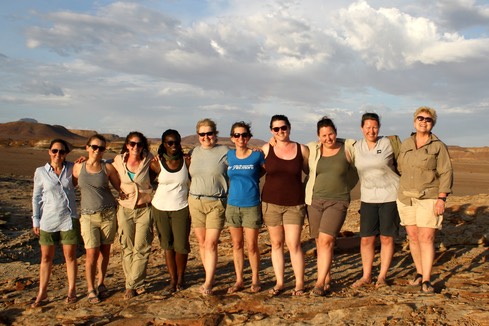 "I highly recommend The Matriarch Adventure to all Local Mums. Catherine's expedition was a truly special, memorable and privileged experience. Being part of someone's vision becoming reality was fantastic.  A must-do journey for any woman!  I was really impressed by the way in which Catherine so tactfully and adeptly managed such a strong group of women; calm, focused, compassionate and passionate as well as someone you can trust entirely."     
Elisabeth Roberts, Local Mum of two
"Sleeping under the stars was so special with The Matriarch Adventure - feeling part of this wonderful landscape, part of a greater whole.  Experiencing Africa in such an uncommercial way free from the distractions of modern life was truly exceptional. "   
Elsie Lyons, Local Mum of five and grandmother of six
"The Matriarch Adventure was so liberating!  Personally it's given me so much more confidence.  I've loved all of it but being pushed outside of my comfort zone has made me realise I can do it!"  
Sam Syed, Local Mum of a two year old and a 4 year old
"The Matriarch Adventure was a huge success! Well done for recognising the need and thank you. It was honestly one of the best experiences of my life!"    
Carolyn Fenn, Local Mum of two
"Catherine from The Matriarch Adventure was fabulous, enthusiastic and knowledgeable.  She took great care to ensure all 'Matriarchs' were happy and comfortable.  I feel so privileged to have been part of such a trip."  Sarah Hanna Local Mum of two
"The Matriarch Adventure was an absolute joy! I was not sure what to expect but it was so much more than I could ever have anticipated."   
Sharon Mulley, Local Mum of two
"The Matriarch Adventure was a journey of self-discovery and sisterhood in the wildest and most beautiful of nature's environments."    
Sam Waite, Local Mum of two
"The Matriarch Adventure was an amazing experience!"  
Denise Kaplan, Local Mum of two
"The animal encounters on The Matriarch Adventure were amazing - so spontaneous. It was all incredible. I'd go back again in a heartbeat!"  
Pamela Keenan, Local Mum of twins
"The Matriarch Adventure was AMAZING!  I need to find a way to do this type of thing more often!" 
Melissa Carnathan, Local Mum of five
"The organisation on The Matriarch Adventure was amazing! I never felt we were in any danger or likely to come to harm, even in such an extreme environment."  
Anne Panella, Local Mum of two
"The Matriarch Adventure was a truly magical adventure of the mind, body and spirit.  Catherine was an excellent leader in all senses of the word.  Clear, approachable, thoughtful, and her experience really shone through in all the situations we encountered."    
Polly Small, Local Mum of one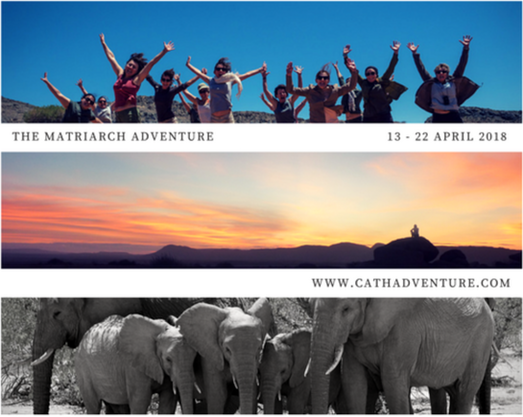 The Matriarch Adventure
The Matriarch Adventure was launched in 2017 by Catherine Edsell, Local Mum of two, and has been a resounding success, bringing together women of different ages, from all walks of life, with different motivations but with one common thread – to have a real adventure. 
Catherine is an adventurer and global expedition leader.  An avid naturalist, she combines her passion for adventure and effective conservation through independent and collaborative expedition work in the most remote areas of the world.  She is a trained PADI Divemaster, Reef Check Trainer, mountain leader, jungle trainer and yoga teacher with 20 years experience working in all manner of terrains, often with her children in tow.  
Inspired by her immersion in stunning natural habitats, Catherine has developed a series of transformative adventures solely for women.  Through travel to extreme wilderness locations, in close proximity to wildlife, Catherine designs expeditions that open up her world of adventure to any woman who wishes to seize the opportunity to step out of their comfort zone, push their own mental and physical boundaries, and in doing so, rediscover themselves.
To sign up for a 10 day adventure into the Namibian wilderness, tracking desert elephants, sleeping out under the stars and experiencing one of the most beautiful natural environments on the planet, contact Catherine via her website www.cathadventure.com.  All expedition costs, daily yoga and meditation, food, accommodation and transfers £1,690.  Next Matriarch Adventure: 9th - 18th November 2018
New for 2019, an adventure for mothers and daughters!
Due to popular demand a new Mother and Daughter Adventure has been designed.  A 10 day immersive experience for mothers and their daughters, a chance to celebrate that special bond and strengthen it before our girls grow up and fly the nest.  We will learn about astronomy, geology and conservation from the wild classroom in which we will be spending our time, tracking desert elephants and camping under the nights sky.  We will spend a day in school, experiencing how Namibian children learn and play, and completely escape from everything familiar, except of course each other.  It will give us a chance to spend some quality time with our daughters enriching both our lives simultaneously.  
The dates are set for 7th - 16th April 2019, so within the Easter holidays, and the cost will be £1350 for mum, and £1250 for daughter, and that includes all expedition costs, plus transfers, accommodation breakfasts and evening meals in Swakopmund.  It does not include flights or personal insurance but does include ABTOT bonding.
For safety reasons, and due to the remote location and the proximity to wildlife Catherine suggests that all daughters should be at least 11 years old and able to follow clear instructions.  "I am happy to discuss this on an individual basis, but impress that this is not a holiday, this is a proper adventure!"
If you are interested in finding out more please contact Catherine by email simplycatherine@yahoo.com or via her website www.cathadventure.com/the-matriarch-adventure.  You can also watch Catherine's inspirational TEDx talk to find out more about her motivations.
Special offer for Local Mums
Catherine is offering Local Mums members £100 off any booking with The Matriarch Adventure.

Contact:
Catherine Edsell FRGS
Expedition Leader
The Matriarch Adventure
Tel: 07816 134 364
Email: simplycatherine@yahoo.com
The Matriach Adventure on Facebook
Catherine Edsell - TEDxLondon
www.cathadventure.com