Local Mums recommend the best pantomimes in our area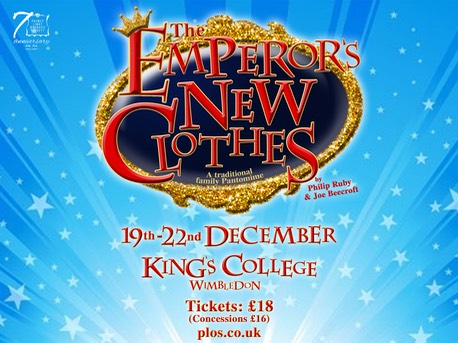 "We saw PLOS's fantastic production of The Emperor's New Clothes at King's College Wimbledon last night and my kids, hubby and I all loved every minute of this classic pantomime. With superb performances from the lead characters, great music and dancing and a brilliantly funny script, this is everything you would hope for from a traditional family panto with some surprise extras: stunning singing, fabulously funny lead roles and a lovely smaller venue that makes you really feel part of the action of this charming show. A perfect local pre-Christmas treat for all the family!" 
Kathy McGuinness, Local Mum

"I saw The Emperor's New Clothes at King's College last night and it was brilliant! Much better than main theatre pantos. I don't think I've ever seen such a good pantomime!"
Sarah M, Local Mum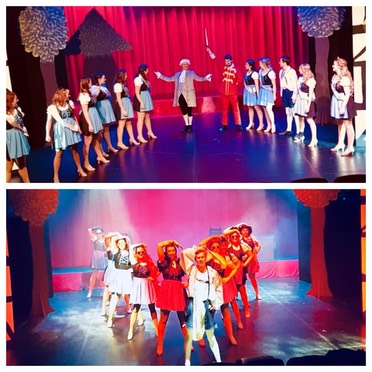 By Joe Beecroft and Philip Ruby
Date: 19 – 22 December 2018
Venue: King's College School, Wimbledon
Creative Team
Director: 

Paul Dagley

Choreographer: 

Kim Schenkelaars

Musical Director:

 Mike Searle
Synopsis
Welcome to the Kingdom of Givenchy, ruled by the vain yet endearing Emperor Armani, his long suffering wife Empress Versace and their son Prince Calvin.
It's the Emperor's birthday and he wants what he always wants, a whole new wardrobe!
We find ourselves in a small corner of the Kingdom, the Chanel Islands (pronounced Sha-Nell…..have you got the theme yet?) and a competition is declared to find the best tailors in town. What a fantastic opportunity for all, especially the down-on-their luck Dame Coco and her son, Fred Bare. Unfortunately the evil Hoaxem and Coaxem turn up at just the right (or wrong) time to convince the Emperor, his Secretary (Philippe Phalop) and the whole village that they have the finest material in the land BUT it's only visible to those most wise and invisible to the silly and unintelligent…resulting in the Emperor having a very memorable birthday for all!
Will our valiant hero Prince Calvin save Lily White (the poor and oppressed niece of Hoaxem and Coaxem) from their evil clutches? Will the Emperor's frustrated and confused Secretary ever regain his sanity? And will the poor villagers of the Chanel Islands ever manage to get over the sight of the Emperor in the altogether!
A traditional family pantomime with great songs, strong characters and a few gags – this year's pantomime has been penned by PLOS members Philip Ruby and Joe Beecroft.
Get tickets from the Box Office
Email: plosboxoffice@gmail.com