Local Mums Online are launching a family friendly scheme for local shops with MP Tom Brake. Shops agreeing not to display sexualised media in children's view achieve accredited status.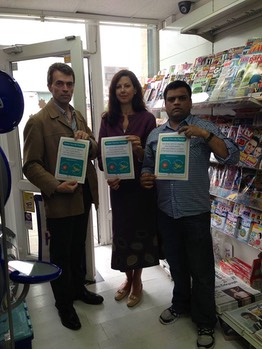 Local Mums are joining forces with MP Tom Brake to help make our local shops safer for children.

The Family Friendly scheme is joint initiative to encourage shops not to display soft porn publications and sexualised content at child height. If shops sign up to the Family Friendly pledge they receive a Family Friendly accreditation certificate and are listed on an online map for parents.
"We are delighted to be working with our MP Tom Brake and local retaliers to help make our local shops safer for local children," said Kathy McGuinnness, founder of Local Mums Online and the group Carshalton Mums. "This is a fantastic step towards making our community more family friendly."
"Together with Carshalton Mums, I am supporting a campaign initiated by the Child's Eye Line Group to stop sexualised content being displayed at children's eye level," said Tom Brake. 
"Many parents are concerned about the effect that sexualised images can have on children," explained Tom Brake. "A recent review by Reg Bailey for the Department of Education - Letting Children be Children - has argued that young people are surrounded by 'sexual wallpaper' and many publications often feature sexually explicit covers."
"The Children's Commissioner's report has recently concluded that children are being damaged by exposure to sexual media which has been found to affect their self esteem and increase the likelihood of risky sexual behaviour," added Kathy McGuinness.
If shops sign up to the scheme they will be sent a free "family-friendly pledge" sign to display in their window and will be added to a list of family friendly newsagents that will be published and promoted amongst local residents. 
The first newsagent to sign up to the scheme has been J.G. Newsagent on Beddington Gardens in Wallington. Owner Krunall Patel (pictured above with Tom Brake and Kathy McGuinness) said "I am very proud to be the first shop to sign up to the Family Friendly scheme. I have worked as a manager in big supermarkets like Morrisons and I know how important it is to be family-friendly and listen to what customers want. It's great for business and it's good for the community."
Woodcote Green Food and Wine in Wallington quickly followed suit, saying: "We are delighted to be part of the Family Friendly scheme. We are very proud to never display offensive and damaging publications around children and take our responsibility as retailers very seriously."
Local Mum and regular customer at Woodcote Green Food and Wine in Wallington, Jo Whitehall, said: "I always shop in Woodcote Green Food and Wine because they are very responsible retailers and genuinely lovely, family-friendly people. I know my three-year-old will not be subjected to degrading and sexist imagery or be forced to look at sexualised magazines and pornpapers while I buy my groceries."
If you would like more information about the Family Friendly Scheme or would like suggest the scheme to your local shop owners, please contact Local Mums Online (info@localmumsonline) or Tom Brake MP (info@tombrake.co.uk) for more details.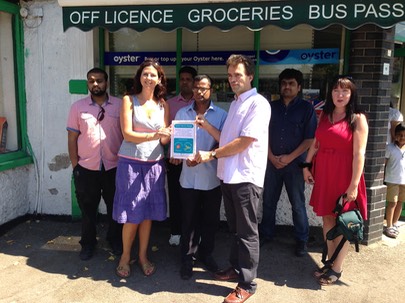 Woodcote Green Food and Wine receive Family Friendly accreditation