Sutton Community Farm is launching a fantastic new parent and toddler club which will give local children the chance to learn all about nature and the outdoors while having lots of fun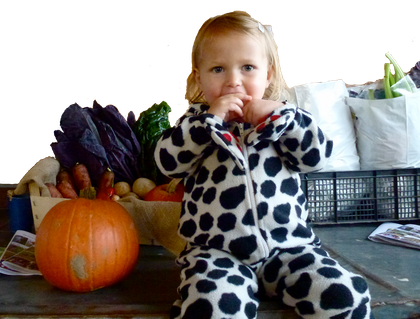 Right next door to the popular children's destination Heritage Farm, which sadly closed last month, Sutton Community Farm is launching an exciting new parent and toddler group which offers a fantastic alternative and lots of healthy, outdoor fun.

The two hour Little Bugs Club sessions at Sutton Community Farm (which is a not-for-profit enterprise growing vegetables and running a veg box service for the local community) will run every Monday and Wednesday from 9.30am ‐11.30am.  Sessions will be based around seasonal themes with activities like treasure hunts, exploring nature, singing songs, digging and growing and reading stories.
"Outdoor play provides toddlers with the space to be as exuberant, messy, noisy and physical as they naturally are," explains Emma Stopford, Activities Coordinator at Sutton Community Farm. "Our exciting new club appeals to all senses giving children the chance to experience how the weather, seasons and the natural environment look, smell, feel and sound."
Pricing is per family each session will include a free tasty organic snack and a warm drink. "If you sign up for a full 10 week course you will be given vouchers so that if you miss sessions (through illness, for example) you can make them up the following week," adds Emma.
The Little Bugs Club launches on Monday 4th March, from 9.30am-11.30am. To book a place for your toddler, please call Emma on 07872507403 or email kids@suttoncommunityfarm.org.uk. For more information, visit: www.suttoncommunityfarm.org.uk
Read Local Mums reviews of Little Bugs Club
Contact:
Emma Stopford
Sutton Community Farm
40a Telegraph Track, 
Wallington, 
SM6 0SH 
Tel: 07872507403
Email: kids@suttoncommunityfarm.org.uk
www.suttoncommunityfarm.org.uk
Twitter: twitter.com/suttonfarm
Facebook: facebook.com/suttonfarm