"Probably the most toddler-friendly theme park in the country"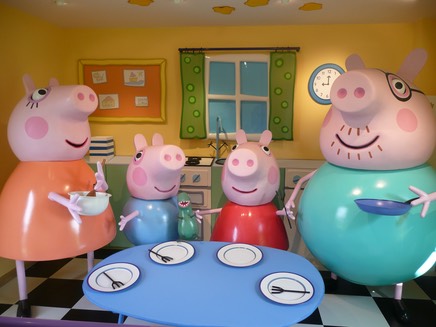 Paultons Park
Ower, near Romsey, SO51 6AL
By Sarah Peters, Events Edtior
Probably the most toddler friendly theme park in the country - even before Peppa Pig moved in - Paultons is a great day out.
There are countless rides ideal for little children - and many of them do not require parents to squeeze in and sit along side. Trekking Tractors, Seal Falls (a mini log-flume), cute digger ride plus there's a train around the park and a gentle, kiddie roller-coaster.
Aswel there is the super splashy water park (so bring a costume if you can) with jets and sprays and showers and acres of grassy lawns and gardens to explore. For the most daring the Cobra is a thrilling ride and the new Magma hauls you up high (great views of Hampshire!) only to drop you down at great speed - leaving your stomach high in the air.
Of course Peppa Pig World is a huge draw for kiddies and parents alike. It is immaculately themed and lovingly maintained. However, be warned, it get hideously busy so if you have to go in school holidays, get there really early, so you can at least get on a few rides before the hoards of other families arrive. You can queue for an hour for a 5 minute ride... not nice!
Best thing: In addition to all the rides and attractions, there are loads of free rides for toddlers (the kind you get outside supermarkets) which can keep them amused while older kids go on their rides.
Worst thing: The crowds at Peppa Pig World can be excruciating and unrelenting!
Prices: Under 1meter free; over 1 meter £21.00
www.paultonspark.co.uk 023 8081 4442