Simple to make and always the first to go at a party becuase they look so great. Local Mum and chef Laura Scott tells us the secrets of Marshmallow Pops!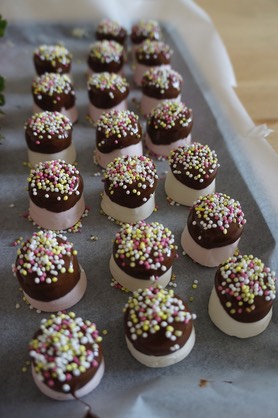 This is a great way to make marshmallows look really fun and taste delicious too. They are so simple to make and are perfect to add to a children's party tea. They always are the first things to go as they look so pretty!
Ingredients:-
1 packet of pink & white marshmallows
200g milk, dark or white chocolate melted (melt the chocolate in a bowl set over a pan of simmering water)
Sprinkles or hundreds & thousands
Method:-
Melt the chocolate then dip each marshmallow in the chocolate only half way.
Place the marshmallows on a tray lined with baking parchment with the non-covered half of the marshmallow on the tray so that the chocolate part can be sprinkled immediately.
The chocolate needs to be runny so that the sprinkles stick to the chocolate. 
Let the marshmallows set before serving.
Serve and enjoy or pop them on top of a mug of hot chocolate!
Find out more about my pop up bake club
Laura Scott, cookery tutor at Learn to cook good food is running pop-up children's bake clubs throughout the summer. A two hour workshop will cost £20. Your children will learn lots of baking skills and will go home with their goodies as well as recipe cards to make their creations again at home.
If you would like to attend one of her pop up bake clubs or host a lesson at home for a child's party, or even if you would like to learn to cook yourself along with a group of friends, then give Laura a call to discuss your theme!
The Summer Pop-up bake clubs are suitable for children 7+ who would love to learn how to bake and decorate cookies, cake pops,cupcakes,chocolate themed treats and much more!
Email :- learntocook.info@gmail.com
Call :- 07960 265825
Website :- www.learntocookgoodfood.com