"Gorgeous refurbishment and superb new menu makes this lovely spot in Reigate a great place for a family meal or afternoon treat."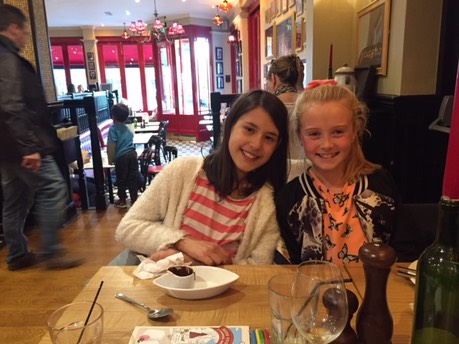 "I highly recommend Cafe Rouge Reigate to all Local Mums. Beautifully located on the corner of the high street, the newly refurbished interior is stunning. It's a gorgeous place to eat with friends or take the kids for a treat. The menu is fantastic with a good children's set option and classic french dishes for the adults - just £12.95 for three courses is a bargain. I tried the lobster bisque, moules and creme brûlée for pudding; all were excellent. My daughter and her friend Daisy loved their burgers, healthy starters and super profiterole desserts from the set children's menu. Followed by a walk in nearby Priory Park and a play in the playground - a perfect day in Reigate."
Kathy McGuinness, Local Mum of four

Cafe Rouge Reigate
Café Rouge was launched in Richmond, London, in 1989 by Karen Jones and Roger Myers, foodies on a mission to recreate real French food and wine in a Parisienne bistro style setting. Rouge was also the fave hangout for Bridget and friends in 'Bridget Jones's Diary', the novel that helped make us a household name. Today we continue to recreate core classics like Steak Frites, Poulet Breton, Moules and Confit de Canard as well as croques, salads and baguettes available to enjoy... with a gorgeous glass of French wine.
Contact:
Cafe Rouge Reigate
1 Church Street,
Reigate,
RH2 0AA
Tel: 01737 223700
Book a table