Playgroups are a good opportunity to get out of the house and meet other mums. There are playgroups on throughout the week in Wimbledon. Here is our pick of the best groups on offer.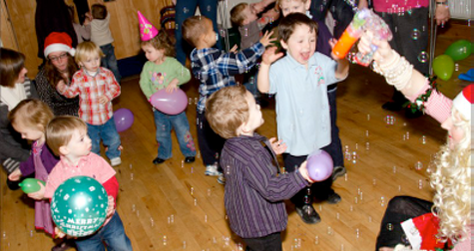 Please check with providers to confirm dates and times before attending
St Mary's, Wimbledon village
Monday
9.30-11 am,
0-5 years
Term time
Tea coffee and biscuits
St Luke's Playgroup
St Luke's Church
Ryfold Road
Wimbledon
SW19 8BZ
Friday
From 10.00am
A parent and toddler group in Wimbledon. Lots of activities for children, including story and craft time plus refreshments.
Contact: Sarah Amer
Email: svamer@hotmail.com
Dads & Toddlers Playgroup
St Luke's Church, Wimbledon Park 
Third Saturday of every month from 10.00am to 11.30am
A group for dads and toddlers – age range 6 months +.  Toys & snacks for the kids; quality coffee and bacon roles for the dads; peace and quiet for mum!
St Luke's Church
Ryfold Road
Wimbledon
SW19 8BZTel: 020 3732 2349 (Mon –Fri 10:00 to 12:00)
Email: churchstlukes@gmail.com
Sacred Heart Playgroup
Tuesday
10.00 to 12.00
A parent or carer and toddler group in Wimbledon.
Sacred Heart Church Lower Parish Hall
Edge Hill
Wimbledon
SW19 4LU
Tel: 020 8946 0305
Christ Church Toddler Group
Wednesday
9.30am to 11.15am
Parent / carer and toddler group in Christ Church Hall, for under fives, refreshments avaliable. Activities / Resources include: Art & Craft, Play Dough & Colouring, Ride-On Toys, Home Corner, Train Track, Baby Play Area, Books, Jigsaws, Construction Toys, End of morning Sing-a-Long.
Christ Church Hall
Cottenham Park Road
Wimbledon
SW20 0DW

Morden Parish Hall playgroup
Tuesdays
9.30am till 11am 
50p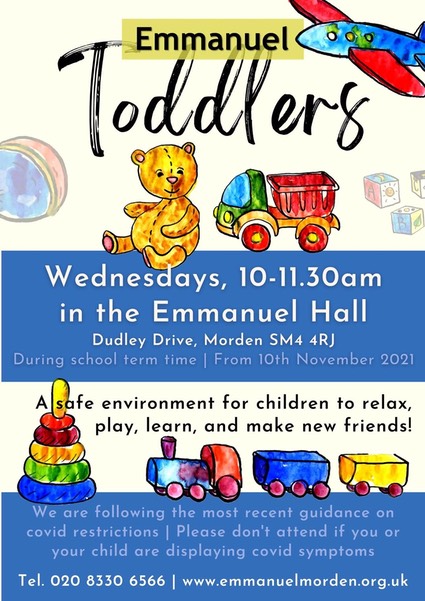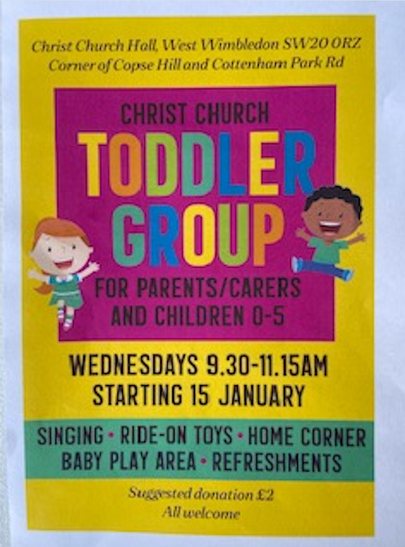 Dads and Tots
Dads and Tots provides a venue, once a month, for Dads and pre-school kids to spend time together. It is a great opportunity for young dads to meet each other and of course to give mum a break! There are lots of toys for children to play with whilst dads enjoy bacon sandwiches, croissant and fresh coffee. All welcome!
We run on the second Saturday of the month (normally *) from 9.30am - 11am.
* We aim to run every month with the exception of August, when we have a break for the summer holidays.  For the rest of the year, there are rare occasions when either conflicting church events or general unavailability means we have to either cancel or shift the date.  Dads coming along for the first time (and so not on our mailing list) are invited to drop a quick email to dadsntots@emmanuelwimbledon.org.uk so that we can confirm it is running on the expected Saturday (but this is not at all compulsory – you are welcome to just turn up!).  
Emmanuel Church, 24 Ridgway, Wimbledon, London, SW19 4QN
http://www.emmanuelwimbledon.org.uk/Groups/268363/Emmanuel_Wimbledon/Church_Life/Children_and_Families/Dads_and_Tots/Dads_and_Tots.aspx
Twiglets parent & toddler group
Queen's Road Church

On Wednesdays at Everyday Church Wimbledon, our parent and toddler group gives local mums, dads and carers a chance to get together for a chat and cup of coffee while the kids expend a bit of energy! We have a wide range of toys and equipment for all pre-schoolers.
On Wednesdays, Twiglets starts at 10:00am and finishes at 11:30am at the Wimbledon Venue. It costs £1, but to make sure you can get in, you will need to order a ticket online first thing (7am) on Wednesday morning. The link to use is http://everydaytwigletswimbledon.eventbrite.co.uk/  We try to open our doors to as many as possible, but Twiglets is very popular and tickets go early! For more details about Twiglets, check out the church calendar or email Wimbledon.twiglets@everyday.org.uk
58 Queens Road
Wimbledon
SW19 8LR

St Mary's Parent & Toddler Group
Friday
09.30am to 11.00am
Parent or carer and toddler group in Wimbledon.
Parish Office
30 St Mary's Road
Wimbledon
SW19 7BP
Plough Lane Parent and Toddler Drop-in
Friday, School Term Time, Not school holidays
9.30am to 11.00am
Parent or carer and toddler drop-in at Abbey Children's Centre
Merton Abbey Primary School
High Path
South Wimbledon
SW19 2JY
Tel: 07940 963 656
020 8543 4435
Email: abbey.childrenscentre@merton.gov.uk
www.merton.gov.uk/childrenscentres
Time for Tots
Parent or carer and toddler group held at St John's Church Hall (opposite Abbey Children's Centre).
Thursday, School Term Time, Not school holidays
09.30 to 11.30
St John's C of E Church Hall
High Path
South Wimbledon
SW19 2JY
Tel: 020 8543 4435
07940 963656
Email: abbey.childrenscentre@merton.gov.uk
St Lawrence Church Parent & Toddler Group
St Lawrence Church
Church Hall
Central Road
Morden
SM4 5QT
Tuesday
9.30am - 11.00am
Contact: St Lawrence's Church Office [Fiona Brill]
Tel: 020 8685 0012
Email: fgh2157@hotmail.com