Ok, he's not a Mum but car journalist and Local Dad Nick Zea-Smith uses his 20 years experience writing about motoring to offer impartial advice to Mums in need!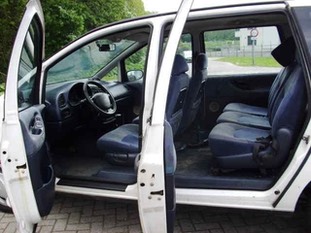 Consumer automotive lifestyle writer and Carshalton parent Nick Zea-Smith is a confirmed car guy and uses his 20 years experience as a journalist to offer impartial advice to Mums here on everything car-related. From buying a family run-around to lifting the lid on electric/hybrid cars to holiday driving tips, his regular columns aim to share real-world motoring advice. He is also the man who replaced BBC Top Gear's James May at Autocar magazine…
Wearing a coat in a car seat can compromise your child's safety
As days get shorter and nights longer it's a sure sign winter is on its way. For parents it means storing their children's summer clothes and bringing out winter coats and snow suits.
What many parents do not know, however, is that if children wear a thick coat in a car seat, it could compromise their safety. Car manufacturers are therefore advising parents to add child car seats to their car's winter health check when preparing for the cold weather.
According to the UK Department of Transport, up to 80 per cent of car seats are used incorrectly, with car seat tension the single biggest failing. Thick coats change the way a child fits into the seat as straps do not fit the child – increasing the chance of the child being ejected from the seat.
While all coats and clothing will compress in a crash, thick snowsuits compress enough to create a slack in the harness, allowing the child to slip out of the car seat during abrupt braking. The is why the car seat harness needs to stay close to the child's body at all times.
The best way to ensure your children's safety in winter is to make sure they wear a thin fleece jacket and to warm the interior of the vehicle ahead of your journey. Once your child is buckled in the sea, put their jacket over their arms back to front – keeping them warm without compromising safety.
Check to see if your child's winter coat poses a risk
To check if your child's winter coat or snowsuit is safe in a child car seat, take five minutes to see how thick the coat is and how it could compress while on a journey.
Remove the child car seat and take it into your house
Get your child dressed up for a winter car journey with jackets and/or snowsuit
Sit your child in the seat, buckle up and adjust the straps to fit your child
Take the child out of the car seat without loosening the straps
Remove the jacket from your child and place them back in the seat
Do not tighten the straps. Can you fit two or more fingers under the harness at the child's shoulder bone? If yes, the coat is not safe for use with the car seat
Prepare your car for winter
Winter tires are a very important part of car. This is what is in contact with the tarmac or potentially snow or ice. You can recognize the winter tires by the snow flake logo on the tire. It is a much softer compound than a normal tire and has much more trade in it. It grips the ice a lot better and gives a much better traction and breaking.
Additional parts to be checked are the battery, lights and windshield wipers. The battery can be checked at a dealer. Lights and wipers are two key elements to guarantee good visibility. In addition, antifreeze needs to be added to windshield washer fluid.
What to keep in the car
It is wise to always have an ice-scraper and a broom to clear the car of ice or snow. For a journey in the mountain, it is recommended to have snow chains in case of heavy snow to give the grip and traction needed in these conditions.
In case people get stuck because of a traffic jam, they will appreciate having a blanket, warm clothes, food and drink, especially if they travel with kids. Gloves and flat winter shoes and gloves will be helpful if, for example, snow chains have to be put on.
In case of snow and frost
To have a good visibility, it is important to scrape the ice of the windshield and to free up also the lights, mirrors and all the windows of the car. Snow should be removed from the car, including the roof. Indeed, if the car brakes heavily, snow may come down and cover the windscreen.
In case of heavy snow, it is wise to equip the car with snow chains. Chains have to be installed on the front wheels if the car is FWD and on the rear wheels if the car is RWD.
Car service capers can cost you dear
"I'm young, blonde and in the eyes of the bloke behind the counter I'm a dizzy easy touch who will just pay up as he's the expert."
I shuddered and my blood went cold when I heard this. Is it's a phrase that I haven't heard in the car industry for about 20 years. It revealed a sad 1970s approach to customer service that I thought was long since dead and was shocked to hear it this past weekend. 
I was given this ugly reminder of how far some people are removed from the modern consumer experience we've come to expect while sitting in a local tyre shop waiting for replacement tyre for our family 7-seater hauler.
I'm pleased to say incidents like this are a rarity these days as the car industry has evolved and significantly moved on from the 1970s. Today, 60 per cent of car purchases in the EU are led by women as the decision maker. Of the total number of cars sold in the UK last year, 40 per cent were bought by women shopping for a car online – 700,000 cars in Europe.  A huge amount of buying power.
Sitting in the waiting area with me was a young, sassy 20-something professional female who had arrived in a spotless 18-month-old Mini. With no children and the appearance of someone with disposable income, she is the dream customer for the retro-urban city car and fitted the Mini marketing teams demographic to the dot. But first looks can be deceiving. 
Advertising guru David Ogilvy once wrote: "A consumer is not a moron. She's your wife. Don't insult her intelligence, and don't shock her," and are words that most brands have embraced.
Minis owners are unashamedly young, love their retro rides with a passion and will simply replace it with another Mini as - like an iPhone – it's a millennial design icon, on trend and has street cache.At first glance, the Mini looked pampered because the owner valued it as it is the most expensive possession she owned.
It's rare to hear or read phrases like the one above, but occasionally as with everything in life there is always one bad apple in the box. I'm so disgusted with what I heard I'm going to lift the lid on a couple of trade secrets on why this backwards approach to customers exists in some sales rooms and help you keep your cash in your pocket. 
Read between the lines
My old woodwork teacher at school used to say 'measure twice, cut once with anything you do'.  The message was to always check things twice and make sure you're happy before merrily taking a huge saw to a piece of wood. Rectify mistakes quickly before acting. And this applies to your car and approach to servicing.
The Mini driver rightly gets her car regularly serviced at her nearest approved Mini dealer while it's under warranty (three years) to retain the maximum value of the car. Problem was each time she took the car in 'there is always something extra they recommend and they try it on'.
The car was in for a routine annual service. As usual the dealer had given her a shiny courtesy car and a free latte while she dropped her car off early in the morning then got on with her day. All good so far.
At lunchtime she'd had a call from the service manager advising her that her car 'required' approximately £1,000 of additional maintenance. All of this needed her urgent approval. That's some phone call to take on a Friday afternoon. 
In this case, the items 'required' for the 18,000 mile car were four new tyres – approximately £150 each - a brake fluid change and possibly a new shock absorber...  a case of a service manager who prefers to put short-term profits before punters. Discussing the amount of work required for such a low mileage car in the tyre store it seemed a little strange to me and the guys who operated the shop.
The three steps the Mini driver took next are right:
i) Told the service team to prepare a written report on the car outlining all items which need attention which she would collect with the car. 
ii) Asked if the work REALLY needed to be carried out today.
iii) She also asked if the car was roadworthy and told the team to make the car ready for collection at close of business.
Rightly, the Mini owner's father advised her to get a second opinion. You have every right to get a second opinion, so in this case the owner took the car and report to an independent tyre specialist, which is where we met. 
The Mini owner was told by the engineer at the tyre shop that 'at most' just two tyres needed replacing and the rest was down to an 'enthusiastic' member of staff. Total cost was around £100 for the two tyres and no extra work required. That's a £900 difference – give or take VAT -  or the cost of a sunny holiday to you and me.
'Free' advice that costs
Here's where it gets interesting. If you look beyond the shiny espresso machine serving free coffee, courtesy car and the post-service valet there is a business with serious overheads.
You may not realise it, but the dealership makes very little margin on the sale of a new car and relies on its service centre to make money and is THE revenue generator. There will be a fixed cost price plan in place for regular servicing – annual services, summer and winter health checks etc.
Each service item has a particular price package and margin set by the manufacturer. While a service check is carried out the engineer will offer 'advice' on areas of the car that might need attention in the coming year.
These could be a tyre, brake pads, lubricants, fluids or suspension components – all of which add to the profit margin and ease the monthly target. 
In the case of this Mini, two tyres and brake fluid will easily last another 18 months on a car used only for local trips as they're designed to last 30,000 miles or three years. And whereas once this 'advice' was just that, some see this as a money making opportunity for a quick buck in a depressed market.
Check your bill 
If the word 'sundries' appears on the bill - disposable wipes, disposable rubber gloves and oils and greases used in small quantities on things like door locks and hinges – get that removed from your bill along with any renewing of the screen wash additive. For small items like light bulbs and windscreen wipers, head to Halfords or an independent car store where staff will be more than happy to help fit such items for just a few pounds. 
The founder of Rolls Royce once stated "the service is remembered a long time after the cost". Rip off your owner, whether it's a car, piece of furniture or restaurant and I guarantee, they won't come back to you again.
As great as your product may be, speaking down to your audience is going to turn them away, and as much as you'd love them to be infatuated with your charming pitch, understand that, at the end of the day, they simply want to solve a problem.
Treat your customer with respect and dignity. You're on equal footing, or perhaps a bit lower, considering you're the one who needs the sale.
I'm so incensed that I've passed this on to Mini and they're going to look into it... the clincher for me was our lucky Mini driver here.
Our Mini driver's final words as we parted company were: "I'm relieved. I wouldn't hand over a thousand pounds to anyone just like that on the high street. It shows you've got to be careful and check these things as I trusted them and feel like I've nearly been shafted. It's crazy. I'm replacing the car at the end of the year and won't have another Mini because of this."
August 2013
Driving a hard bargain 

Whether you're a plumber, teacher, IT worker or in my case an automotive journalist, no matter what you do for a living, people always ask you about your work. 
And like many other car writers, the people you meet will always ask your opinion on the latest model, the vehicle they drive or more often than not, what their next car should be.
I get asked for advice on lots of car-related matters and - increasingly by parents and Mums - as I'm often told finding clear jargon free independent auto advice for non-car folk is hard to find. 
My aim is to write on everything from car buy tips for parents of teenagers and summer travel advice, how to pack a car for the holidays and maximising fuel economy in a fun way that everyone can use in daily life. I'll also reveal how a new generation of Mums is influencing car designs – based on a handbag!
The question I'm most frequently asked is 'I'm replacing my car as I've had it about three years, it costing us loads what would you suggest we get?'. My stock answer is 'do you REALLY need to change cars, or can you maximize your current car?' It's at this point where I dig a little.
Your car is the second biggest expense from your family budget and the choices you make when looking will impact on your finances for three or five years. Think of it as a present that can keep on giving.
If you own the car outright, it's been regularly serviced, looks okay and has covered average miles in your ownership – around 12,000 miles a year – why change? I've personally driven five year old cars with 200,000 miles on the clock that are utterly reliable and look just as good as the day they left the factory. 
Is it a need or a want to change? The best thing you can do is keep your wallet in your pocket for as long as you can and simply take time to look after the car that's outside your house.  
When was the last time you checked the tyre pressures, oil and water levels or had the car serviced? Amazingly, just by ensuring you have the correct amount of air in the tyres, water in the radiator and oil in the engine can save you 5% in fuel costs PER journey. At £1.40 a litre that could be an annual saving of £150 a year…
These are items that you don't need to go to a main dealer to have checked. ATS Euromaster in Carshalton or any independent local garage will do for FREE air check while you wait and ensure you're rolling on a carpet of air. Going on a long journey? Why not have a free 'health check', service or pre-MOT check – you'll be amazed at the difference it makes. 
Also dump the junk by emptying the boot. You're carrying excess weight and stowaways cost. Do you need to haul a pram or car seat with you all the time or carry golf clubs in the car? I recently removed a set of golf clubs and a heavy gym bag from the trunk of my car as I only use them once a week. Out of interest I put them on a set of scales. To my horror, I worked out I was carrying an extra person around with me on EVERY trip. My 'passengers' weighed in at a hefty 40kilos… 
Most of the time on short journeys – like a school run – the car is fighting to overcome its own weight and gain momentum (rolling resistance), using fuel. On a short trip the car is also not reaching its working temperature so is burning more fuel. Less weight equals fuel savings and puts less strain on the car
A walk to school or bike may be more effective if your school haul is less than a mile each way. Every car needs to be used on a 10-mile round journey to charge the battery and get it working. Your doctor will say you need to exercise for at least 20 minutes a week, so the same can be said for your car.
Buyers market
If the person I'm talking to is still hankering for that new car, I ask them to look at their 'motoring mix'. It's a close look at how far they drive each day/week/month and includes who they travel with to see if it their car is really right for them. I always suggest families create a family car chart with their children. Analyse journeys for a couple of weeks and keep a record of your trips to the petrol station.
If you only use your car for school runs or evening sports clubs, you might find a super-city petrol car is more efficient and cheaper to run when car hunting. That diesel-powered estate that looks oh-so tempting only really becomes cost effective if you drive around 40,000 miles a year on motorways. It's creating more emissions sitting in traffic and puts strain on the engine.
If your family has three children and a dog, but you're only are together in the car once a month for a Sunday walk, you might find trading-in that estate or MPV is more beneficial to your wallet. Think how often you use all seven seats in your car / car-share or if you've ever been off-road in that 4x4…?
With the right set of summer and winter tyres (I'll write on this in a future column) and positive attitude behind the wheel to fuel economy and seasonal driving you may be able to downgrade that Chelsea tractor.
If your heart is really set on trading your car for a newer model, ask the dealership for an extended test-drive if you are buying new and book the demonstrator model for a day. If they really want that sale, you should feel completely at home with what you drive so have a day with your test car in your real world, not just a quick spin round the block. 
If you're buying secondhand, ask the dealer if you can make a local trip in it for an hour – if they really care about their customers, they'll do it. If not, move on and look elsewhere. If the salesperson is quibbling over a day or an hour then the deal of the day is not going to work in the future.
As I said at the start of the column, my hope is to give clear jargon-free advice, so if you have a motoring related question, drop me a line at nick@zeasmithassociates.com and I'll answer it as quickly as possible.

Nick Zea Smith is a Local Dad and lives with his wife Adriana and four children in Carshalton. He is the founder of Zea-Smith Associates Public Relations, brand alchemists, PRs, social and broadcast media specialists in the the automotive and music industry and tech sector.