Organising a wedding, christening or special occasion can be stressful, so recomendations for trusted local catering services are really helpful. Local Mums give their recommendations here.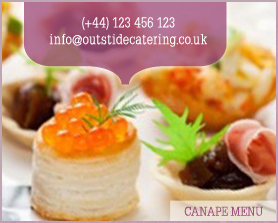 "I highly recommend Outside Catering Surrey to all Local Mums. They catered for our daughter Samantha's birthday party and the food and service was literally outstanding. Everyone was talking about how delicious the food was - especially the home-made scones! Outside Catering Surrey got lots of business that day!" 
S. Harrison, Local Mum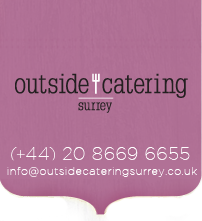 Outside Catering Surrey
Planning a wedding, christening, birthday party or other special occasion?
Why not take the stress out of the catering side of things and let Outside Catering Surrey cook and organise it for you?
We have lots of menus on our website for you to view but we can cook pretty much anything your heart desires. From canapes to fork buffets to full five course a la carte meals - we do it all.
For our meat supplies, we only buy the best quality - that is why we use S.M. Pinegar in Cheam Village. They are a family-run business just like ours. They provide excellent Scotch beef and other fine farm meats. We have known the family for nearly thirty years and are a great local family butcher.
For the summer months, why not try one of our excellent BBQs, or a real spectacle - our HOG ROAST, (feeds around 100 people). It really does give a wonderful flavour. But be warned, because as the aroma drifts in your direction as you're drinking your Pimms and lemonade, you may be tempted to jump the queue and get yours first!
However, even as we say all this, arguably the best reason to let us organise your event is the fact that Outside Catering Surrey can also organise the washing-up to be done!
By the way, working with other trusted teams from our network of people, we can also arrange a marquee, bar and waiting staff, photographer, florist, DJ etc to complete the service that we provide.
Don't lift a finger - let us do the worrying and you just enjoy yourselves and have a fantastic day!
Contact:
Outside Catering Surrey 
Tel: 0208 669 6655
Email: info@outsidecateringsurrey.co.uk
www.outsidecateringsurrey.co.uk