Local Mum and osteopath Karen Schafer gives her tips for enjoying some seasonal tennis without the tennis elbow and other common injuries.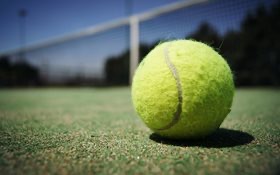 Wimbledon fortnight has been in full swing which means lots of us are dusting off the rackets and heading for the local tennis courts. Tennis is an amazing sport that gives both our upper and lower body a workout, burns calories, can reduce body fat and it's a weight bearing exercise which helps build strong bones. However like most sports it can sometimes lead to injury.
The most common injuries seen in tennis players are:
Shoulder injuries particularly rotator cuff tears
Stress fractures especially to the foot and back
Tennis elbow
Patellar tendonitis (jumpers knee)
Ankle sprains


So how can you avoid them?
Warm up - never skip your warm up. 5-10 minutes starting with a brisk walk or jog followed by some stretching.
Technique - most injuries are caused by bad technique. Why not book in a one to one session with a coach at a local club.We recommend Paul Boffa at the New Malden Tennis Club. Just one session can correct many issues and they are usually very reasonable.
Hydration - make sure you drink plenty of water particularly in this warm weather.
Footwear - tennis can be tough on your feet and ankles. Don't just pull on an old pair of worn trainers you need some good quality supportive tennis shoes.
Injuries - this sounds obvious but don't play with an injury. Pain is your bodies way of telling you to stop.
Cool down - spending just five minutes walking and stretching after your game can really help prevent muscle stiffness. 
Use your health professionals at the Aston clinic and the coaches from your local tennis clubs for advice before you start or if you develop an injury.
Have fun!
By: Karen Schafer, Local Osteopath, is offering Local Mums a FREE 10 minute consultation during the month of July. To book this contact 0208 942 3148 and quote TENNIS CONSULTATION. If you need a Local Mums Discount Card please email us at info@localmumsonline.com.
If you fancy a game of tennis we recommend:
New Malden, Tennis Squash and Badminton Club
Somerset Close, New Malden, KT3 5RG, Tel: (+44) 020 8942 0539 
Did you know?
The most common injury seen in tennis players is an ankle sprain not tennis elbow.
Tennis elbow effects 3% of the general population and 5% of tennis players.