Local Mum Natalie has found her perfect job running the Puddle Ducks franchise in Reigate and Croydon.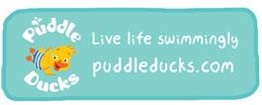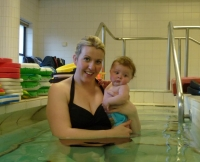 Local Mum Natalie has always loved swimming and the freedom of being in the water. "Some of my fondest memories as a child are on family holidays splashing around in the swimming pool," says Natalie.
When her daughter Matilda came along Natalie couldn't wait to get her signed up to her first swimming class. 
Taking over the franchise
"Having had swimming lessons myself from a very early age, I  wanted her to feel strong, at ease, confident and enjoy being in the water," explains Natalie. "At just 10 weeks old our journey together began, as did my passion for teaching babies and children to swim."
Just seven months later Matilda was holding on to the side of the pool by herself and Natalie became the proud owner of Puddle Ducks East Surrey!
Puddle Ducks was founded by mumpreneurs Tracy Townend and Jo Stone in 2001 after they met at ante-natal classes.  As they became friends they realised they had complementary business skills, a shared determination to strike a family-friendly work-life balance and a combined passion for passing on the joy of swimming to small babies and children.  Puddle Ducks was hatched, and the rest is history!
"It is a real joy to be teaching such a fun-filled and progressive programme," says Natalie. "The programme is tailored to the individual needs of babies, toddlers and children of all ages and abilities."
Relaxed, safe and fun
For babies, the classes encourage freedom of movement, relaxation and that crucial bonding time with Mum or Dad in the water. For toddlers and children, the classes instil confidence and develop vital water safety and life saving skills to enable them to swim independently both on the surface and under the water.
"All of our classes are designed to promote swimming in a relaxed, safe and fun-filled environment," adds Natalie. "With lots of games and songs along the way!" 
"I'm looking forward to sharing the Puddle Ducks experience with other mums and their little ones," says Nataile. "I hope they enjoy the journey as much as Matilda and I have."
Lessons are currently being held in Reigate and South Croydon, soon to follow in Dorking, Tadworth, Leatherhead and Epsom. 
If you would like to find out more about Puddle Ducks classes in your area why not give Natalie a call?

Read Local Mums' reviews of Puddle Ducks East Surrey


Contact Natalie Archer:

Puddle Ducks East Surrey
eastsurrey@puddleducks.com
Tel: 07763 180 688
www.puddleducks.com