Kathy Mcguinness checks out the vistas and menu at this beautiful new pier-side bar and restaurant in Putney.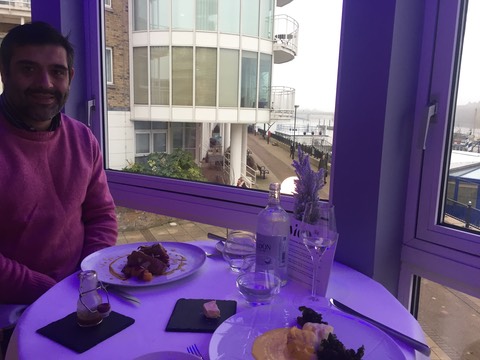 The Point Pleasant location and vistas at View94  are perfect for a romantic meal upstairs for two in the stunning restaurant with some of the most adventurous modern European food that London has to offer. 
I visited with Mr McGuinness, my Darcy for the Day, who loved the food especially the beef tartare starter served in a Reggiano crown with cured egg yolk and cep dust. I was also super-impressed with my home-made smoked salmon starter, which arrived at the table still smoking.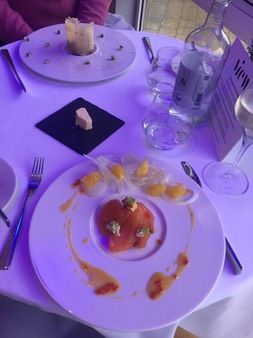 Adventurous mains, imaginative puddings and a superb selection of organic wines do not disappoint and the exceptionally knowledgeable and friendly service is the perfect accompaniment to the impressive menu.
This delightful venue is also ideal for a morning coffee or brunch with mum friends, babies and kids in the spacious bar area downstairs. Cheese and Wine Tuesdays are some of the great events and functions going on at View94  too. 
The newly-opened restaurant and bar is very relaxed and family friendly, children are always welcome. The children's menu is healthy and fun and the downstairs space is great for buggies and toddlers. A lovely way to while away a few hours with family and friends in Putney in this beautiful spot by the river.
Contact:
Antonio Sanzone
General manager
Restaurant and Lounge
View94 
Tel: 0208 425 9870
Email: chef@view94.com
94 Point Pleasant
SW18 1PP
View94 on Facebook
www.view94.com

View94 
Located east of Wandsworth Park and a fraction south of the river, View94 restaurant and bar offers an elegant and refined dining experience to all those who step through the door. View94 offers fantastic views of the river from both downstairs and upstairs.
A modern lounge bar that offers light menu all day, bespoke cocktails and also Brunch on Saturdays and Sundays.
A modern lounge bar that offers light menu all day, bespoke cocktails and also Brunch on Saturdays and Sundays.View94 is a new and exciting fine dining restaurant. 
A fusion of modern European cuisine available at lunch and dinner focused on the finest seasonal produce and honest flavours. 
The venue's swish Champagne bar on a private pontoon overlooking the river is also available for private hire or more casual dinners, and proves an enormous asset when the sun is out.
- Street parking
- Serves lunch, dinner, coffee and drinks
- Takes Reservations
- Walk-Ins Welcome
- Good For Groups
- Good For Kids
- Catering
- Outdoor Seating