Children's parties are famously stressful but not when you are in expert hands. Fantastic local party entertainers Froggle Parties will make sure your child's party goes with a bang.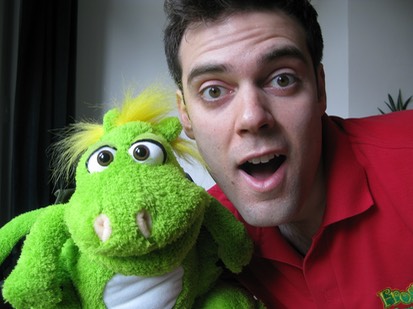 Kids' parties often mean lots of work for parents. A great way to keep things simple while making sure your child has the party of their dreams is to book an entertainer.
Froggle Parties, a well-established children's entertainment company with a reputation for outstanding parties whatever the occasion, is an ideal place to start. With its trademark being 'high-energy and non-stop-fun' Froggle provides exceptional party entertainment that kids will be talking about for weeks to come.
"We entertain tens of thousands of children every year and offer an incredible range of packages," explains Michael Rossini who runs Froggle Parties across SW London and Surrey. "We cater for children of all ages and we devise our own parties so they are always exclusive to us." 
Unique and exclusive
Unlike many party companies Froggle Parties has its own in-house team of entertainers that are trained to do shows and kids' birthday parties designed by them. "This way we can ensure that all of our performers are of the same very high standard," explains Michael. So when you book a children's entertainer with Froggle you know that you are getting one of the exclusive 'Froggle Parties.'  
Recognised for its highly entertaining characters Froggle Parties has appeared in various high-profile television programmes including shows for the BBC and Children's BBC, featuring in programmes aired across the UK and Europe.

The children's entertainment company writes its own catchy songs and is currently creating its own kids' party album. The Froggle Song - 'Time to have a Froggle party' - is a big hit with parents and kids at parties.

Froggle has also done parties for some high-profile customers and venues, including Harrods, Hilton Hotels and Resorts, Pinewood Studios, Windsor Castle and the Annual Wellchild Awards hosted by Prince Harry. "One of our entertainers even had the fun job of dancing to the Hokey Cokey with Simon Pegg and his daughter who attended one of the parties we were entertaining at," says Michael.
One of the many ways Froggle sets itself apart from other party companies is with its very own exciting themed parties, where a really interactive adventure story is created around the theme of your child's choice. "The themed parties put the children in the centre of the story and all the activities at the party help progress the adventure along," explains Michael. 
Froggle has developed many popular themes from pirates and princesses, to Around the World, jungle, chocolate factory, Dinosaurs, under the sea and lots more. There's over 40 themes to choose from and all the stories are exclusive to Froggle.
Extensive range
Froggle Parties  is your one-stop-shop for a great range of ideas from traditional entertainment like magic, puppetry and dancing to themes, discos, clowns and face painting. The company has also recently created its incredibly popular 'science parties,' proving to be a huge success with party boys and girls and their friends.
"We're always trying to be different and do wacky things for parties," says Michael. "We recently introduced our 'bubble tower activity' where we wrap kids inside a giant bubble and it's really popular."
Froggle also prides itself on offering entertainment for schools, nurseries and playgroups and does regular shows for major nursery chains like Busy Bees and Leap Frog. "Our exceptional service and competitive prices have led to customers coming back to us time and time again," says Michael. 
"One of the things that make us stand out from other entertainers is that we absolutely love what we do," adds Michael. "You have to be a kids entertainer. You have to love having fun with the kids and being a bit bonkers! It really makes the difference between a good entertainer and a bad one."

So if you are looking for something to make your child's party easier to organise while still being the party of their dreams, why not give Froggle a call? 
Read Local Mums' reviews of Froggle Parties
Contact:
Michael Rossini
Froggle Parties
Tel: 0208 617 9070 (London and areas within M25)/ 08450 504 509 (Surrey)
Email: enquiries@froggleparties.com