Local Mums and their children recommend well-loved books by local authors

Books by Local Mum Karen Inglis
Eeek! The runaway alien - for boys aged 7-10
The Secret Lake a 'time-slip' mystery adventure for boys and girls aged 8-11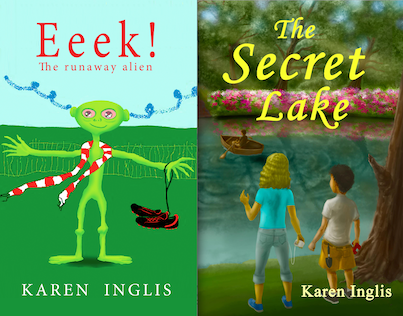 I loved Eeek! The runaway alien by Karen Inglis. I loved the football in this book and I also loved the alien because he was so funny.  The alien is just like a human boy apart from being tidy because he loves football and gets very excited when he is watching the matches.  He is very good at hiding himself so only a few people know that there is an alien. The book is very funny and mummy was even laughing when she was reading it and we were all shocked by the surprise at the end.  I will definitely tell my friends about this book – it is great."
Theo, aged 7
"I really loved Eeek! The runaway alien by Karen Inglis. Eeek the alien really comes to life with wonderful descriptions. There are some great surprises I can't tell. The story was exciting. Eeek was amazing and Charlie was great. The description of the space craft is amazing. I had a very fun time reading Eeek!"
Declan, aged 9
"The Secret Lake by Karen Inglis is a very thrilling and exciting book; it has an exciting plot and I like the way it is so mysterious until the end when everything becomes clear. I like the way it is written because even though there are no pictures the description is so good that you can picture every single thing.
"I also think that The Secret Lake is a very intriguing book; I picked it up this morning and couldn't stop reading until I had finished. I liked it because there were some funny moments and some dangerous points in the story. It also brought lots of questions into my head which were cleverly tied up at the end. I really enjoyed the part where Sophie's and Emma's dad thought that crawly was inside Stella's phone, because it was quite funny. I think it is a great book which I would recommend to anyone between the ages of 7-12. I am going to tell my friends about how good it is!"
Freya, aged 10


Eeek! The runaway alien by Karen Inglis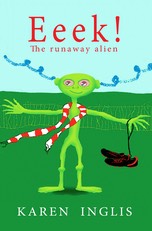 Eeek! The Runaway alien is fast-paced story about an alien who runs away to Earth because he loves soccer and the World Cup is on! For readers age 7-10 yrs - especially suitable for sporty boys and reluctant readers! 
Five-star rated on Amazon reviews, Eeek! tells the story of eleven-year-old Charlie Spruit who can't believe his luck when he opens his door to an alien one morning.  Who is he?  Why has he come?  Charlie soon discovers that this alien has run away from space to Earth to be with him because he's football mad and the World Cup is on…!
'Eeek,' as Charlie decides to call him, takes up secret residence in Charlie's bedroom where he sleeps on the ceiling by night and pores over Charlie's football magazines and stickers by day.
All is going surprisingly well until slimy sci-fi mad Sid Spiker, who lives out the back, spots Eeek through his telescope. Sid has his own plans for this alien, which, when he puts them into practice, have consequences that no-one could have imagined…
Read reviews on the respected LoveReading4Kids website (which features it in Books for Boys & Books for reluctant readers) - http://www.lovereading4kids.co.uk/book/7523/Eeek!-The-Runaway-Alien-by-Karen-Inglis.html 
Read reviews and order Eeek! from Amazon/Kindle Store
Read reviews and order in print from Waterstones
To read Eeek! on your PC, Mac, iPad, iPhone, Android or other device, simply download the free Kindle app: Free Kindle app UK    
Find Eeek! in Nomad Books, Fulham The Barnes Bookshop SW13, The Sheen Bookshop SW14. You can also order Eeek! from any local bookstore and find him in selected branches of Waterstones.
You can order multiple copies of Eeek for party bags – please email Karen Inglis for details: kpinglis@wellsaid.co.uk
The Secret Lake by Karen Inglis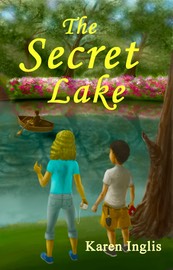 The Secret Lake is a 'time-slip' mystery adventure for readers aged 8-11 years. When Stella and her younger brother, Tom, move to their new London home, they become mystified by the disappearances of Harry, their elderly neighbour's small dog. Where does he go? And why does he keep reappearing wet-through?
Their quest to solve the riddle over the summer holidays leads to a boat buried under a grassy mound – and a tunnel that takes them to a secret lake.
Who is the boy rowing towards them who looks so terrified? And whose are those children's voices carried on the wind from beyond the woods?
Stella and Tom soon discover that they have travelled back in time to their home and its gardens almost 100 years earlier. Here they make both friends and enemies, and uncover startling connections between the past and present…
The Secret Lake is also available to order from Amazon. 
Amazon http://www.amazon.co.uk/The-Secret-Lake-Karen-Inglis/dp/0956932304/ref=tmm_pap_title_0 )
The Adventures of Ferdinand Fox by Karen Inglis.
 Karen is also working on her series for younger children The Adventures of Ferdinand Fox. "I've spent the last few months working with my illustrator to bring Ferdinand to life and we're currently finalising the interior layouts!" says Karen.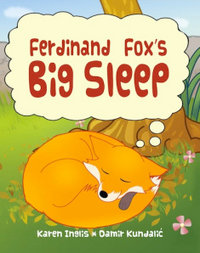 The first of Ferdinand Fox's six rhyming stories – Ferdinand Fox's Big Sleep – should be available before Christmas! Check back here for updates!
Contact Karen
Email: kpinglis@wellsaid.co.uk
Follow Karen Inglis on Twitter