Our Nutrition Editor Local Mum Angelika Cutuk-Short shares her healthy recipe for Tuna Niçoise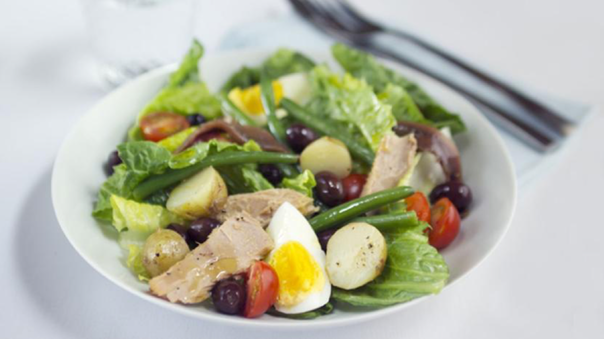 Prep and cooking time: 30 min.

Can be made for lunch or dinner Serves: 4 / 500 calories per serving
Ingredients:
☞  450g/1lb fresh tuna (4 tins) or 4 x 175g/6oz tuna steaks, 2.5cm/1inches thick
☞  8 new potatoes, cooked and quartered lengthways
☞  4 plum tomatoes, roughly chopped
☞  240g/half a pound extra fine french beans, topped, cooked and drained
☞  4 little gem lettuce hearts, quartered lengthways or other salad
☞  1 red onion, finely sliced
☞  4 eggs
☞  6 anchovy fillets cut lengthways into thin strips (optional)
☞  16 pitted black olives in brine or other
For the dressing:
☞  3 tbsp aged red wine vinegar (or similar)
☞  2 tbsp freshly chopped parsley
☞  2 tbsp freshly snipped chives, if you have it
☞  2 garlic cloves, peeled and finely chopped
☞  1 tsp salt and 1 tsp ground black pepper
Method:
1) First, put potatoes in cold water and cook (20-25) min or so – I do this at the bottom of my steamer and 15 min in I put green beans in the tier on the top. Or boil green beans for 5 min separately (slightly cool before serving).
2) Hard-boiled eggs (cover eggs in cold water not too big saucepan - once water boils cook eggs further 4-5 min to hard boil). Do this while potato are cooking.

3) Make the dressing: add garlic, olive oil, red vinegar, parsley, chive and salt and pepper into a large mortar and mash with a pestle or food processor until the dressing consistency is right.
4) If cooking fresh tuna, cook until red in the middle (two minutes each side) or add tined. 
5) Wash and slice lettuce in big chunks. I also add 3-4 cherry tomatoes.
To serve, arrange all the ingredients in a bowl, pour dressing over and toss well.

Enjoy x

Read Angelika's Nutrition Mum blog here