Local Mums recommend the best football training sessions in our area


"I highly recommend Brazilian Soccer Schools (BSS)  to Local Mums. My two boys enjoy the soccer sessions so much. The coaches are brilliant and professional. Very friendly atmosphere and kids having so much fun."
Aneta, Local Mum

"I recommend Brazilian Soccer Schools (BSS)  to Local Mums. Very friendly and professional approach. My son loves the football classes. Joe is very approachable and great with the kids, helping them to understand the game and he makes it fun for them too."
Lari, Local Mum
"I highly recommend Brazilian Soccer Schools (BSS)  to Local Mums. I'm very impressed with the progress the kids have made. I would definitely recommend the regular sessions and also the holiday clubs. The coach is excellent with all the kids and makes each session lots of fun."
Rozeena, Local Mum
"I recommend Brazilian Soccer Schools (BSS)  to Local Mums. My son loves attending the training sessions and learning new skills. A great complement to his weekly football school club training."
Ene, Local Mum
"I highly recommend Brazilian Soccer Schools (BSS)  to Local Mums. It's pure skills-based and we've seen a real difference when my son plays at his Little League at the weekend. He loves it!"
Katie, Local Mum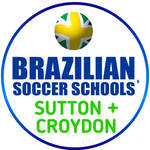 Brazilian Soccer Schools (BSS)
Weekday evening sessions in Sutton + Croydon for ages 5 – 11. Unique technical development plan, inspired by the streets of Brazil! For all ages and abilities.
First session completely free!
….Brazilian Soccer Schools (BSS) is one of the largest grassroots football training organisations in the world. We attribute our success and popularity with children to our structured approach to training and proprietary syllabus of 200+ individual core movements and skills. We teach our players to initially focus on acquiring their individual all round technique and mastery of the ball.
Monday at Carshalton High School for Girls, 6-7pm
Wednesday at Woodfield Primary School, 6.15-7.15pm
Friday at Sutton High School, 6.15-7.15pm
Book a free trial here. 
Call Joe 07462971609 or email joe.brady@braziliansoccerschools.co.uk to find out more.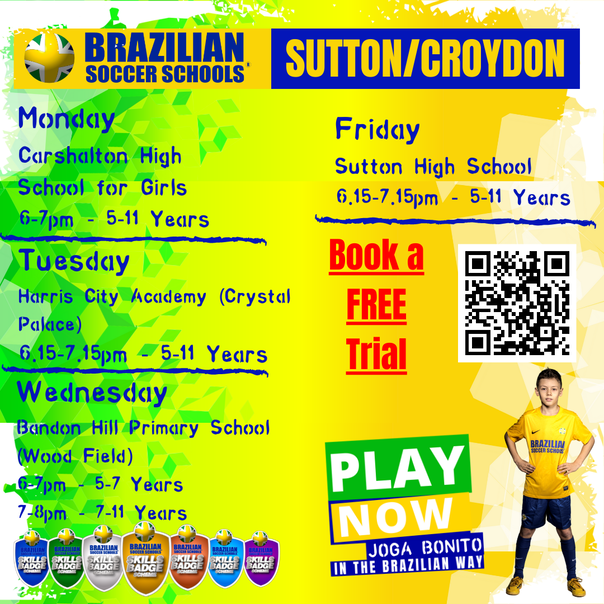 Book your free session here
Contact:
Joe Brady
Program Director
Brazilian Soccer Schools (BSS)
Tel: 074 6297 1609
Email: joe.brady@braziliansoccerschools.co.uk
Brazilian Soccer Schools on Facebook
Brazilian Soccer Schools on Instagram
www.braziliansoccerschools.co.uk