Child's Eye Line UK founder Kathy McGuinness is devastated that her human rights journalist stepmum, known for her healthy life-style, is dangerously ill with cancer but hopes kindness will conquer all.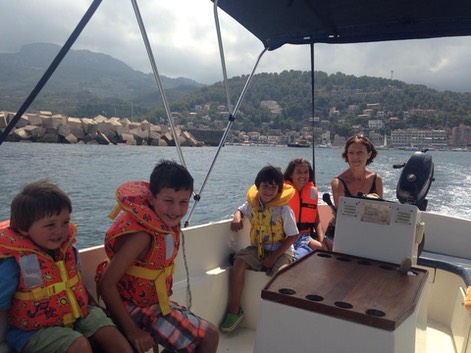 My first memory of award-winning journalist Sue Lloyd Roberts aka my stepmum is waiting, aged five, for my Dad's new girlfriend "who only ate the crusts of the bread" to arrive on our summer holiday in Kerry. "Sue's like a mouse," said Dad over his pint of Guinness, as we waited in a pub in Dingle for news of her arrival. "She just nibbles around the edges of the bread and leaves the middle."

We must have been quite a sight in Kerry in the 1970s: two divorcee men and their four children travelling around the west coast of Ireland in an old VW camper van. Old ladies would grab my sister Becky and I to one side in pubs (we spent a lot of time in pubs) and whisper urgently "Where's your mooder?" Our sensible mother was at home in Cornwall. She had cautiously let my sister and I go on holiday with our Dad, his friend and two sons, with strict instructions to hand over a brown paper envelope with her phone number in to any nearby "Mummy" if Dad lost us. 
Difficult as that must have been for Mum, she was right to let us go and we had a wonderful holiday. My Dad was always very much part of our life growing up and as a full-time teacher and single mother, Mum needed a break. I think it was Sue's promised presence at some point on the holiday that really clinched the deal. Mum hoped intrepid ITN reporter and health-mad Sue would keep the dads out of the pub. She was absolutely right; Sue would never let any of us sit still for that long!
Exotic mouse

The date of Sue's arrival on our holiday in Ireland was uncertain as she was working on a news story as a reporter for ITN. Her foreign adventures didn't intrigue me half as much as why she only ate the crusts of bread. It turned out to be a health fad. Through her forward-thinking interest in healthy eating Sue would try many more of these in the years to come. 
As a child growing up in a remote village in Cornwall in the 1970s I was raised on white Mothers' Pride bread and Angel Delight. This interest in healthy eating was as foreign to me as the far-flung places Sue visited as a TV reporter. I couldn't wait to meet the exotic mouse that nibbled round the edge of brown bread (even if part of me was worried she would take away my Tayto crisps and red lemonade).
Anyone who has met Sue will know she hasn't got much in common with a mouse (apart from being tiny) and true to form once she finally joined us in Ireland she filled the holiday with fun. She was no threat to our diet of dad fry-ups, red lemonade and crisps either and never once force-fed me the 'muesli' (another new health craze) she curiously decorated with chopped apple every morning. Sue immediately won me over on the holiday, taking me shopping for clogs and laughing as I kept the whole house awake by dancing on the wooden attic floors. 
Party spirit

Sue's legendary fearlessness as a TV journalist, pulling on a bullet-proof vest at a moment's notice to report from war-torn Bosnia and other horrific war zones, is well-documented but it's her incomparable party spirit, her kindness and pure bonkers sense of adventure that I love about her most. 
There were many more fun family holidays as Sue's presence in our life became permanent. She married Dad and became my stepmother, cleverly giving me the gift of a much loved brother and new sister. Sue smoothed over these tricky transitions in her usual way with huge kindness and generosity, inviting us on holidays filled with her trademark white-knuckle-ride adventures and parties from start to finish. The finishes usually involved me sitting on a crate of wine and smiling sweetly as we sailed back through customs. 
Sue, I soon discovered, was impressively fearless and her sense of fun is matched only by her in-built quest to conquer any obstacle. In her career this has helped her get arrested countless times in pursuit of a story. It also made school holiday time more colourful than most. Sue would start every day of a family holiday with an unbelievably positive and cheerful "Come on team!" If there was a mountain, Sue would climb it; if there was an island, Sue would swim to it - even if it meant all the kids pedalo-ing along behind her in an hilarious parody of a mother duck with her ducklings.  Sue would sometimes have to leave half way through the holiday to cover a news story. It was only then that we realized how much we missed her unflagging positive spirit and sense of fun as Dad collapsed exhausted behind a newspaper.
I remember racing through the Mediterranean with Sue in search of her favourite thing in the world – a street party with live music and dancing. Sue had heard a rumour that one of the villages near where we were staying was having a fiesta that night and she was going to find it! The night culminated in my favourite childhood memory of Sue: holding my hand and whirling me around the village square as we danced the night away with locals from the village. 
My Mum was right not to worry about us on our exciting holidays with Sue; through all her wild adventures Sue always looked after us brilliantly; she is amazing with children. With a big hug goodbye as we set off on our many journeys home to Cornwall her simple advice was "Don't speak to foxy-whiskered gentlemen." The advice stood me in good stead growing up, although I spent many of my early train journeys scouring stations for giant foxes dressed in suits.
Sense of fun
It is when I see Sue sharing her kindness and sense of fun with my own children that I realize how lucky we are to have her in our life. Our visits to Grandma Sue at her hotel in Mallorca are a highlight of our year as we know every day will be filled with adventure. Whether we are following her to the top of a mountain, taking a hair-raising trip around the beautiful island in her tiny boat with Sue at the wheel or joining in a party she is throwing for the Romanian orphans she has generously invited to stay, life is always exciting with Sue. 
Sue's one concession to healthy eating is that it should never get in the way of children having fun. I love the irony of telling Sue off for giving my children secret late night Coca-Colas ("Can you believe the cafe has run out of orange juice?" she cries as the mountain of oranges glows like a giant lie detector behind her on the bar). The scene of Sue leading a nightly procession of delighted children back from her hotel's cellar, laden with vats of ice cream, always makes me smile when I remember how I once first met this amazing lady who was so health-conscious she only ate the crust of the bread.
So it is with disbelief and huge sadness that I find myself asking my friends and aquaintances for help to find a stem cell donor to save Sue's life. Sue, champion of healthy eating (with a healthy side order of fun) and the fittest, most fearless 60-something I know, has been struck down with acute Leukaemia and desperately needs a stem cell donor to survive. It is an unbearable thought that such a life force with so much to give the world as a brilliant reporter on human rights is facing a danger she cannot conquer herself. Sue's exposees of women's rights abuses worldwide and female genital mutilation are just some of the areas where so many future children would benefit from her ongoing work; she has been a huge inspiration to me and my campaigning work for child protection. 
I hope that kindness will now conquer adversity for Sue, in the same way her own has done for many others, and that a kind person donating cells will save her life. Please join our prayers and help us save our much-loved Super Sue by reading how you can donate the stem cells she urgently needs here. Typically of Sue she is thinking of those that need her help too and all donations will help the thousands of people in need of a transplant worldwide.

 How to donate stem cells to the Anthony Nolan Trust.

Sue sadly died on the 13th October 2015. Her kindness lives on in the support shown to our family by all that knew her and heard of her story.