Local Mums recommend the best decluttering services in our area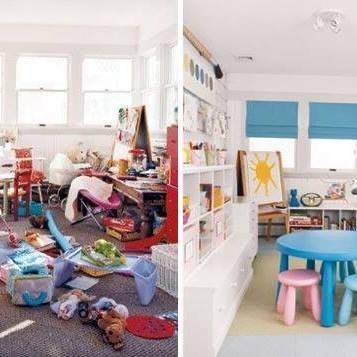 "I highly recommend Clear Out Clutter to all Local Mums. I have used Helen on a number of occasions to clear out a spare room and a garage and was delighted with the results. She is very friendly and hard working. She clears whole spaces in an hour leaving not only your room decluttered but your mind!"
Joanne Sharpe, Local Mum
"I highly recommend Clear Out Clutter to Local Mums. I could not be more delighted with the professional service offered by Clear Out Clutter. Helen took time to understand what was required then offered advice and expertise. A room overloaded with junk has now become a guest room/play room. Not only did Helen research storage solutions for me but also did all the construction of flatpack storage and gave the whole room a new lease of life."
Lorna, Local Mum

"I recommend Clear Out Clutter to Local Mums. Helen is my lifesaver. I'm heavily pregnant and her muscles and eagerness to help were evident! My boys room looks fantastic, as well as my living room is back to being a living room, not a toy showroom! Fab. Five stars!"
Jenny Carter, Local Mum
"I highly recommend Clear Out Clutter to all Local Mums. Brilliant approach to family/house clutter: practical, pragmatic and forward-looking! I've already booked my next session and planning to tackle a few drawers in the meantime."
Jane Caccavale, Local Mum
Too busy to get on top of the mess?
Can't find what your looking for?
Too embarrassed to have have people over?
Drowning in paperwork?
Want to get the best price for your house?
Feeling overwhelmed with all your kids' stuff?
You need Clear Out Clutter! Local Mum Helen will help you declutter and reorganise your home.
For a great introductory hourly rate for Local Mums, give Helen a call and let her turn your chaos into calm!
Contact:
Helen Dyson
Clear Out Clutter
Tel: 07962 275956
Email: sales@clearoutclutter.co.uk